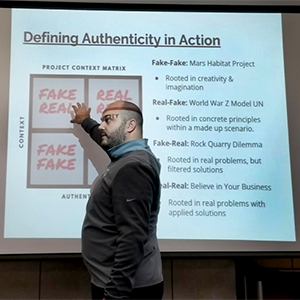 As a BIE National Faculty, I am fortunate to get to help teachers who are new to Project Based Learning transform their classrooms and instruction through projects. I also get to work with schools that've been doing PBL for a while, helping them figure out how to continue to iterate and innovate, rather than allowing their projects to become stagnant.
I learn a lot about how to do this through my sustained work as an instructional coach at Da Vinci Charter Academy - an inclusive 7-12 PBL school in Davis, CA. As a tiny gig on top of my full-time job as a teacher at our high school, I work a few additional hours each week assisting our administrators in designing and implementing our professional development.
This ongoing instructional leadership role allows me to identify and grapple with the tough questions and needs that keep coming up, year after year, in my own classroom, and those of my day-in and day-out colleagues with a wide range of experience levels, content areas, and teaching styles.

Instructional Coaching for Gold Standard PBL: Authenticity
As with teaching, I need ways to meet the diverse needs of the teachers and staff that are both efficient and effective. As a coach, I come back again and again to BIE's Gold Standard Project Design Elements and Teaching Practices to help myself and my colleagues continue to push our project designs forward & implement projects our whole community can be proud of.
Our professional development planning team recently launched into a consecutive 5-week project as an entire staff, to dive deep into the gold standard design element we think will be most transformative for our curriculum and instruction: Authenticity. 
Tyler Millsap, principal of Da Vinci with 10 years of PBL teaching experience at the same school, shared why authenticity is both "accessible and inspiring" as a professional development focal point:
"You can think of authenticity in terms of a massive paradigm shift about the purpose of school or just making modest shifts in an existing practice. Increasing authenticity is 'doable' no matter where a teacher is in their practice; veteran and novice PBL teachers can always work in increasing the authenticity of learning for students."
I leaned on BIE's numerous resources on authenticity to help us ground our work in best practices. In addition to defining authenticity as a Gold Standard PBL design element, BIE has resources about different ways to think about authenticity, and provides great tips for planning authentic projects. I found this perspective on creating authentic PBL with limited resources to be especially useful as a public educator.
School-wide PD: Deep Dive Into Authenticity
For all the same reasons PBL is such a great vehicle for instruction in classrooms, you can design professional development to model the process of a project.  In doing so, you'll be creating multiple opportunities to differentiate within the project for different stakeholders or different levels of experience or interests. You'll also deepen their understanding of what their students' experience, which helps teachers develop better intuition about how to support students through the often messy process.
For our authenticity deep dive at Da Vinci, we launched our inquiry with a classic entry event: an exciting guest speaker. Riley Johnson, principal at New Technology High School, challenged us and asked our staff provocative questions about what we wanted to accomplish, and why. He also shared some of the ways in which his staff have worked to continue to develop their real-world connections within projects and instruction. One of the tools that has really resonated with myself and my colleagues is the practice of analyzing the context of your project on an authenticity matrix.
So far, the results have already been exhilarating! Three weeks into our deep dive, we have begun to significantly deepen the authenticity of our projects in every single grade level and every single subject area of our 7-12 academy. As a bonus, we've learned a lot more and became much more invested in each other's projects along the way.
We also have a team mixed-role team designing a school-wide portfolio defense at each of our sites, which will roll out this school year, as well as another team of non-teachers developing a database of community experts and expertise, which will likely be ready to launch in just a couple weeks' time.
These awesome new components of how we "do" authenticity at Da Vinci arose out of authentic needs of the educators in the building and driven by the passions and expertise of the their peers. They were created through simply allowing differentiated choices for folks that didn't have a role that allowed for them to design or tweak a project, but certainly have a stake and expertise in our community.
In two weeks, in order to showcase our hard work, push ourselves to raise the bar through a public audience, and to bring to the center the voices and perspectives of our other stakeholders - we will have students, parents, and other community members participate in our final week. As we engage in a feedback protocol to continue to create the next iteration of our projects, our instruction, our school, and our collaborative community.
Not sure where to get started? Whether designing instruction for students, or professional development for your adult learners, come back to BIE's basics for gold standard PBL. Ask yourself - how can we create authentic, collaborative opportunities to really dig in and apply these standards to our own work? Then, include the people who have a real stake in it.
Want to learn more about PBL? Check out our books.