Join our team
If you care about transforming young people's lives and helping educators do amazing work, we want to work with you!  
We're incredibly fortunate to be surrounded by collaborative, fun-loving professionals who are passionate about learning and motivated by possibilities for advancing educational equity and transforming students' lives.
Together we create exceptional Project Based Learning (PBL) services and resources for educators. Many of us are former teachers and school leaders with deep roots in PBL. Some of us work remotely from all over the country. More than a few of us bring our dogs to work. Every one of us is committed to making a positive impact on students.
Interested in joining us? Please check our open positions below.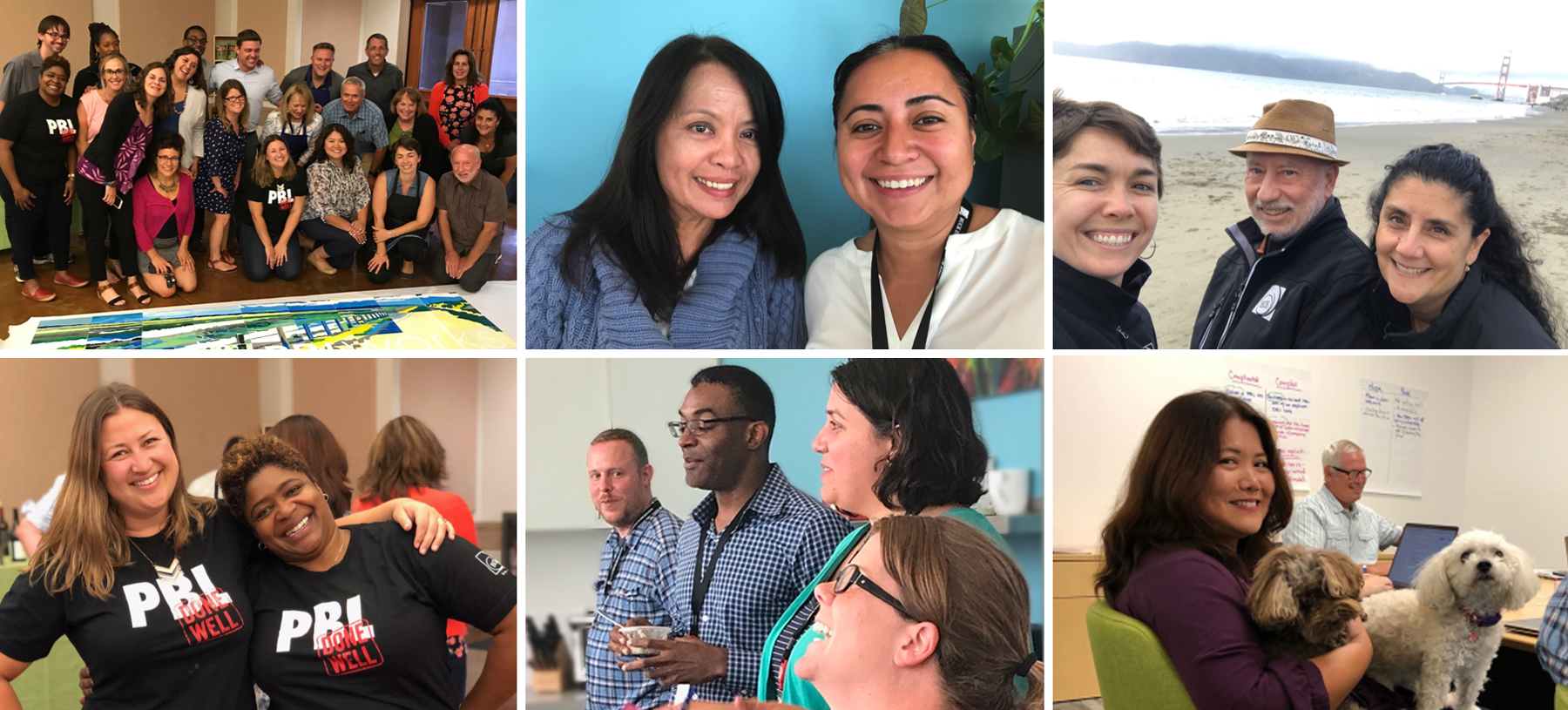 Current Openings
Director of District & School Leadership (DDSL) - Boston/New England

Organization Summary 
PBLWorks (formerly the Buck Institute for Education), is a 501(c)(3) nonprofit organization headquartered in Northern California, and is the industry leader in providing professional development and support services related to Project Based Learning (PBL). PBLWorks creates, collects, and shares high-quality PBL tools and resources with K-12 teachers and leaders across the country. At PBLWorks, we believe that all students—no matter where they live or what their background—should have access to quality PBL instruction to deepen their learning and achieve success in college, career, and life and we seek to build a multi-talented staff who deeply understand and embrace the diversity of the students of today, and have awareness of the challenges in the world those students will inherit. At the end of 2016, PBLWorks launched an ambitious new strategic plan that provides a clear roadmap for ensuring equitable, consistent, and positive student outcomes while also creating the evidence base for further adoption of PBL.
 
Position Summary 
The Director of District & School Leadership (DDSL) plays a pivotal role in supporting school and district leaders around the United States in their effort to implement high quality Project Based Learning. This position provides an opportunity to have influence on schools and districts within a specific region, through the delivery of engaging professional development, face-to-face and virtual leadership coaching, and strategic planning support. The DDSL will need to leverage systems thinking, adult learning theory and leadership develop theory. This role will provide guidance and consultation to superintendents, district and school leaders. The DDSL will work closely with PBLWorks' curriculum team to develop tools, resources and general support materials for district school level leaders who are leading the implementation of PBL.
 
The Director of District & School Leadership (DDSL) reports directly to the Senior Director of Programs, and is a full-time position with benefits. The successful candidate will work with other DDSLs and be a member of the District and School Leadership team. The successful candidate will be located in Boston/New England. Travel for this position will be extensive, sometimes more than 50%.
 
Key Responsibilities
 
District & School Leadership Development

Provide leadership coaching and support to district leaders in 5 - 7 school districts in the Boston/New England region to ensure a systemic implementation of Project Based Learning.
Facilitate onsite meetings and leadership workshops to school and district leaders to build their capacity to support and sustain the implementation of high quality PBL.
Assess the districts' implementation capabilities, develop and maintain excellent relationships with district leadership partners and build capacity of leadership teams in the districts and individual schools. 
Facilitate the development and monitoring of district-wide implementation plans for PBL, and insure coordination of PBLWorks programs and services delivered to the districts. 
Engage in regularly scheduled (weekly or bi-weekly) coaching sessions with district partners to support PBL implementation.
Represent PBLWorks by communicating to district partners and the public what PBL is, and what products, online resources, and professional development are available in PBLWorks' suite of services.
Remain in close contact with the Senior Director of District and School Development and other PBLWorks staff, and keep PBLWorks fully informed of district activities and progress with regards to district-wide PBL implementation. 

District & School Partner Management

Assist with the launch and facilitation of PBL School Leader Networks throughout the Boston/New England region.
Ensure fulfillment of contracted services in a timely fashion, working with PBLWorks staff to plan and coordinate service delivery of PBL teacher and leader development workshops and additional programs and services.
Work collaboratively with PBLWorks staff to measure and track delivery of programs, including accurate and timely inputting and monitoring of data in Salesforce.
Ensure collection of research and efficacy data related to PBL implementation.
Attend all PBLWorks National Faculty summits and conferences.
Attend quarterly (and potentially, more frequent) PBLWorks staff meetings each year in Novato, CA. 

Business Development

Expand revenue-generating district and school partnerships based on PBLWorks' theory of action; cultivate existing relationships and develop new relationships.
Ensure annual revenue goals for district and school development work are attained.

Contributing to mission of PBLWorks

Work with other PBLWorks team members to further PBLWorks' mission, vision, values, and strategic plan.
Share and model our deep passion for equitable access for all students to high quality education.
Support PBLWorks colleagues as needed.
Participate as a team member in PBLWorks meetings and ongoing projects.
Facilitate workshops, meetings, and protocols as assigned.
Complete other tasks, as assigned.

Qualifications and Abilities
The Director of District and School Leadership (DDSL) will be thoroughly committed to PBLWorks' strategy and mission. All candidates should have demonstrable leadership, coaching, and relationship management experience and success managing business relationships. Additionally, the successful candidate will bring this experience to the role:

At least five years of successful school district or system leadership experience or experience working closely with school and district leaders in a coaching/consultative role.
Successful mentoring or coaching of school and/or district leaders.
Successful facilitation of groups, especially in service of strategic planning and professional learning.
Successful implementation and scaling of programs across a school district or system.
Strong demonstrable community building experience with the ability to engage a wide range of stakeholders including advisory groups, coalitions, forums, trade associations, foundations, corporate sponsors, and practitioner groups.

The successful candidate will possess these skills:

Strong written and verbal communication skills. S/he will be a persuasive, credible, and polished communicator with excellent interpersonal and multidisciplinary project skills.
Superior public speaking and presentation skills.
Unwavering commitment to quality programs and excellence in organizational and project management with the ability to achieve strategic objectives, and manage a budget.
The ability to handle a variety of constituencies, manage multiple tasks simultaneously and thrive in a complex environment with multiple priorities.
Ability to work effectively in collaboration with diverse groups of people.
Strong analytical skills; basic business intuition.

The successful candidate will reflect these attributes:

Integrity, a positive attitude, and self-direction
A team player who can interrelate and operate effectively with peers and other associates within a collegial, yet demanding, work environment
Strong work ethic and demonstrated passion for PBLWorks' mission and commitment to working collaboratively with a management team of senior professionals

Reporting Relationships
The Director of District and School Leadership reports to the Senior Director of Programs and will be a member of the PBLWorks Program team.

Location
The job will be located in Boston/New England. Travel will be extensive, sometimes more than 50%.

Compensation / Benefits
The Director of Districts and School Leadership role is a full-time position with full health benefits, (including medical, vision and dental), generous retirement contribution, life and disability insurance and cell phone stipend. PBLWorks offers a competitive salary (commensurate with experience) and a generous benefits package. PBLWorks is a dog-friendly working environment.

The Application Process
If you are interested in this position, please apply by visiting our search partner, On-Ramps, website: https://www.on-ramps.com/jobs/1805. They will contact you if there is a match between the job requirements and your skill set and experience. 

We are actively seeking diverse candidates. PBLWorks is an Equal Employment Opportunity (EEO) employer and does not discriminate on the basis of race, color, national origin, religion, gender, age, veteran status, political affiliation, sexual orientation, marital status or disability (in compliance with the Americans with Disabilities Act) with respect to employment opportunities.