Advanced Placement PBL Series
This one-year program provides professional development in Project Based Learning and the Knowledge In Action (KIA) curriculums in specific Advanced Placement (AP) subject areas.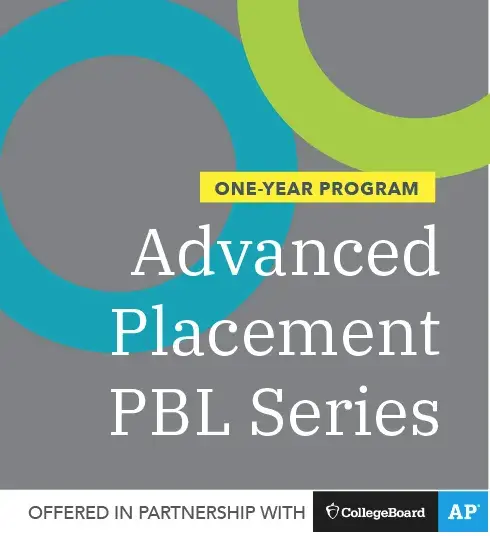 Series Description
Through the program, teachers will learn how to implement the KIA AP curriculum in their subject area by using the Project Based Learning teaching methodology. The program includes a four-day summer intensive and four follow-up sessions during the academic year. This program is offered as a part of the College Board's AP Summer Institutes.
In 2024, PBLWorks is once again partnering with College Board to offer both in-person and online Summer Institutes for both subject areas (Environmental Science and Government and Politics)!
Cost: $1299 for the in-person Summer Institute. $799 for the online Summer Institute. 
Focus on your specific subject area.
The Advanced Placement PBL Series is available in two subject areas. Each of these AP subject areas were the focus of a recent research study on the impact of PBL in AP.
AP Environmental Science – AP PBL Series
For teachers of AP Environmental Science in the 2024-25 school year
AP U.S. Government and Politics – AP PBL Series
For teachers of AP U.S. Government and Politics in the 2024-25 school year
During registration, you will select the series in your specific subject area.
The essentials
Summer Institute: 4 consecutive days (30 hours total)
Support Sessions: 4 online sessions during school year (2 hours each)
Instruction: Summer Institutes may be online or on-site depending on host preference
Class size: Up to 35 participants
Resources: Access to the Project Library and 12 self-paced modules
CEUs: Available from College Board (see details below)
Is it for you?
This series is specifically for teachers of AP Environmental Science and AP Government & Politics in the 2024-25 school year.
It's ideal for both teachers who are new to PBL, as well as more experienced PBL teachers.
Join a community of teachers who share your subject matter expertise, as well as a curiosity about Project Based Learning.
Course outcomes
Your experience will focus on implementing the KIA curriculum in either AP Environmental Science or AP Government & Politics.
As a result of this one-year program, you will use your knowledge to:
Implement the Knowledge In Action AP curriculum in your classroom.
Adapt the curriculum to fit the context of your students.
Workshops will be specific to the subject area you sign up for during registration. AP Environmental Science curriculum will be the focus of one workshop; a separate workshop will dive into AP US Government and Politics. Beyond the subject-specific AP Course Curriculum, the workshop outline and offering is similar and so is combined below. 
Day 1: PBL Essential Elements and Adaptations 
Develop "need to know" questions regarding our driving question for the Summer Institute. Identify College Board standards and PBL design elements in the first project of the year by analyzing an existing unit plan. Define adaptation within the KIA curriculum, and compare an adapted lesson to the original. 
Day 2: Managing and Assessing Projects
Identify where content standards are "spiraled" through the year, and develop a concept map for content and assessment in project one that reflects this spiraling. Identify key management strategies for PBL (norms, group work, contracts) and develop my own strategies to build a PBL culture in my classroom.
Day 3: Collective Wisdom
Use my knowledge of management strategies, spiraling, and Sprocket (the KIA curriculum platform) to calendar my first weeks of instruction. Suggest best practices for teaching by sharing my own "toolkit" of instruction in a collective wisdom sharing protocol, and identify where those strategies can be implemented in the project calendar.
Day 4: Product Analysis and Adaptations 
Evaluate sample student work of the first project against standards through a product analysis, and identify assessment moments on my calendar. Give and receive feedback from colleagues regarding my adaptations through a tuning protocol.
Follow-Up Sessions
Four follow-up sessions will be scheduled over the course of the 2024-25 academic year. These sessions will provide support and learning opportunities before the beginning of each Environmental Science project.
In these follow-up sessions, you will: 
Reflect on prior KIA project work to identify needs for future project implementation.
Review and adapt the upcoming project to best serve your students.
Continue learning to refine your PBL practice within the context of the KIA AP Environmental Science or AP US Government and Politics curriculum.
We've seen the impact of high quality PBL on student success for many years, and research now shows its specific impact on students who are taking Advanced Placement classes.
New research shows impact of PBL in Advanced Placement
The AP PBL Series is based on powerful new breakthrough research just released by the Center for Economic and Social Research at the USC Dornsife College of Letters, Arts and Sciences. The randomized controlled trial found PBL coupled with high-quality professional development significantly improves student performance when compared to students in non-PBL classrooms.
View research brief (Lucas Education Research)
The research as funded by Lucas Education Research, a division of the George Lucas Educational Foundation.
Register for one of the AP Summer Institutes on various dates, hosted by the College Board. Sessions run from June 3 - August 9, 2024.
Register now for

AP Project Based Learning:




US Government and Politics APSI


–or–


AP Project Based Learning:




Environmental Science APSI
Various Dates
June 3 – August 9, 2024
via College Board
Questions?
For general questions about the AP PBL Series
or about registering via College Board,
call 800-787-7477 or email [email protected].
.