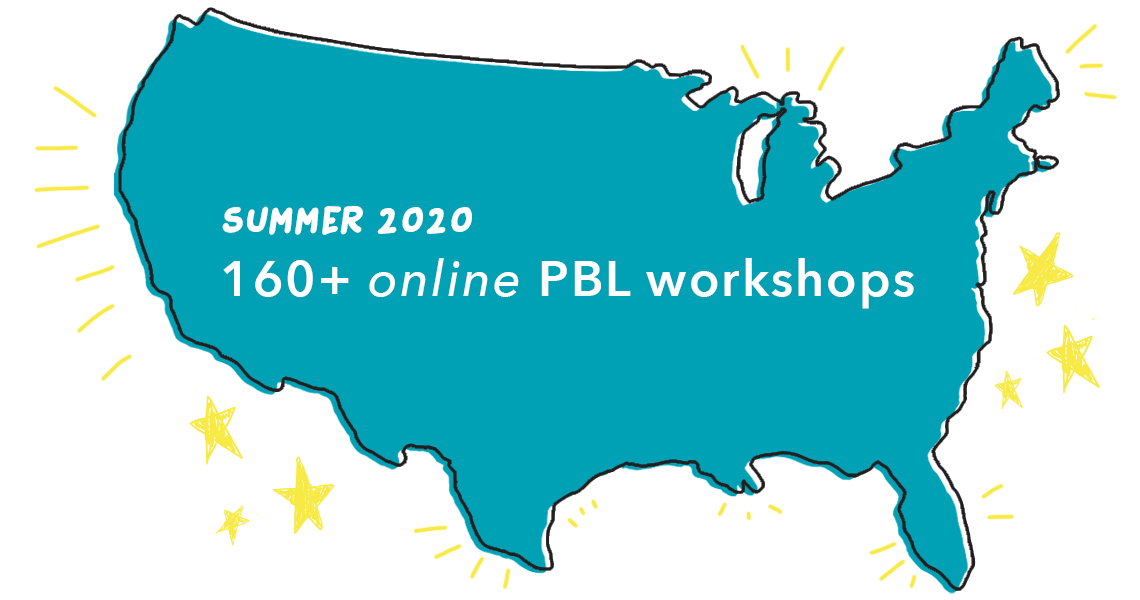 After more than 6 months of doing online PBL workshops, here's what we learned from you about what makes a good one.
Our team first transitioned from in-person to online workshops in April. Since then, we've facilitated hundreds of multi-day online workshops and services, including over 160 PBL 101 Workshops. 
We surveyed everybody who attended, and the feedback is strong! As it turns out, our PBL professional development is just as effective online.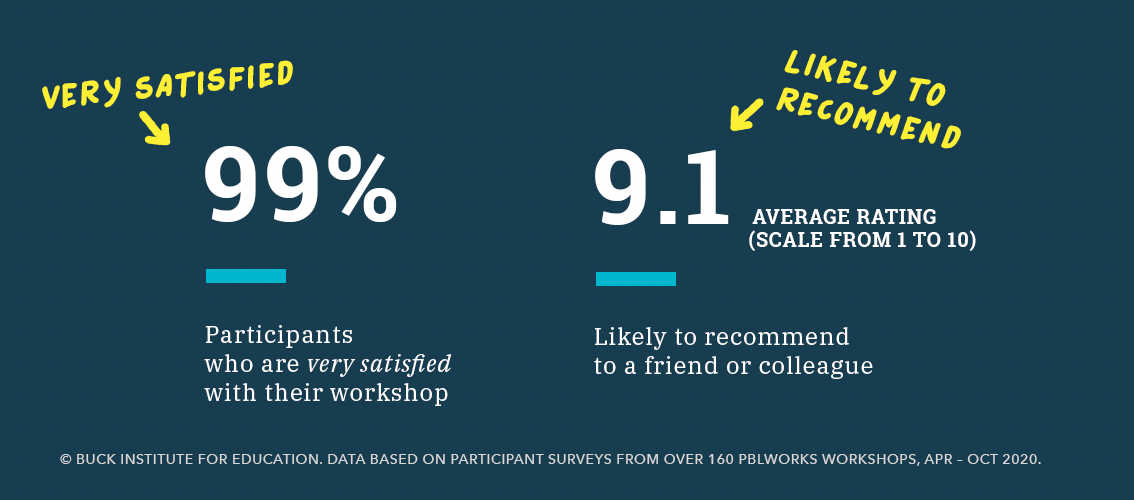 After a workshop this summer, one district leader shared, "Our district survey had the highest positive feedback I have ever seen in my 5 years in this role! The pacing, interaction, and quality content was exactly what these teachers needed to get started on their journey."
And for many, the impact was all the more pronounced because of the context. A participant wrote, "This was a great training, especially in the middle of a pandemic and in the middle of all of us trying to navigate the online teaching world. PBL is an amazing way to teach the content necessary, but in an engaging, hands-on way."
So, what made our online PBL workshops work so well?
Really, it comes down to four things...
Our workshops model the best practices of remote learning.
Surprisingly deep connections and collaboration.
Engaging activities and built-in breaks keep folks focused and energized.
There's a real need for high-quality projects, so participants are motivated!
---
1. Our workshops model the best practices of remote learning.
Our team has been diving deep into PBL for remote learning all year, and we bring all that we know into the design and facilitation of our workshops. Along the way, we model how to set norms, facilitate inquiry, and foster collaborative conversations online, using tech tools like Zoom, Nearpod, and Google Docs. It's embedded in the facilitation, pacing, and activities.
Our workshops still model the process of high-quality PBL, but now in our new context, they also model key practices of remote learning, too. So participants get a chance to experience this for themselves, and they're bringing those best practices back to their classrooms. As one attendee said, "It changes your perspective when you are experiencing it firsthand!"
2. Surprisingly deep connections and collaboration.
Many of us are especially hungry for connection right now, especially with other educators. And yet, meeting online has the potential to leave us more disconnected.
In our workshops, facilitators placed an emphasis on building relationships and creating community, and reached out to connect personally with attendees. This inspired active participation and a true commitment to individual and shared learning. Breakout rooms, threaded into each workshop agenda, became important and enjoyable avenues for small group interactions.  
3. Engaging activities and built-in breaks keep folks focused and energized.
Yes, Zoom fatigue is real! No one wants to stare at their computer for hours, just listening to a presenter. 
Our workshop agenda has always included interactive and engaging activities — like video analysis, hands-on work, and peer collaboration and feedback, among others. But with an online format, we realize how important it is to build in plenty of breaks, to get out of our seats from time to time, and keep the curriculum engaging. The structure and agenda also helps participants to know where we're headed and to pace themselves.
Here's how one teacher described it: "I've been to many trainings recently via Zoom, and this was the first one that felt balanced in learning, process time, collaboration, etc. Thank you for all of the ways you showed us what an online learning environment CAN BE! I am taking a ton of these strategies with me for my teachers."
4. There's a real need for high-quality projects, so participants are motivated!
It seems that many teachers are more ready than ever to get started with Project Based Learning. With the transition to remote and hybrid learning, the benefits of PBL are even more clear. And they're looking for the solid strategies and plans to navigate this unusual school year with their students.
Motivation is a real factor! And the proof is in the projects.
Teachers are walking away from our online workshops with high-quality project designs that are ready to finish and implement — in the classroom, online, or in a hybrid situation. In some cases, our facilitators are seeing even stronger project ideas and plans than ever before!  And through our post-event participant survey, we know that so many of them are being implemented this fall in schools around the country. 
---
Did you or your colleagues attend an online workshop with us this year? We'd love to hear how it's going in your classroom and at your school! Say hello on Facebook or Twitter.