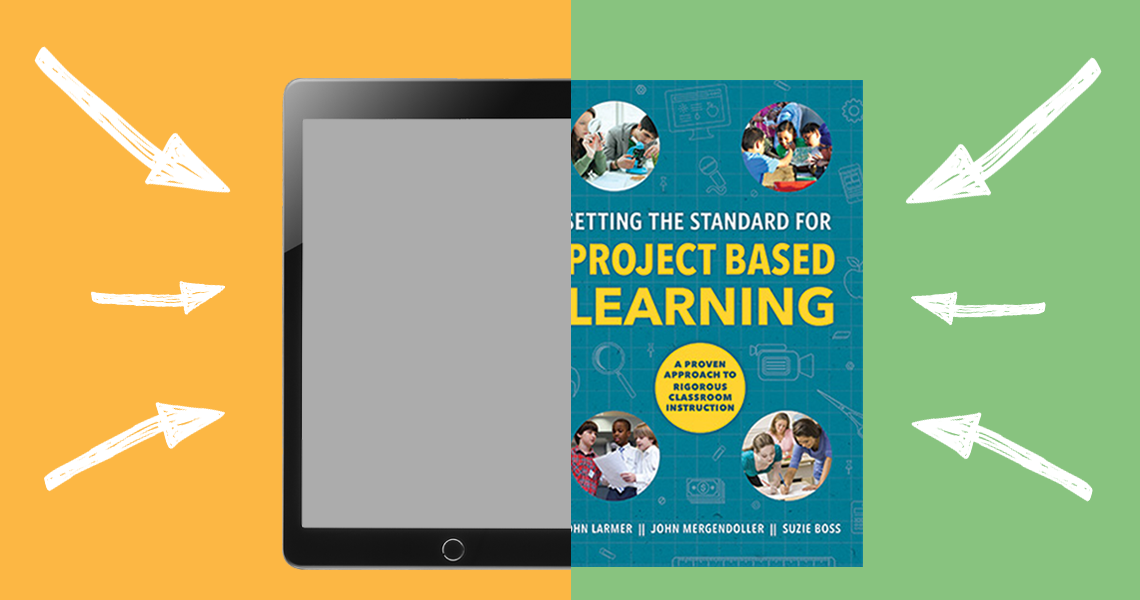 We've been hearing this drumbeat since last spring: PBL works for remote learning.
We heard it in blog posts and in our webinars, from our National Faculty and other teachers, from our school district partners, and in the news. Here's a big reason why Project Based Learning should be a key component of the 2020-21 school year, whether your school is going entirely online or there will be a combination of in-classroom and at-home learning: PBL shares the same features as the best online learning.
An April blog post in Edutopia described five Teaching Strategies of Award-Winning Online Teachers. I know what you might be thinking, if you're a teacher: "My online teaching last spring is not going to win any awards!" Cut yourself some slack. It was, after all, not a carefully planned shift to remote learning—it was even dubbed "emergency remote teaching." I'm sure you learned a lot, and are ready to apply those lessons this fall.
The post's author was Michael Ralph, of the University of Kansas Center for STEM Learning, and he drew from a recent study by Swapna Kumar, Florence Martin, Albert Ritzhaupt, and Kiran Budhrani in the open-access journal Online Learning. They interviewed a group of eight award-winning online instructors who had "a combined 109 years of experience teaching online courses." (In other words, way more than one spring of emergency remote teaching.)
The best practices of online instruction map closely to what we know about Gold Standard PBL.
These practices hold true of any good PBL experience, really, whether online or in the classroom. When I read the list on Edutopia, I was immediately struck by the parallels. Take a look...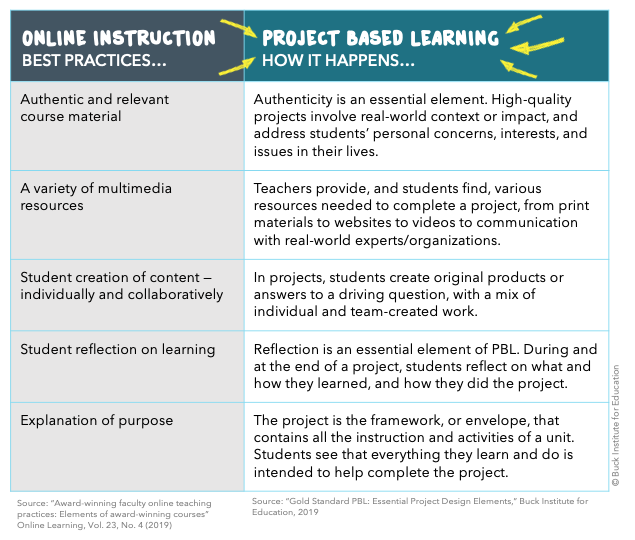 Best Practice: Authentic and relevant 
course material.
In PBL... Authenticity is an essential element. High-quality projects involve real-world context or impact, and address students' personal concerns, interests, and issues in their lives.
Best Practice: A variety of multimedia resources.
In PBL... Teachers provide, and students find, various resources needed to complete a project, from print materials to websites to videos to communication with real-world experts/organizations.
Best Practice: Student creation of content — individually and collaboratively.
In PBL... In projects, students create original products or answers to a driving question, with a mix of individual and team-created work.
Best Practice: Student reflection on learning.
In PBL... Reflection is an essential element. During and at the end of a project, students reflect on what and how they learned, and how they did the project.
Best Practice: Explanation of purpose.
In PBL... The project is the framework, or envelope, that contains all the instruction and activities of a unit. Students see that everything they learn and do is intended to help complete the project.
Boom! Right? Any questions? Good.
Now get out there (or stay in there) – and make PBL happen this fall!
And if you do have questions, we're listening! Reach out at @PBLWorks or @JohnlPBL on Twitter. We'd love to hear how PBL is working in your classroom this school year.