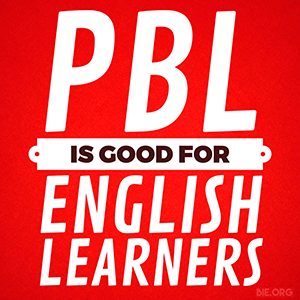 At the ASCD annual conference in Anaheim, CA on March 27, 2017 the Buck Institute's Gina Olabuenaga and John Larmer presented a session on equity and PBL, specifically how to support English learners during a project. Along with basic information about BIE's model for Gold Standard PBL, they shared this resource list with participants.
New Resource from BIE: English Learner Scaffolds for PBL
This planning tool is explained in detail in another blog post.
• New FreeBIE Resource: English Learner Scaffolds for PBL
Videos
• Supporting ELLs Through Project-Based Learning
• Katherine Smith School Kindergarten Presentations
BIE Blog Posts

Additional Resources
Innovations in Educational Equity for English Language Learners
¡ColorínColorado!
English Language Learners: A Policy Research Brief by NCTE
Do's and Don'ts of Teaching English Language Learners
English-Language Learners
Unlocking Learning: Science as a Lever for English Learner Equity
Internationals Network for Public Schools (Project Examples)
Student Voice: Experiencing Deeper Learning Through PBL (Project Example)

Do you have additional resources for supporting English learners in PBL? Please enter them in the comments below.