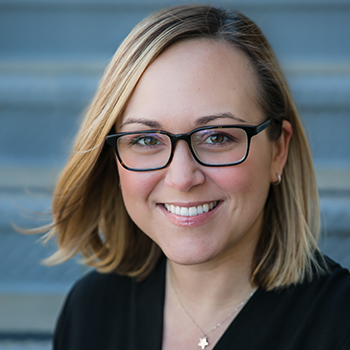 Gina Olabuenaga
Gina was the Director of Curriculum at PBLWorks from 2013 to 2020. In this role, she was responsible for designing and creating PBLWorks' content and professional development services, as well as supporting National Faculty in delivering those services. She originally joined PBLWorks (also known as the Buck Institute for Education) in 2011 as a National Faculty member.
Gina came to the field of professional development (PD) in a deeply personal way. Early in her career as a classroom teacher, she understood that the learning curve was steep and quality PD was in short supply for new teachers. She was frustrated by the lack of transformative learning experiences, for both teachers and students, that could deeply impact student learning and outcomes, and wondered, 'How can we make education, and learning broadly, about practicing success not reinforcing failure?' In pursuit of this idea, she obtained a doctorate in Teacher Education for Multicultural Societies (TEMS) at the University of Southern California. Her research examined the PD models of schools successfully implementing 21st-century competencies and PBL. 
For 8 years, Gina taught 5th grade in the Los Angeles Unified School District, and was a founding teacher at an Apple Distinguished Pre-K-5 math/ science/ technology magnet school.
She holds a BA in English, with a minor in Psychology, and a Master's in Teaching from UC Irvine as well as a multiple-subject credential and a supplemental waiver in single-subject English.
When she isn't PBLWorking, she enjoys learning about a new-to-her age group: toddlers. Journaling, coffee, and podcast listening are snuck in when they can be.