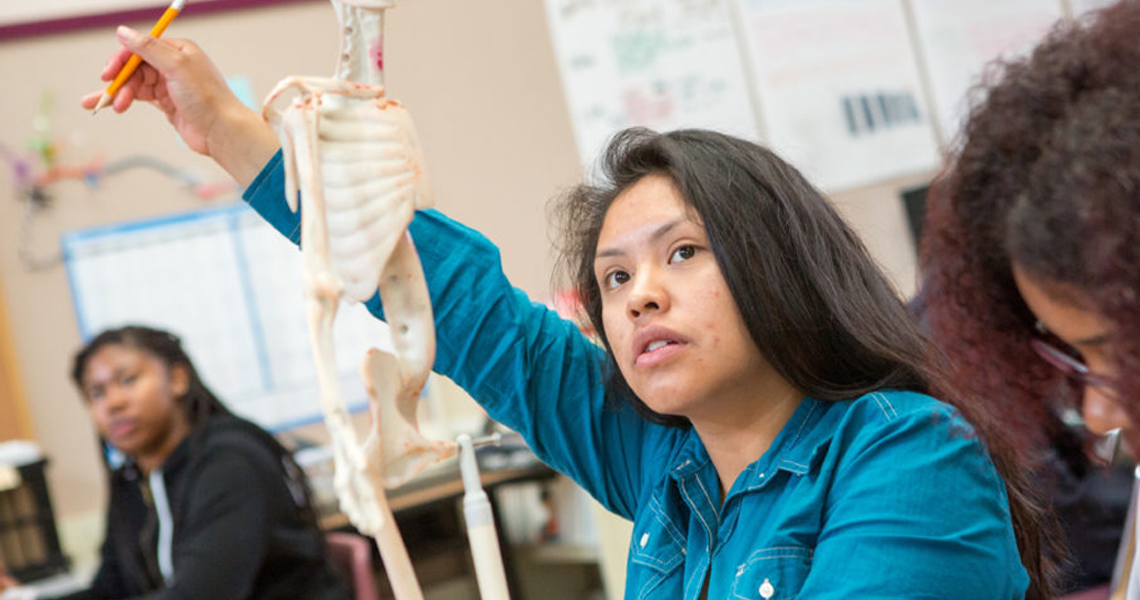 This story is part of a series of conversations that we're having with educators across the country. In each conversation, we're reflecting on two questions: How has the past year changed your approach to Project Based Learning? And what are the implications for your practice as you navigate in-person or hybrid instruction?
Last year, James Campbell and his colleagues at the Atlanta Girls' School spent a good part of their summer preparing for the adoption of a hybridized schedule in the fall of 2020. While it would allow the 800+ students at the 6-12 school a partial return to in-person learning, more than half their week would still be held remotely — and some students have opted to stay home entirely.  
As the opening of school rapidly approached, many questions presented themselves but one key driving question soon emerged for James and his colleagues; how do you ensure that learners at home feel as much a part of the classroom as those who are there in person?
It became apparent that new approaches to student collaboration were required. 
Facilitating collaboration between students who are in the same class is challenging. Doing this while some students are remote is even more difficult. 
One solution was to take all classroom discussions and group work into the online space. In-person and remote learners all logged into Zoom to collaborate. Teachers discovered this required both creative spacing and on occasion even external microphones, but it helped bridge the gap between the two groups of learners. Although it wasn't easy, it did lead to more equity of voice in mixed learning groups. 
Willingness to experiment and adopt new technology tools helped in other ways as well. Professional development conducted over the summer led to the adoption of tools such as Nearpod, an interactive instruction tool that helped teachers deliver live lessons to in-person and remote learners simultaneously. Equally helpful was Edpuzzle, a video platform that integrates formative assessment into pre-recorded lessons in a way that made direct instruction more useful. James points out that these tools were especially helpful for teachers having to plan asynchronous lessons since they allowed for teacher-facilitated instruction that wasn't face-to-face! 
While these tech resources proved to be worthwhile investments, not every piece of technology was a slam-dunk. An experiment with Swivl, a video tripod system that rotates and follows the teacher as they move around the classroom, proved to be more hassle than help, but illustrated the importance of committing to experimentation during remote learning.  
Leveraging outside experts helped support hybrid learning too. 
PBL emphasizes the importance of authenticity in many ways, including the utilization of real-world experts. While the teacher is and will always remain the most important expert, collaborating with outside sources of expertise can add new dimensions to a project. As an added bonus, James and his team found out that these outside connections can also solve instructional problems related to distance learning. 
During a science/humanities project focused on exploring identity, James facilitated student inquiry through multiple academic lenses by having students read and reflect on The House on Mango Street while simultaneously conducting a scientific investigation revolving around DNA. While the humanities portion of the project lent itself well to the hybridized format, the lab portion was challenging, especially since it required blood sampling and could have led to increased contact as excited students ran around to see their classmates' results. 
A solution presented itself thanks to a timely collaboration with STEAMTruck, an organization focused on making STEM experience more accessible. Students were provided take-home kits so they could conduct the lab portions of their project from home. STEAMTruck also offered students "office hours" where they provided extra support and answered questions while simultaneously getting feedback on the product and services, a win-win for both the organizations and for James. 
The Atlanta Girls' School's proximity to several institutes of higher learning has allowed them to easily access outside expertise on projects in the past, but the manner in which it was done changed once additional visitors to campus became a health concern. Scientists from Emory University were able to Zoom in and support student inquiry without raising health concerns or having to block out additional time for travel. In fact, the use of video conferencing software led to better connections with experts beyond the travel radius of the school, something that holds exciting potential for the future. 
Changes to traditional methods of learning weren't relegated to the student experience alone. 
The staff of the school also had to adjust their own definitions of what effective professional development looks like. Students engaged in asynchronous learning on Wednesdays, which provided time for professional development, but with the school being deep cleaned in-person meetings would be impossible. The result was a choice-based approach to PD where teachers could elect to participate in asynchronous courses, reading, or online seminars hosted by their colleagues based on what they needed. This flexible model proved to be so effective and popular that the staff discussed how to preserve it even after things return to "normal."   
James and his colleagues soon realized that several aspects of in-person learning actually benefit from being conducted remotely. Teleconferencing in place of in-person visits reduced barriers to student-expert interactions. Labs done at home became touchpoints for parents that led to better partnerships and created buy-in for PBL and other non-traditional practices. Tools that allow for more flexibility in instruction also opened up times outside the traditional school day to learning, giving more flexibility to students and their families. 
The students and teachers are now slowly returning to an instructional format that more resembles school before the pandemic, but their PBL practice has been altered in several ways. 
Their experience came with another important realization that could have a profound impact on the future of The Atlanta Girls' School; do students have to be physically present to engage in meaningful learning? Could James's next project involve cohorts of students learning from different locations, both on and off campus? Could flexibility of location address issues of overscheduling that have many teachers battling with extracurriculars for students' bandwidth? Has the groundwork been laid for the creation of concentric circles of place-based learning, with the school at the center and the students radiating outward? 
Time and time again we hear educators say that the pandemic has changed the very nature of education. Perhaps, like James Campbell and his colleagues, we can either complain that roses have thorns, or you can rejoice that thorns have roses! 
---
What elements of your PBL practice and the past school year are you reflecting on this summer? Let us know by joining the conversation with @PBLWorks on Twitter or on Facebook.