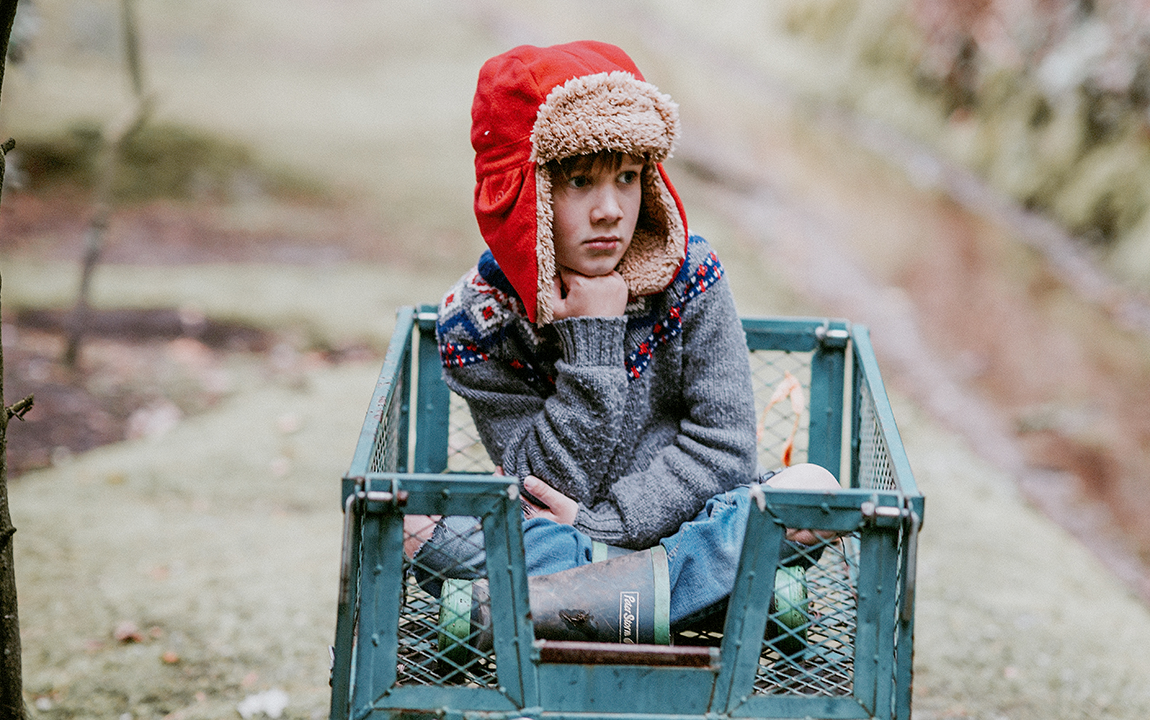 Springtime brings about change and a time for reflection. As adults, we think of what we can do differently, both personally and professionally, to better ourselves. More specifically as educators, we reflect on the student growth that we have seen and make adjustments to maximize the months before summer vacation. 
I am a fifth grade teacher at Goshen Post Elementary School in Aldie, Virginia. We are a brand new PBL school and create authentic learning experiences for every child, every day. Prior to this year, I always thought that a PBL project was a one time "event." I now realize PBL is embedded throughout all content areas and throughout the day, and gives students the opportunity to become contributors to the world.
As I reflect on my new PBL journey and how far I have come since the start of the school year, one of my favorite days in class was the day that my students and I reflected on a PBL project we had just wrapped up. Our driving question was "How can we as stewards of the ocean, advocate for the protection of sharks?" The students researched the importance of sharks in maintaining a balanced ecosystem. They created elevator pitches in collaborative groups and had the opportunity to present to Congresswoman Jennifer Wexton. The power behind their public product and authentic audience empowered them to always be advocates for what they believe to be right.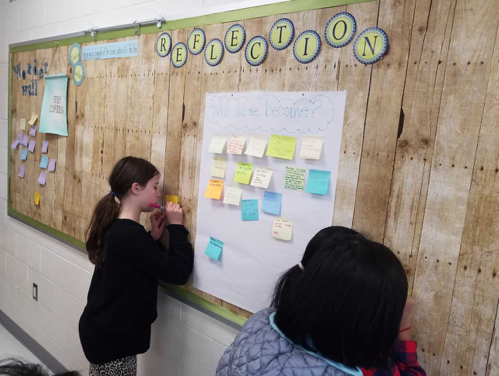 How I Managed Student Reflection
I knew that reflection was an important piece of the PBL process, but what happened in this project just sealed the deal on how important it truly is. I was curious what the students thought of the project. What went well? What could we make even better for our next project?            
After each project we have always reflected collectively as a class. With each project, I give the students more responsibility. I knew they were ready for more in-depth reflection, so I put posters on the wall gallery style, with one of the four questions below written on top. The students silently walked around the classroom, reflecting and writing answers to the questions on post-it notes which they stuck onto the posters. It only took about 20 minutes and their responses blew me away, so I want to share their thoughts--thoughts I may not have otherwise learned, had I not taken the risk of trying something new in my classroom.
What was the purpose?
In all we do there should be purpose.  We set up our classrooms with purpose, meetings with purpose, and our PBL projects with purpose.  Most students responded in reference to our driving question: "We advocated for the protection of sharks".  Although some found the purpose to be the importance of learning and reflected that they were "researchers" while others felt the purpose to be that they were now more like "scientists" and questioning more.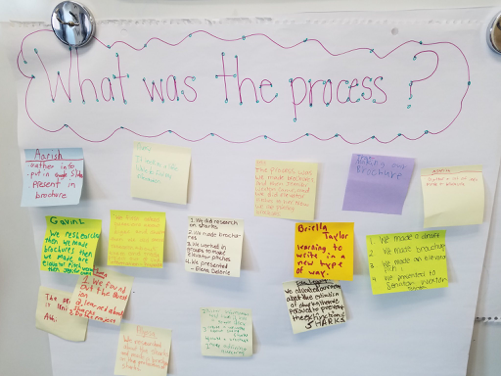 What was the process?
With purpose we need to determine how we will reach our end goal. The process for one student was, "Better understanding the elements of PBL" and another student "Felt the process led them to who they became because of the project." Which leads me to my favorite question.
Who did we become?
We all want to become better. We want our students to not only grow academically, but we want them to become what they never thought possible. While PBL focuses on content, it also focuses on giving children the ability to become lifelong learners and see themselves growing in a different light. The students now saw themselves as researchers, communicators, critical thinkers, collaborators, and creators, just to name a few!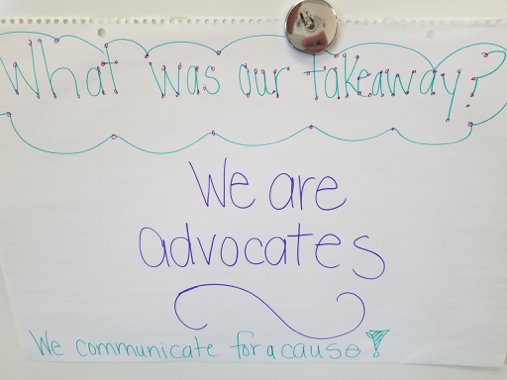 What was our takeaway?
Finally, my favorite part of the PBL journey is the takeaway. Because of this project what can my students apply to their daily lives and for the rest of their lives? They 100% agreed that they became advocates and in their own words, they now can "communicate for a cause."
 
Take Time to Reflect!
As I reflect on this lesson, I have come to understand that reflection is a critical component of active learning. It should not only occur at the end of the school year or at the end of a project, but throughout the journey. Imagine how much deeper the learning experience may be if we allow our students to reflect throughout the process! 
I still have a lot to reflect on, but I do plan on making these questions a permanent part of my PBL classroom culture. Giving students the opportunity to reflect on their work has proven to increase their empathy towards others, deepen their learning, and increase their drive to make a difference in their world.
I hope your takeaway is that you provide time for yourself and students to reflect on your PBL experiences. Do not wait for the project to end. Imagine how different your journey may be if you take the time to reflect today. It's powerful!
Want to learn more about PBL? Check out our books.