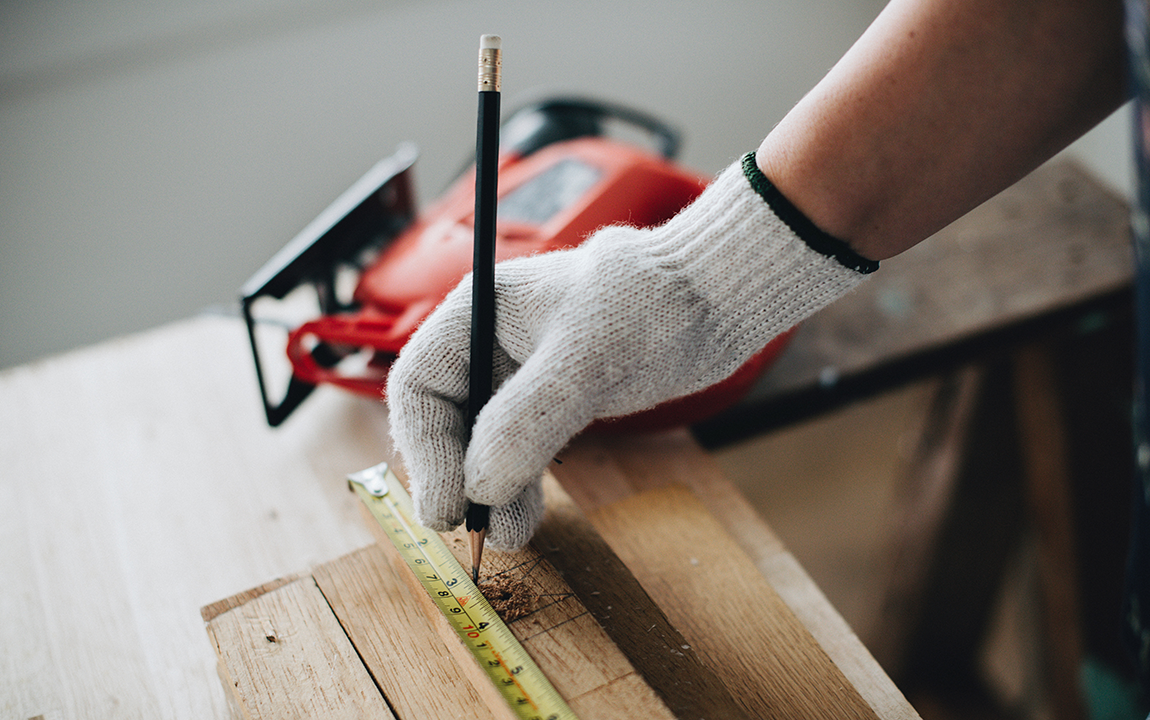 Opening a new school is a grand task for any organization or school district. PSAS (The Pueblo School for Arts and Sciences) a public charter school in Pueblo, Colorado, has not only accomplished this feat but also opened a new school with a not-so-traditional ideation. This new school was created to be a "Maker" school. The idea of creating a school with making at its core is something new and innovative, but how does that work and what does that mean?
The maker movement is creating more opportunities to give students a chance to use a "hands-on" approach to develop and enhance their success skills (creativity, collaboration, teamwork, critical thinking, and problem-solving) through various challenges. This type of pedagogy is not only enjoyable and engaging for the students, but teachers are able to leverage this approach to also teach key knowledge and help the students connect and understand content.
The big question is, how is this accomplished in a maker school?
Well… it's accomplished through a high-quality Project Based Learning environment. Whether a teacher is leading a project or leading a design challenge, there is a difference between making for deeper connections and purpose vs. making for fun. Many maker "projects" that are found online are challenges that can be accomplished in 30 minutes to an hour, which means they are not Gold Standard PBL. How do we move making from an activity or event to a rigorous project hitting both success skills and key knowledge?
Drone Project Implementation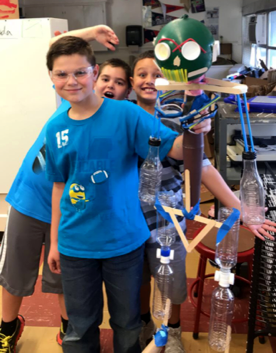 The first maker project our 4th and 5th graders were challenged with was one with a public audience.  Creating and presenting for a public audience would make any maker nervous. The students were challenged to create a drone course for the 1st Annual Maker Faire in Southern Colorado. The students were introduced to this challenge by watching a clip of drone racing; they were stunned! Jaws were dropping, eyeballs were popping out of their heads (not literally) and lots of "No ways!" were heard.
Earlier in the year, we scaffolded the students in how to think critically by giving them a process for it. We taught them the engineering design process, using a design challenge with rubrics to get them to understand what it meant to think critically and work as a team. I knew because of this background knowledge that they understood the design process, so I simply asked them, "What should we do now?" Silence came over the room for a brief moment until I heard one student say, "We should ask questions!" That was all that it took and a spark went off. Before I knew it we had a list of questions that needed to be answered before we could proceed with this challenge. That list of student-generated questions moved us right in the direction we needed to go.
Many questions surrounded drones and how to make courses, such as, "Why do they race drones?" or "How do you fly a drone?" These questions moved toward research, and that led to reading. Within the project, all of our 4th- and 5th-grade students were able to read articles 2 to 3 Lexile levels above because of the amount of motivation they had to read the articles, in order to find out more about drones and drone racing. Once they completed their research, they also used the design process to then brainstorm and create their own blueprint of what they thought the course should look like. The only constraints were that it had to have nine obstacles and that it was fall (the season) themed.
While creating their blueprint the students received feedback from staff and other students while being voted on to select which blueprint would be followed. Once the winning blueprint was chosen, the teams selected the obstacle they wanted to build. Once again, each team had to use the design process starting with asking questions to guide them in creating their obstacle along with a creativity and innovation rubric to ensure their obstacle was meeting the needs of their client.
A Visit From an Expert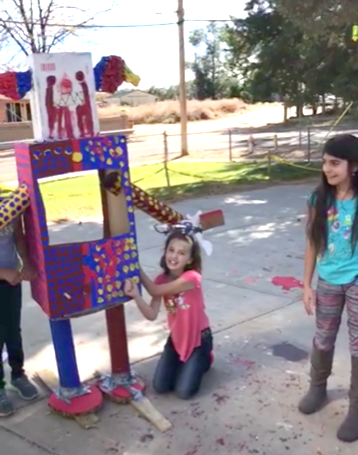 An important aspect of the design process is not only the planning and creating stages but also the importance of feedback to improve. Drone racing is a fairly new sport so I thought it would be nearly impossible to find experts to critique the students' work. Luckily, I happened to reconnect with a friend in the community who happened to be a professional drone pilot and built racing drones; who would have thought? Justen Reems (a professional drone pilot) came to our school and not only gave the students some amazing critiques for their revisions and improvements, but also opened their eyes to a brand new industry in the STEM field.
The students were now reinvigorated and almost finished with their obstacles. They ran their own tests while flying drones to make any last adjustments before the 1st Annual Maker Faire. There was only one last thing left to do. They had to be able to present their course to people from all walks of life and age groups. We used a presentation rubric to help prepare them for the upcoming presentation day that was unlike all other presentations they have ever had to make. They not only had to explain the course and how they made it but also teach a person how to fly a drone! Needless to say, they all did an amazing job and had a lasting experience of learning and doing.
Moving Forward: PBL & Maker Ed
As the Maker movement continues to gain momentum in education, educators will start to recognize how "making" within a PBL classroom can positively impact students by bringing fun back into learning. It is also just as important to ensure that making is not just an event or fun activity but is the vehicle that engages and builds those success skills. Having Project Based Learning in the driver seat will help guide student learning and ensure deeper connections while having an authentic and real-world experience.