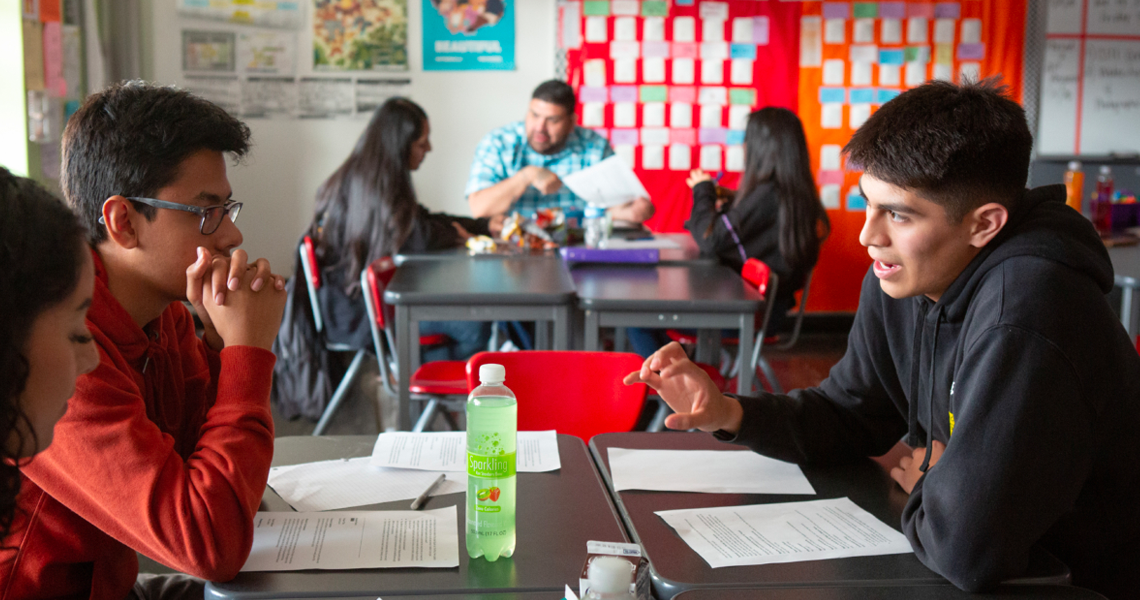 Our PBLWorks team is excited to share some big updates that have happened in the PBL community—all just in the past week!
First, a new body of research on PBL was just released that makes the case for Project Based Learning with the strongest evidence yet, using randomized control studies.
And as a result of this new research, we're offering a new Advanced Placement PBL Series this summer. 
Here's the story...
---

This set of new research offers powerful evidence about the positive impact of PBL—including the benefits of high-quality professional development.
Taken as a whole, the new body of research shows the impact of Project Based Learning on student learning across grade levels and demographics. See all the research briefs released by Lucas Education Research.
One of the studies, focused on Advanced Placement classes, included the support of PBLWorks professional development for teachers. The findings from that study were especially remarkable, in part because the study focused on this high-stakes learning environment.
In the AP study (pdf), teachers in five school districts participated in our professional development as they shifted to teaching the Knowledge in Action curriculum in AP Environmental Science and AP U.S. Government and Politics. The Knowledge in Action curriculum provides a PBL-based approach to Advanced Placement studies.
The big takeaway from the AP study?
A PBL-based curriculum coupled with high-quality professional development for teachers led to significantly improved student performance when compared to students in non-PBL classrooms. High school students in AP classes who engaged in hands-on, inquiry-based projects with real-world applications — performed higher than their peers on AP U.S. Government and Politics and AP Environmental Science exams.
In year one of a randomized controlled trial in five U.S. cities they scored 8 percentage points higher.
In year two of the study they scored 10 percentage points higher.
Students were more likely to earn a qualifying score of 3 or above, which could increase their chances of receiving college credit and saving on tuition.
This research makes the strongest case for PBL yet.
Looking for more details? See an overview of the new body of PBL research from Edutopia.
For the AP PBL research, watch a video summary at Edutopia. Get the research brief (pdf) from Lucas Education Research. Or read the full study from the Center for Economic and Social Research at University of Southern California, Dornsife College of Letters, Arts, and Sciences.
(And stay tuned! We'll be sharing more about this research ourselves...)
---
With that in mind, you'll now find a new AP & PBL Series in our services catalog...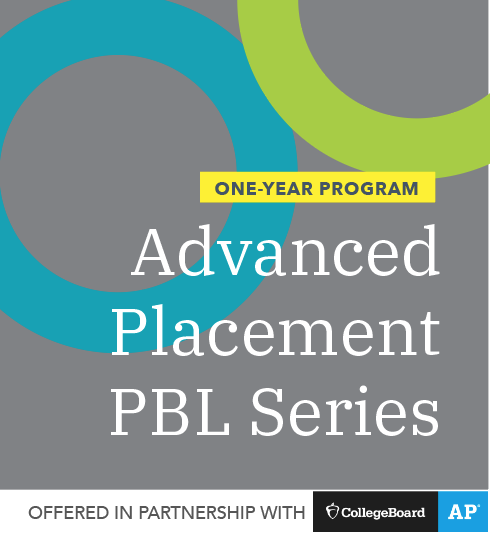 This week, we launched the Advanced Placement PBL Series of professional development workshops for both AP Environmental Science and AP U.S. Government and Politics. These new subject-specific programs take a PBL-centered approach to teaching. 
Offered in partnership with the College Board, the AP PBL Series is based on the powerful new research showing the positive impact of PBL – and PBL professional development – on AP students' success. AP classes provide a great opportunity for high school students to get a head start on their college careers, and we know AP teachers want to do whatever they can to engage students at this critical point in their high school careers.
This is the professional development that was used in the AP PBL study.
Teachers who participated in the research study had lots to say about the shift to PBL. The shift had an impact on their teaching outside of their in Advanced Placement classes, too.
One teacher shared, "My approach used to be didactic, stand and deliver. I saw some progress with my students, but not as much as with PBL. The hands-on approach, the connections to the real world: it's amazing."
The ongoing professional development is what made the difference for many teachers, as they used the Knowledge in Action curriculum. Sam Texeira, a high school history and social studies teacher in Illinois, said: "The PBL professional development reframed the way that I think about assessment, delivery of instruction, backwards design, and accommodations and scaffolds. It benefited my instruction and planning for other courses years later. I am a stronger teacher and my students are more confident because of my involvement in the PD."
Ready to get started? Here's how...
The new AP PBL Series is available for any teachers of AP Environmental Science and AP U.S. Government and Politics. Learn more at pblworks.org/advanced-placement.
And as always, we have a wide variety of workshops and courses for individuals—as well as PBL services for schools and districts. Feel free to reach out to us anytime with questions.
Do you have thoughts on the research studies? Or have you explored PBL in your Advanced Placement classroom? Join the conversation on Twitter with @PBLWorks, or find us on Facebook. We love hearing from you.