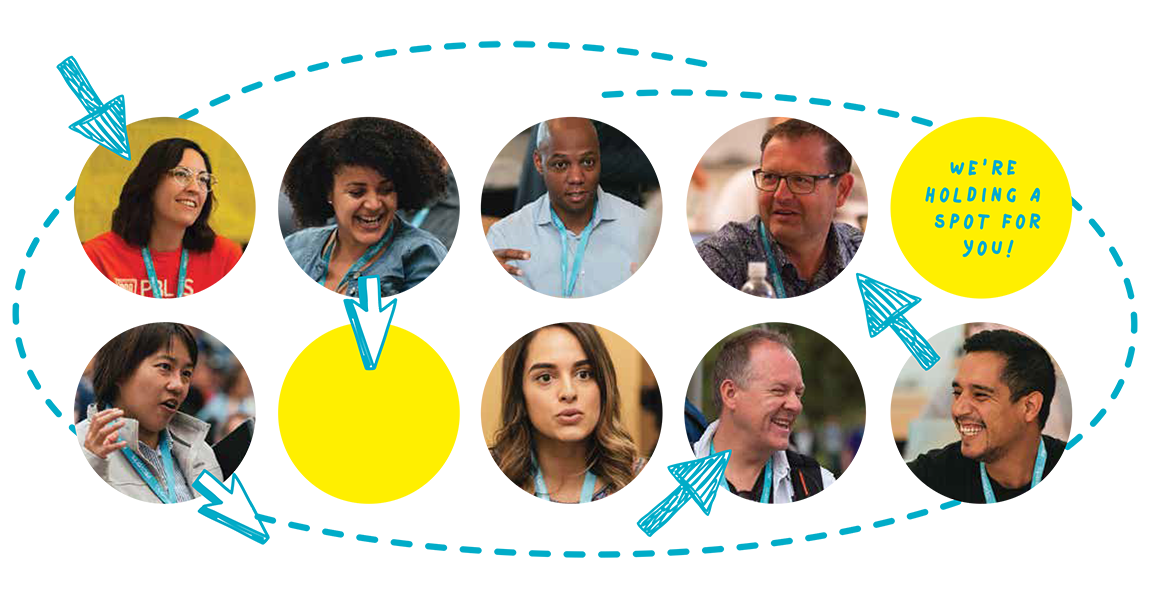 Being a school principal can sometimes feel like a lonely job.
And if you're seeking to begin and sustain the implementation of Project Based Learning in your school, it might feel even lonelier. Like teachers who are beginning to adopt PBL, you're blazing a new pathway, and you may be the only school in your district or area undertaking such an effort. Your staff, community, parents, and students may not know much about PBL, and they may have serious questions about it. You understand that PBL represents a profound shift in business-as-usual, but it hasn't been done before and there's no roadmap.
 
Now you're not alone—because we've got some exciting news!
PBLWorks is proud to announce the launch of our PBL School Leader Networks. Beginning in California and Massachusetts, we intend to grow regional networks across the U.S. to support the rapidly rising interest in bringing high-quality PBL to all students.
Each network will bring together school leadership teams from across their region to learn with and from one another, solve common problems of practice, leverage the experiences of leaders in their area, and share what's working and what's not in a safe and collaborative space. PBLWorks will provide a blend of online and face-to-face professional development and virtual coaching to the school leadership teams, led by our experienced staff and National Faculty members. The program will also include school visits and collaboration among the network members.
Why leaders? 
While we know that teachers are the single biggest influence on student learning, we also know that leaders play a key role in creating the conditions and structures teachers need to be successful. As we've worked with thousands of teachers over the years, we find that many return to their classrooms excited to begin PBL with their students, but work in schools and systems that don't support this type of deeper learning. We often hear from teachers that they are prevented from successfully implementing and sustaining PBL by challenges such as a lack of collaborative planning time, limited opportunities for extended learning time for student inquiry, conflicting accountability or curriculum policies, or a lack of a common vision for student learning.
To our mind, this is where leadership comes in. Our Leader Theory of Action focuses on how leaders must develop their knowledge, skills, practices and dispositions, while also putting into place key conditions within the school to support teachers to implement and sustain PBL. We also know that school principals cannot do this work alone, which is why this program is designed for a principal to bring a school leadership team, including assistant principals, key teacher leaders, and instructional coaches. This distributed leadership approach ensures that diverse perspectives and needs are addressed as we support the school in planning the implementation of PBL. 

We think these networks will provide a space to reflect and develop concrete strategies for PBL implementation at your school.
At the same time, we hope the network also becomes a welcome, supportive and inclusive place for building relationships and camaraderie among like-minded educators. Networks provide us the opportunity to build relationships, both within our school teams and across schools within a region. They provide an opportunity to reflect with others, share successes, failures, and common solutions to those sticky problems we face as leaders. Networks can also become a place to share tools and resources in an age when schools are being asked to "do more with less."
The PBL School Leader Networks will be a cohort-based model, with 8–10 schools in each network. Leadership teams from K-12 schools made up of 4-5 participants – including the principal and other school leaders (assistant principal, instructional coaches, or teacher leaders) – may apply to join the network. PBLWorks has led a similar model for several years in Hawaii, the Hawaii Innovative Leaders Network, which has served as the inspiration for taking the model nationally. We've learned so much from our colleagues in Hawaii, and they've told us that their participation in HILN has made a huge difference in their leadership journey too. Listen to Melissa Speetjens, Principal of Waimea Canyon Middle School, about her learning experience as a member of HILN (Melissa begins to talk about HILN at 17:11 of the podcast, but the whole What School Could Be in Hawaii podcast is worth a listen!) 
Over the two-year period, school leadership teams from across the region will collaborate to focus on five key leadership domains to support PBL: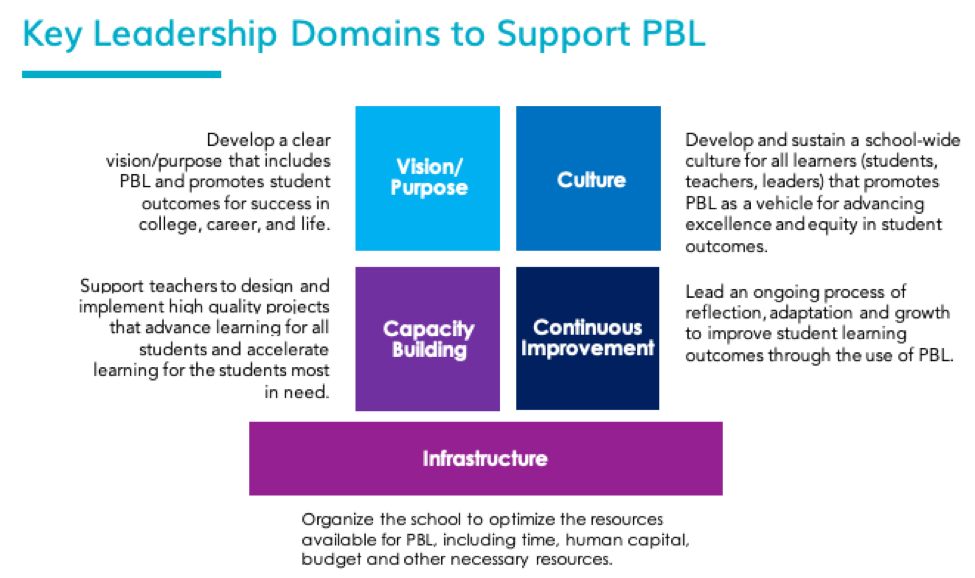 Underpinning all of these domains is a strong focus on equity.
At PBLWorks, we believe that all students—no matter where they live or what their background—should have access to quality Project Based Learning to deepen their learning and achieve success in college, career, and life. Gold Standard Project Based Learning can advance educational equity and empower youth furthest from opportunity, especially black and brown students, through a liberating process—as opposed to oppressive learning processes focused on rote instruction, test prep, and other teaching methods that don't promote student voice and choice.
The PBL School Leader Networks will address issues that prevent students from accessing PBL, including low or inconsistent expectations for students, fixed adult mindsets, structural barriers (e.g. the master schedule), school cultures that are not inclusive or collaborative, as well as issues related to implicit and explicit bias, and institutional racism. 
PBLWorks will be focusing our initial PBL School Leader Networks in California and Massachusetts. In time, we plan to expand these networks to even more communities around the United States. 
The applications to participate in the first California and Massachusetts cohorts are available now.
For more information and to request an application, go here. If you're interested in a network but you're not in California or Massachusetts, please consider our other services to help you get started or sustain the work!  
                           
The PBL journey can be challenging, but we know the benefits it will bring to your students. Don't take that journey alone! Join us, won't you?