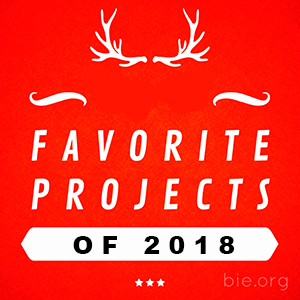 I love looking back on all the projects I've heard about or seen this year. They assure me that PBL is spreading (not just across the U.S. but around the world) and many students are experiencing high-quality projects, designed and implemented well by teachers. Here are my favorites, from various grade levels and subject areas. All meet the criteria for Gold Standard PBL, and I especially appreciated how authentic they were.
Elementary School:
Make a Difference
Out of the Gate
This 2nd grade ELA/Social Studies project can be adapted for any elementary grade. DQ: How can we take action to make a change in our community? It's one of the 18 well-designed, fully built-out PBL units in several subjects and grade levels developed in Buck's Out of the Gate special project (run by Meg Parry) for student teacher programs.
Wood Chip Erosion Project
Bridget Zahradnik and Alexandra Sánchez, Parkview Elementary School, Novi, Michigan
These 3rd grade teachers are writing a guest blog post about this project for us in January, so stay tuned for details. I like how they connected learning about their region's watershed with a very local issue – wood chips washing out of the school garden. Students designed prototype solutions to the problem and presented their ideas to a panel of experts and school district representatives.
Caretakers of History
Charles Laurent, Rocky Hill School, East Greenwich, Rhode Island
This 4th grade project incorporated social studies, literacy, math, and 21st-century success skills. The driving question: "How can we, as junior historians, raise public awareness and appreciation for Smith's Castle?"— a historic landmark and museum in Rhode Island.
Mars Project
Crested Butte Community School, Colorado
This is a great example of how PBL teachers respond to the interests of their students. A team of 4th grade teachers designed a project on the fly after the second day of a regular unit on space science when students said, "This feels like a PBL project!" Experts from Lockheed Martin and an actual NASA astronaut were soon involved, and parents helped play the role of engineers hearing amazing student presentations about proposed Martian exploration and settlement. I have to include STEM teacher Keely Moran's final reflection: "That's what PBL does: Leaves us with a sense of accomplishment and wonder. Where will it take us next?"
Ready for Anything
Katherine Smith Elementary School
A good example of how current events spark project ideas; this 4th-5th grade project was inspired by the Camp Fire disaster in Northern California this fall. Its driving question was, "How can communities stay safe in the face of natural disasters?"

Middle School:
Tiny Homes Project
Torrey Hills School, San Diego, CA
5th and 6th graders were challenged to create designs for housing for the homeless, veterans, and the elderly in a math/design project that involved local experts, a homeless man, and nonprofit organizations.
Hero or Victim? The Mosquito Project
Shangyin campus, Shanghai United International School, China
Two 6th grade teachers (thanks Chantelle & Lanny!) and their students tackled the pesky problem of mosquitos on campus, learning about the insects and their habitats, mapping their school, and proposing solutions (with a budget). They even concocted their own repellants, using natural oils and soaps, and grinding plants to produce extracts!
Computational Thinking & Social Justice Projects
Eli Sheldon, Edutopia
This article describes three middle school projects—in English, math, and history— that use computational thinking skills to address social justice topics.
Adirondack Wolf Reintroduction Project & "Wonder" Project
Northville Middle School, New York
Two PBL units in 6th and 7th grade ELA are highlighted in this article. In one, students create a case for or against the reintroduction of the wolf as a species in the Adirondack Park. In the other, students read the novel Wonder by R.J. Palacio and create a community awareness campaign focused on building empathy for people with genetic disorders.
Shirts Happen
Erin Salvucci, Westtown School, West Chester, Pennsylvania
This 8th grade math project, created at a Buck Institute PBL 101 workshop, had the driving question, "What does your shirt really cost?" Students designed their own t-shirts and decided how they would be produced and sold, after learning about social and environmental impacts of clothing production around the world.
High School:
Storyboards, Films, and Illustrations… Is This Still English Class?
New England Innovation Network
English teachers are sometimes challenged to think of literature-connected project ideas; here's a good one. 9th graders published a literary magazine with dystopian short stories they wrote, and transformed several of them into a film.
Project Based Learning & California Marine Protected Areas
Jo-Ann Fox, for California Department of Parks and Recreation
Four excellent conservation-advocacy projects aligned with the Next Gen Science Standards, which could be adapted for other states—free to download with lots of resources.
Tales from the Crypt
Chuck Yarborough, Mississippi School for Mathematics and Science
Just read this story in The Atlantic magazine, titled "How to Teach the Civil War in the Deep South." Students research the lives of people buried in local cemeteries from all walks of life from the Civil War and Reconstruction periods, then write and produce a performance for a live audience.
Advocacy for Native Peoples
Shanghai American School, China
No link for this one yet, but I'm listing it because it's on an important topic I haven't seen many good projects about. Our National Faculty member Andrew Miller (on Twitter @betamiller) reported on a great idea for a U.S. History PBL unit designed by teachers at his school; students investigate the history and treatment of American Indians, then write proposals for addressing current issues of inequality (ranging from the keystone pipeline to the environment to alcoholism to mascots) sent via email to people in power. 
Man Up
Parramatta Marist High School, Australia
Here's a wonderful (and timely, given current events) project in which students "challenge the stereotypical beliefs of what it means to be a man and understand the dangers of internalizing your emotions" and created a radio segment about the issue.

And finally… if you haven't already, check out these seven projects in our new video series, conducted in 2017 but released this year.
Here's to many more Gold Standard PBL units in 2019!
Want to learn more about PBL? Check out our books.
Register now for PBL World 2019.