PBL World 2022 Sponsors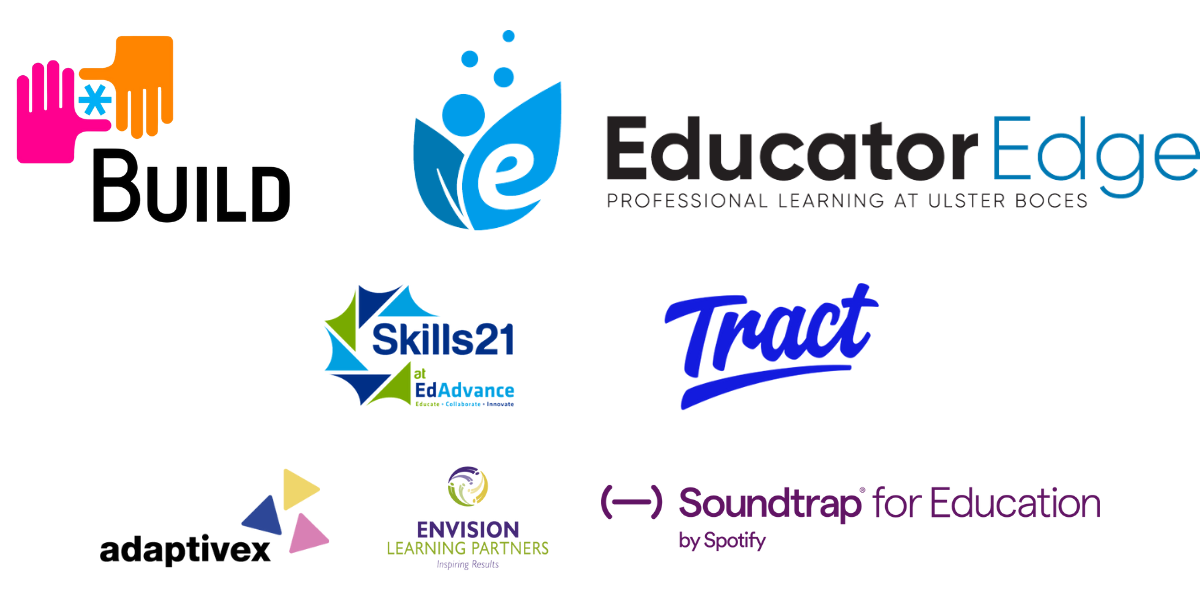 ---
The sponsors of PBL World provide valuable support to help advance transformation in education for all students. Learn more about this year's sponsors below. For information about becoming a PBL World sponsor, view our sponsorship deck and contact Sally Kingston, Chief Impact Officer, at [email protected]
Innovators ($10,000 level)
BUILD
BUILD envisions a world where all students—regardless of race, socioeconomic status, or neighborhood—develop the skills and connections needed to achieve economic power and freedom. BUILD ignites the power of youth in under-resourced communities to build Career success, Entrepreneurial mindsets, and Opportunity. In short, BUILD helps students become the CEO of their own lives!
Educator Edge
Educator Edge, a division of Ulster BOCES, is a veteran professional learning provider in New York State. We offer innovative strategies, consulting, training, and customized solutions for educators, school and district leaders, and the communities that support our students.
Educator Edge can help you transform teaching and learning by focusing on process and development. We train and consult with an emphasis on sustainable learning, an approach that nurtures individual development. Educator Edge prepares teachers, administrators, and their students for the educational demands of today, tomorrow, and the future. Educator Edge is available for virtual consulting, online formats, or on-site meetings.
Pathfinders ($5,000 level)
Skills21
Skills21 provides a range of personalized project-based learning platforms designed to spark creativity and accelerate student success, including their Personal Interest Project (PIP), Capstone, and Journey of You (JOY) programs.
Their Personal Interest Project is designed for students in grades 5-12 to explore an area of interest and create an exceptional project of their own choosing during the school year, summer, or out-of-school time. The Capstone is a comprehensive program for student-directed projects that demonstrate the critical skills of a graduate. Finally, Journey of You is a flexible SEL experience where students in grades 5-6 can build a portfolio of skills and habits intended to strengthen their resiliency.
Tract
Tract is an online community where kids teach kids. By unifying the process of creating fun TikTok-style videos with project-based learning, Tract unlocks every child's potential to be an impactful creator. Students of all ages and abilities can create inquiry-based projects and lessons related to curriculum topics or personal passions.
Tract is designed to fit in every classroom—empowering teachers to easily bring curriculum goals to life and tap into every learner's unique strengths. To learn more and set up your FREE account, visit teach.tract.app and use access code: PBLWORLD at sign up.
Explorer ($1,000 level)
AdaptiveX
AdaptiveX is an award-winning educational consulting and software company dedicated to culturally responsive teacher training and adaptive assessments. They provide high quality, research based professional development to teachers and school leaders using a mixture of in-person and web-based training, virtual coaching, and unique assessments.
Envision Learning Partners
What goes best with high-quality PBL? High-quality performance assessment. Envision Learning Partners (ELP) is a nonprofit consultant and PD provider dedicated to helping schools and districts build high-quality and equity-focused systems of performance assessment. They especially love supporting learning communities that have embraced PBL as an essential pedagogy. Call on ELP to help make your graduate profile measurable, weave rigorous performance assessment into your projects, or build portfolio-defense systems that enable your students to showcase and reflect on their project work. Assessment for learning, not for sorting.
Soundtrap
Let's support students to make creative and impactful public products through their PBL journey! Soundtrap for Education is an online audio studio that empowers students and teachers to make podcasts, music, and audio recordings in all subjects, for all ages, and across all ability levels. Create an account and learn more here!
Interested in becoming a sponsor? 
Sponsors of PBL World receive prominent brand recognition and association with the premier Project Based Learning event in the world - before and throughout the event. Our sponsorship opportunities are designed to enable giving at levels that are meaningful to you and support your engagement with attendees in a variety of ways.
Interested? For information about becoming a PBL World sponsor, contact Sally Kingston, Chief Impact Officer, at [email protected]
Learn more about PBL World 2022 sponsorship opportunities.
---