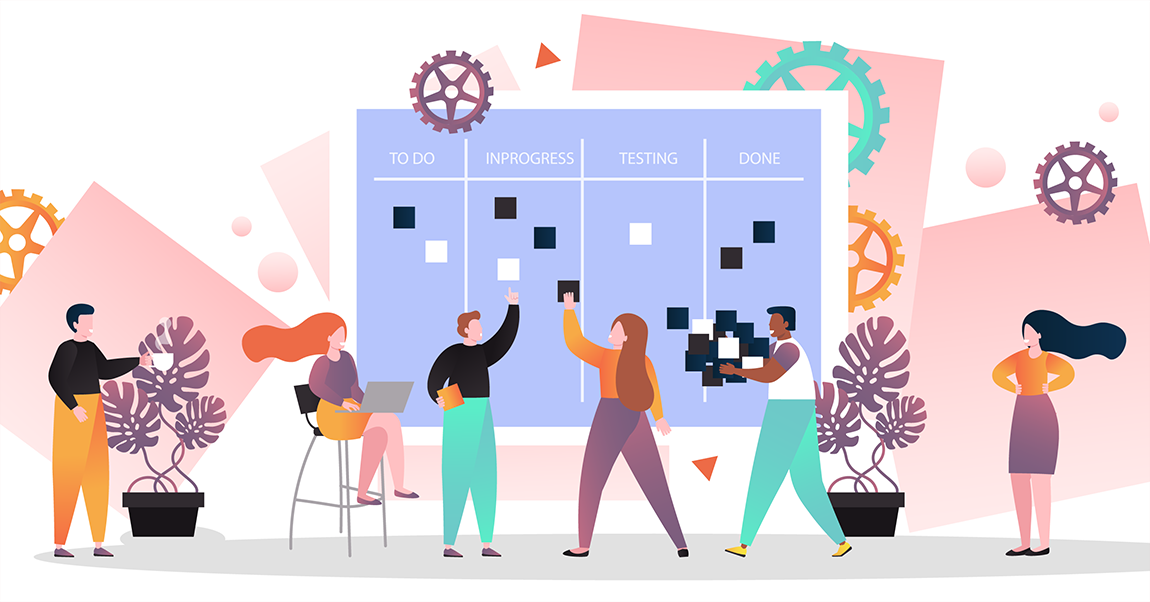 Project based learning is a fantastically messy, multi-step process. 
It could involve a single class, grade level or entire school, and the bigger the group, the more difficult it can be to keep track of every student, every task, and every project. At times, I have struggled with management of this process.
A few years ago, I was watching a sitcom about a tech startup in Silicon Valley trying to get their product ready for consumer use with a looming deadline. In one frantic scene, the team just started grabbing post-it notes off a white board, working on the task written on the post-it and moving the tasks from left to right through various columns on the white board.
I began to conduct online searches to find out more about this magical board that had attached notes, focusing every member of the team on the tasks and the deadline.
I discovered this system has been in place for some time in the business world. No two scrum board images I found online were the same. I loved that aspect and began to modify a scrum board to fit the needs of my students.
While scrum boards are configurable in numerous ways, I felt no need to overcomplicate the process. Our current iteration has five columns: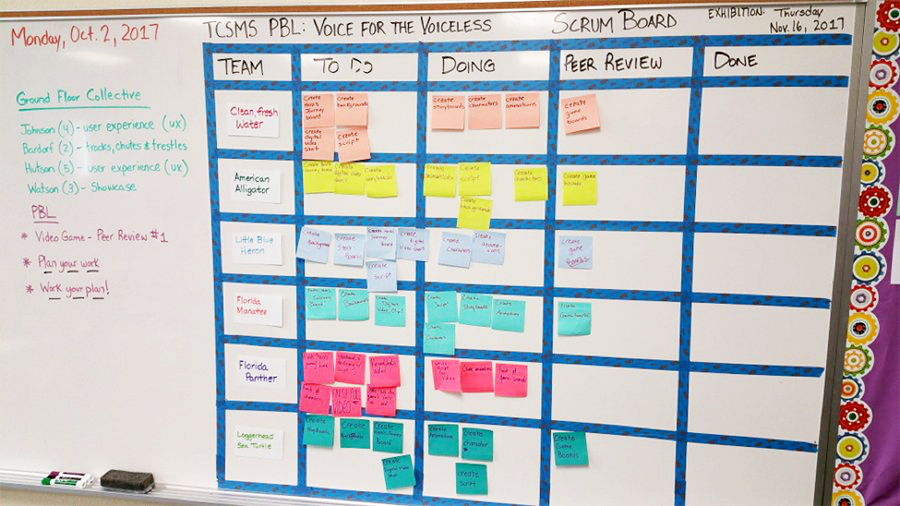 Only team name or deliverable names are listed in the Team column. I am not a fan of student progress monitoring boards and I do not want to confuse any classroom guests into thinking that is what is displayed.
Teams will create individual tasks on note cards (cut in half to conserve board space) or post-it notes. I will help teams create list of all tasks necessary to complete deliverables. All tasks start in "To-Do" section. Once removed from the board to work on, that card returns to the board in the "Doing" column.
Before tasks move to "Done" column, members of another team will analyze the work and provide warm and cool feedback. Once the peer group initials the task card as complete, the card is placed in the "Done" column.
It is a beautiful thing to see tasks steadily move down the board. Students have pulled out phones to take pictures of their completed scrum board at the end of a PBL cycle.
To help keep the scrum board idea fresh for my students, I have created scrum boards using various materials and designs while keeping the five columns the same.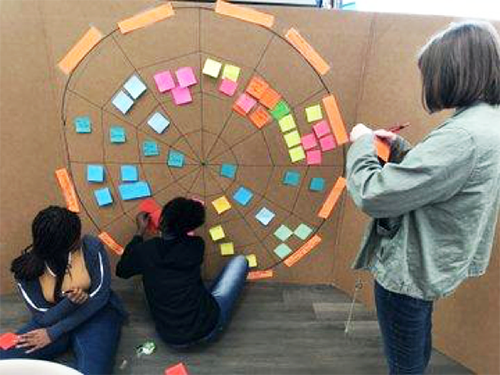 On large scale, multi-step projects, scrum boards are an excellent way to keep students on track.
We model, when you are not currently working on a task, to approach the scrum board and select a task. This is one way to make sure everyone has something to do.
The utilization of scrum boards across all types of companies adds another level of real-world application. In my opinion, peer review is the most important column on the board for my students. Students looking for feedback to find out what revision is necessary on their task. Students giving the feedback work on critical thinking and communication skills.
Once the task has gone through peer review and revised to the satisfaction of all involved, sign off is completed and moved into the final column. The sense of student ownership of creating the tasks, teams and deliverables makes the scrum board the focal point of student-centered learning.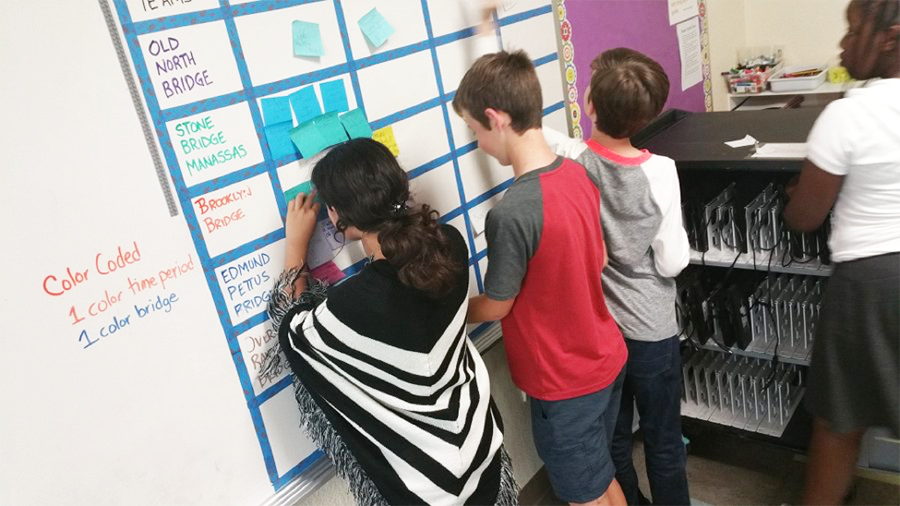 Scrum boards are good for teachers too.
I typically work with large groups of kids during a PBL cycle. Our scrum board helps me track of all our teams. I look over the scrum board a few times during our classes to identify ways I can assist.
For example, a task for one team might be to create a 3D printed object. I will check to make sure they have all the tools and/or skills necessary to complete that task.
Students develop ownership of their learning and ownership of their deliverables displayed on exhibition night.  I do not need to create some exaggerated reason why we are doing what we are doing. The students created the tasks. The students created the teams. The students created the deliverables.
I just become a guide to help kids develop the necessary skills to make it all happen. 
Here's one example of what goes on our scrum board.
In one project, the driving question focuses on locally threatened or endangered wildlife. Students want to create video games to educate the public about specific species that interest them. 
Some examples of tasks that students would create and add to the "To-Do" column of their scrum board are:
Research video game creation platforms and select one
Identify common themes to the most popular video games
Research The Hero's Journey by Joseph Campbell 
Research your selected species
Create initial game character drawings
Write a draft of your endangered species journey to include elements of The Hero's Journey
Storyboard your game
And more…..
If you haven't used a scrum board, I encourage you to give it a try.
It has helped my students stay focused and organized. A scrum board helps them visualize their plan. It has let them see the big things can be accomplished with a plan and an understanding that it is a multi-step process to successfully reach the finish line.
Follow Todd on Twitter @toddlavogue