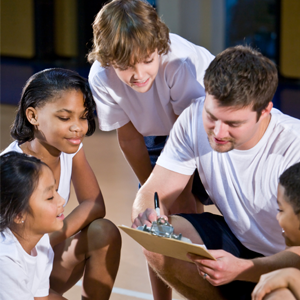 Project Based Learning (PBL) often seems best suited for academic subjects, and when it comes to physical education and play, it's difficult to see how PBL fits. But with a closer look at Gold Standard PBL, and some creative planning, projects have a place in the gym or on the ball field as much as they do in the classroom. Here are some ideas and tips.
Ensure that Physical Education Is Happening
One reason PBL is not often brought into PE classes is that it's difficult to find a way to encourage physical activity while working on a project. It's easy to think of projects about health and wellness that may connect to PE class – such as "create a plan for a healthy lifestyle" – but those do not typically involve actual physical activity. While it may require some creativity, it is possible to ensure students are getting physically active while problem solving, conducting inquiry, creating a product, and all the other elements of PBL.
In an article from Whole Child, Andrew Miller explained one way this could work. He presented a scenario where high school seniors were given the task of creating PE units for middle school students, with the goal of encouraging the seniors to apply concepts and strategies they learned in their own PE education to create an engaging unit appropriate for middle school students, similar to those the PE teachers themselves would create. As the students focused on effective solutions, they were required to perform the activities in their unit to ensure that exercise and play were encouraged and achieved, and to prove the units would provide an adequate level of activity.
Create a Compelling Problem or Question
The central focus of Gold Standard PBL is giving students a problem or question they have to answer through the project. The problem or question has to go beyond simple knowledge — it needs to require students to apply the knowledge they have gained.
In Miller's example, the high school seniors, through experience and instruction, knew what activity and play looked like. They were also provided instruction on standards from the National Association for Sports and Physical Education that showed measurable ways they could determine if physical activity and appropriate learning were taking place.
Keep the Task Open Ended
Reflection and student voice and choice are crucial parts of PBL. For a PE classroom attempting to include PBL, keeping the challenge or task open ended is essential; this is done best by asking students to craft something new. Instead of simply quoting back knowledge, they will be involved in inquiry and innovation.
Consider a unit that asks students to create a new game for the class. The teacher may have their students include a skill they're working on to help them practice, such as dribbling the ball, cardio stamina or one of the NASPE standards. The students are then given free rein to experiment and create, designing a game that will incorporate the skill. The open-ended nature of the challenge makes experimentation natural. Similar ideas include planning and conducting an Olympic Games with original events, or designing and using a running course around the campus (or out in the community, if possible) with obstacles or exercise stations with varying levels of challenge.
Use Peer Feedback
Peer feedback works well in the PE classroom. In the example of a student creating a new game, the class can be asked to play the game. This gives the students more physical activity, and also gives the game's creator crucial feedback as to what works and what doesn't. Revision, another important spoke on the Gold Standard wheel, is often necessary to perfect the game.
Know the Educational Goal
While the student's main goal is to create and present a product, the entire project needs to center on the unit's educational goal. From the beginning, teachers should have a clear understanding of what they hope to accomplish through the PBL process, whether it's meeting PE curriculum standards or seeing students excited and engaged by physical activity.
PBL is effective because it involves the students on a deeper level, providing them with real-world skills they can take into college and beyond. Both of these benefits make it worth considering as an addition to the traditional gym class.
Do you have ideas for projects in PE? Make a comment below!