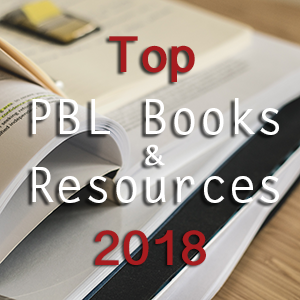 It's been another banner year for Project Based Learning! Here's my list of the best books related to PBL published in 2018 plus some of the best resources this year for PBL teachers and school leaders.
Books
The PBL Playbook: A Step-by-Step Guide to Actually Doing Project-Based Learning by A.J. Juliani
Better Together: How to Leverage School Networks for Smarter Personalized and Project Based Learning by Tom Vander Ark and Lydia Dobbins (Jossey-Bass/Wiley)
Timeless Learning: How Imagination, Observation, and Zero-Based Thinking Change Schools by Ira Socol, Pam Moran, and Chad Ratliff (Jossey-Bass/Wiley)
and (of course):
Project Based Teaching: How to Create Rigorous and Engaging Learning Experiences by Suzie Boss with John Larmer (ASCD/Buck Institute for Education)

Resources
Framework for High Quality PBL
The HQPBL website features six criteria for evaluating the quality of a PBL experience from the student perspective. It also includes a short paper, "Defining High Quality PBL: A Look at the Research."
Global CTE Classroom Projects
An excellent PBL resource from the Asia Society, aligned to the Common Core State Standards and written by career/tech and math and science teachers. It includes detailed directions for teachers for projects about food security, clean energy, women's health, and cybersecurity, and includes student handouts, assessment rubrics, and content background materials.
Projects as the Spine of the Course: Design for Deeper Learning
Walter Parker at the University of Washington describes how a series of projects created with their "Knowledge in Action" model successfully made up virtually all of a 12th grade A.P. Government course.
Green Bronx Machine: Curriculum Resources for Teachers
Resources for plant-growing projects from Stephen Ritz, our 2016 PBL Champion at PBL World.
Tools for Project Based Learning
Common Sense Media's top picks for online tools for project management and sources of project ideas.
The New NGSS Classroom: A Curriculum Framework for Project-Based Science Learning
A yearlong curriculum for 6th grade science, with assessments and student handouts for teachers, from the Stanford Center for Assessment, Learning and Equity.
Project Based Learning in Practice
A nice series of podcasts hosted by one of our National Faculty, Shayla Adams-Stafford.
Project-Based Learning: Can adopting a project-based learning approach affect student outcomes?
Digital Promise summarizes some of the research on PBL, and includes a well-produced video, "PBL: Raising Student Achievement for All Learners," about the recent research in Michigan by Nell Duke and Anne-Lise Halvorsen, who found positive results for second graders taught via PBL.
Park-Based Learning
James Fester, another member of our National Faculty, provides a comprehensive set of PBL resources for teachers interested in projects about our National Parks.
Want to learn more about PBL? Check out our books.
Register now for PBL World 2019.