March 8, 2019
Posted in

PBL and Equity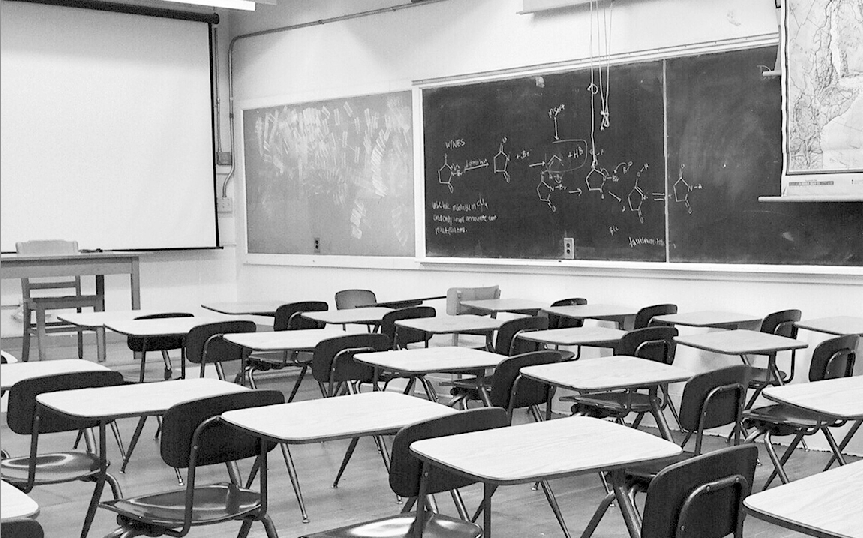 We sometimes see that Project Based Learning is a tough sell in urban public school districts.
I recently ran across an article that, even though it was written in 1991, helps explain why.
Many of you might already know this article, since it was re-published in 2010 by Phi Delta Kappan magazine as a "Kappan Classic": "The Pedagogy of Poverty Versus Good Teaching" by Martin Haberman. I was struck by the parallels between Haberman's description of good teaching and Project Based Learning. Even though he did not use that term in 1991, it shows that our current thinking about PBL draws on a rich history.
Haberman does not blame teachers for this situation, it's important to emphasize. He blames the system they work in and the culture of schooling, the entrenched ways of doing things and beliefs about low-income students and what they need. I also notice that many—but not all—of the features he ascribes to "urban teaching" could also apply to many traditional-instruction-based suburban and rural classrooms, especially in the NCLB era of standardized-test-based accountability.
What Teachers Do in the Pedagogy of Poverty
Haberman acknowledges that one can find examples of every kind of pedagogy in urban classrooms, "even the use of problem-solving units common in progressive education." But, he argues,"In spite of this broad range of options, however, there is a typical form of teaching that has become accepted as basic… The teaching acts that constitute the core functions of urban teaching are:"
Giving information
Asking questions
Giving directions
Making assignments
Monitoring seatwork
Reviewing assignments
Giving & reviewing tests
Assigning & reviewing homework
Settling disputes
Punishing noncompliance
Marking papers
Giving grades.
The pedagogy of poverty does not work, Haberman forcefully points out:
"Youngsters achieve neither minimum levels of life skills nor what they are capable of learning. The classroom atmosphere created by constant teacher direction and student compliance seethes with passive resentment that sometimes bubbles up into overt resistance. Teachers burn out because of the emotional and physical energy that they must expend to maintain their authority every hour of every day…. In reality, the pedagogy of poverty is not a professional methodology at all. It is not supported by research, by theory, or by the best practice of superior urban teachers."
He also makes a great point about "classroom control" that is echoed by today's practitioners and promoters of PBL:
"The few urban schools that serve as models of student learning have teachers who maintain control by establishing trust and involving their students in meaningful activities rather than by imposing some neat system of classroom discipline. For genuinely effective urban teachers, discipline and control are primarily a consequence of their teaching and not a prerequisite condition of learning."
What "Good Teaching" Is: Parallels to PBL
There are examples of an alternative pedagogy, Haberman points out, "in urban schools that have been recognized as exemplary" (I'm guessing he was referring to schools like Central Park East High School, founded by Deborah Meier—and there are more like it today). In these schools:
"Unlike the directive teacher acts that constitute the pedagogy of poverty, however, (the core of teacher acts) tend to be indirect activities that frequently involve the creation of a learning environment. These teaching behaviors tend to be evident more in what the students are doing than in the observable actions of the teacher. Indeed, teachers may appear to be doing little and at times may, to the unsophisticated visitor, seem to be merely observers."
Sounds like how we would describe a PBL classroom, doesn't it? Particularly the Project Based Teaching Practices "Engage & Coach," which emphasizes the "guide on the side" role of the teacher, and "Build the Culture" which emphasizes student independence. Haberman's list of what you would find in a school where "good teaching" is going on has clear parallels with the PBLWorks model for Gold Standard PBL and the Framework for High-Quality Project Based Learning: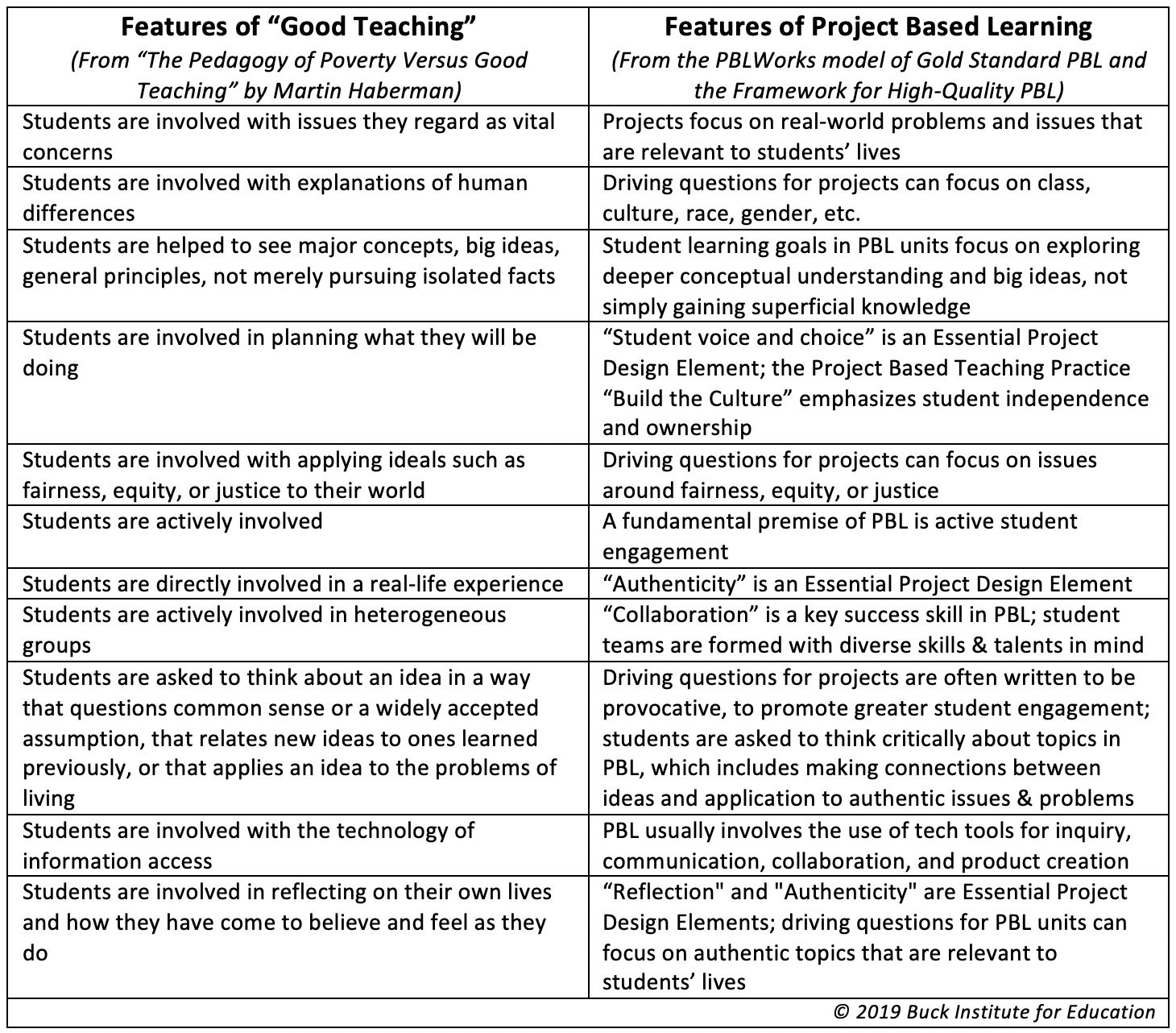 School Reform Then… and Now, Still
Although progress has been made on some fronts, I'm still saddened that Haberman's point about the need to reform instruction in 1991 still holds true in too many schools today:
"Reformers of urban schools are now raising their expectations beyond an emphasis on basic skills to the teaching of critical thinking, problem solving, and even creativity. But if the pedagogy of poverty will not force the learning of low-level skills, how can it be used to compel genuine thinking?"
There is hope, though, for those who believe in the power of Project Based Learning to transform students' lives, especially those from disadvantaged backgrounds, as we do at PBLWorks. With the growing interest in PBL, we'll be seeing more and more "good teaching" in all kinds of schools, in all places, for all students.
For More…
I encourage you to read Haberman's article in full. Also see Jal Mehta's 2014 post in Education Week's Learning Deeply blog, "Deeper Learning Has a Race Problem," in which he explains why pedagogies such as PBL often face skepticism and resistance among many civil rights advocates and parents, educators, and students.