Registration is opening on November 1
Next year's event will be in-person at American Canyon High School*, a modern campus set against the golden California hills at the southern end of the Napa Valley. 
We expect 2,000 participants from all over the U.S. and many other countries, so there will be a high energy level, a diverse range of perspectives, and many networking possibilities. Check out this video for an overview of the conference.
PBL World is not like other conferences that have a variety of short sessions by many different presenters—it's more like an institute, where participants go through a continuous multi-day experience together. All conference workshops are three days and facilitated by our expert National Faculty or PBLWorks staff, and are based on our Gold Standard PBL model. Participants in all workshops will develop plans to implement PBL in their classrooms, schools, and districts.  
*Due to circumstances, subject to change. Read COVID-19 information on the PBL World 2022 website.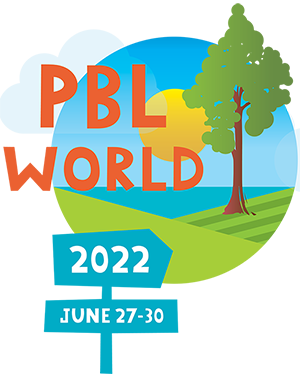 Here are some comments about PBL World from previous participants:

"I love everything about PBL!! PBLWorks has provided me with such great insight and opportunities for my students and myself. I want every teacher in every classroom to be utilizing the PBL strategies."
M.H., Middle School Teacher
"Every aspect of the training was well planned and implemented with a continuous informal assessment of the participants' understanding ending with a completed project. It reflected the best teaching practices embedded into PBL."
E.C., School Leader
"This is not something I've ever said before, but there were literally ZERO minutes of this entire session that were not valuable. You managed to take a GIANT task and make it manageable and functional and we learned a ton along the way. Awesome!"
A.G., Junior High Coach
"PBL World offered our school leadership team the essential skills needed to coach our staff through the PBL process. Additionally, we were able to reflect upon systems as a campus to continue to grow our PBL culture with an equity focus."
D.M., School Leader
 
You'll have the opportunity to register for one of the following workshops for June: 
June 28-30:
PBL 101 Workshop: You can begin your PBL journey with this foundational course where you'll learn to design, assess and manage a Gold Standard PBL project for your students. 
PBL 201 Workshops (Two Options): These advanced workshops offer an opportunity to do in-depth work on specific Project Based Teaching Practices for participants who have already been to a 101. This year's options include: Equity and Gold Standard PBL and Improving the Quality of Student Work.
PBL Coaching Workshop: Deepen your expertise as a PBL instructional coach or leader by engaging in this three-day experience where you will create a PBL Coaching Toolkit to help you support teachers with implementation of  Gold Standard PBL. Participants create toolkits with strategies for supporting teachers in each of the seven Project Based Teaching Practices. This workshop is open to participants who completed the PBL 101 Workshop or equivalent. 
PBL Leadership Workshop: Teams of  school and district leaders have an opportunity to learn together how to grow the conditions needed for Gold Standard Project Based Learning to thrive in their systems and classrooms.
Travel planning note: Please arrange your trip so you can stay in your workshop until 4:00 pm on Thursday—it's important for maximizing the benefits for you and your colleagues!
June 27 is the pre-conference with four workshop options: 
Project Slice (3 options): This workshop gives participants the opportunity to experience a "slice of a project" as a learner. As learners, participant teams work together to answer the project's driving question, engaging in sustained inquiry and sharing their learning at the end of the day with a public product. This year's options include: The Art of Persuasion, Making Space for Change, and Sustainable Future. 
SEL in PBL: In this workshop, participants learn how PBL can be powerfully paired with social and emotional learning (SEL). Throughout the workshop, participants reflect on how Transformative SEL serves as a lever for equity in PBL by lifting up identity, agency, and collaborative decision-making for students. Teams work together to examine a Gold Standard project through the lens of SEL competencies, and will reflect on a project of your own in order to effectively integrate the competencies into your project design. 
And…in addition to our workshops, you'll enjoy:
Inspiring keynote speakers each morning, including Dr. Lisa Deplit, students from Napa New Tech High School, and PBL Champions. 
Lunchtime and post-workshop activities for networking (and fun), including a wine-tasting social event Tuesday evening at Chardonnay Golf Club among the vineyards.
Join us, won't you?

Check back here on November 1 to register for PBL World 2022.