"I just don't see how I can do this," Greg said. "The content I teach is so skills-based."
I mentally took a deep breath. This was my third meeting with Greg in my role as Project Based Learning coach, and I was willing to schedule a fourth and a fifth and as many as it took to help him get past this stumbling block. He wanted so much to do a project but couldn't see how it would work in his foreign language classroom.
On the surface, it seems like developing a project for a foreign language classroom should be easy. After all, what could possibly be more real-world than learning a language to use for communicating with actual people? When developing their challenging problem or question, however, foreign language teachers tend to fall into one of two traps.
They develop a culture-based project.
It's important for students to experience the culture of a foreign language they are studying. It can make the language more engaging to learn, can help with vocabulary understanding, and creates more empathetic students. The trick is to be sure that a culture-based project is authentic and is of a length that is proportionate to the number of culture-focused standards in the teacher's curriculum. Creating a French food expo for your school community might be fun, but where is the authenticity? Perhaps creating a tour itinerary for a trip to a Spanish speaking country is a more authentic choice--but how long will a project like that take students to complete? If the Spanish culture standard is only one of 20 standards but the project takes two months to complete, the project may be too involved or not appropriate for a project on its own.
They focus on a small, isolated skill.
As a student, I admittedly learned more about the English language while taking Latin than I did in any of my English classes. It's tricky to develop a project based on parts of speech, though, or on theme-based vocabulary lists. A driving question like "How can we create a picture book to teach first graders about French adjectives?" has questionable authenticity, and "How can we create a video game for learning Mandarin school-based vocabulary words?" focuses more on learning video game design than vocabulary. Creating a pamphlet with common phrases for tourists to use if they get sick and need to go to the hospital makes a good project and has a focus on thematic vocabulary, but again, might take too much time for a project based on one vocabulary list.
The Key: Authenticity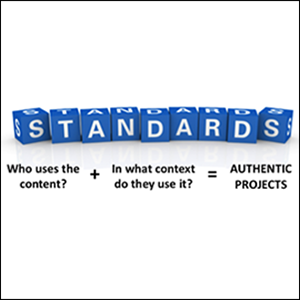 The key for Greg, and I suspect for other foreign language teachers, was to return to a suggestion BIE makes in its PBL 101 workshop: think about who uses the content, and the context in which they use it, to design an authentic project. Greg thought of migrant workers in our state and the farmers who employ them. Those farmers had reported a lack of workers returning the next year; this made annual training necessary and led to inexperienced workers and often much lower profits for the farmer. Greg decided to turn this problem over to his students to solve.
The students immediately developed a hypothesis that migrant workers weren't returning because they didn't know our state was a great place for them to work. They did research to discover the services around the state available to migrant workers and their families, and they developed print materials in Spanish for farmers to distribute to their workers. Greg was able to facilitate his students' learning about the culture of Spanish speaking migrant workers in their state as well as give them practice using their Spanish language skills.
For all foreign language teachers struggling to develop a project, I encourage you to think through the same equation Greg and I did: who uses the content, plus the context in which they use it equals an authentic project. If we keep that in mind, PBL doesn't need to be found so rarely in our foreign language classrooms.