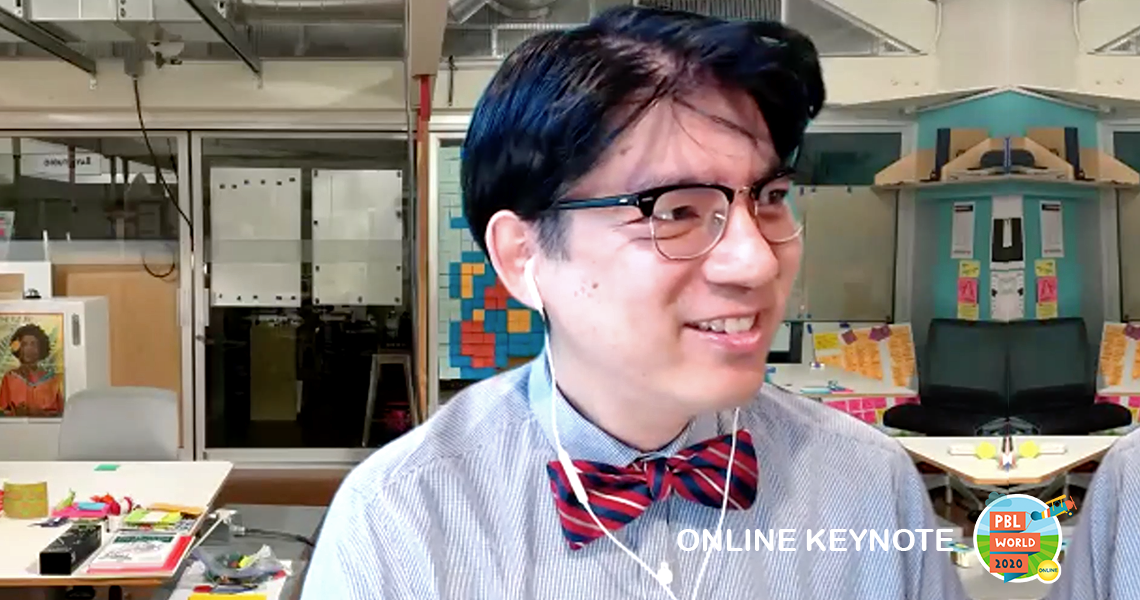 Watch this keynote by Marc Chun on YouTube.
As your students take on projects, listen closely to their stories.
So said this year's PBL Champion award recipient, Marc Chun, in his speech to attendees at PBL World 2020. He told a great story himself, about lessons learned in an online playwriting class he taught that was interrupted by the protests in response to the killing of George Floyd.
The PBL Champion award is given each year by PBLWorks to a person who demonstrates a commitment to Project Based Learning, has done quality, lasting work, and has shown evidence of impact on students. Past recipients include Ron Berger of EL Education, Carlos Moreno of Big Picture Learning, Laura McBain of the Stanford d.School, Stephen Ritz of the Green Bronx Machine, and David Ross of the Buck Institute for Education, the founder of PBL World.
In my introduction this morning, I ran down Marc's impressive history of work, in nonprofits, schools, universities, research shops, and charitable foundations, supporting the effort to spread PBL around the nation. He was the director of education at RAND/Council for Aid to Education, which developed a performance-based written test, the College and Work Readiness Assessment (CWRA), which measures success skills such as problem solving and critical thinking.
When Marc was a program officer at the William and Flora Hewlett Foundation, it funded the creation of Deeper Learning.
This was an important development in the history of PBL; the Deeper Learning community included the Buck Institute for Education/PBLWorks and several school networks that focus on PBL, such as High Tech High, EL Education, New Tech Network, ConnectEd/Linked Learning, and Internationals Network for Public Schools. Hewlett also invested in PBLWorks's research-practice partnership in Rhode Island and Hawai'i, with a focus on equity.
Marc has recently joined the Stanford d.school, which describes itself as "a place where people use design to develop their own creative potential" –where he is able to apply principles from PBL into his own teaching. He presented a wonderful TEDx talk I'd recommend you check out, with the intriguing title, "Transfer of Learning, James Bond vs. MacGyver" – and wrote, among other publications, Five Equity-Related Tensions in Project-Based Learning, a  book chapter.
Near the beginning of his speech, Marc established a connection to current events. He suggested that, for PBL and all the other important ideas for education, we need to "think through how we can make the size of these solutions match the size of the problems society faces, and do so through the lens of social justice."
Then he told us a story, and invited us to design our own.
After the COVID-19 pandemic shut down schools around the world, Marc and a colleague decided to teach an online version of a PBL-style workshop previously done in-person. In it, first-time writers learn how to create a play quickly, as a team, that focused on telling stories people needed to hear during this time. 
The stories were about such topics as homeless LGBTQ youth who needed to return home during the pandemic, student ally-ship in response to anti-Asian racism, whole families needing to share a single laptop, non-binary-identifying youth finding online resources, and parents of a student with autism fighting to find learning resources.
They hired professional actors to help coach the writing teams, and then to perform the plays.
The work for the entire month had been building up to a public exhibition that was about to begin when they got a text.
It was from one of the actors who was based in Los Angeles: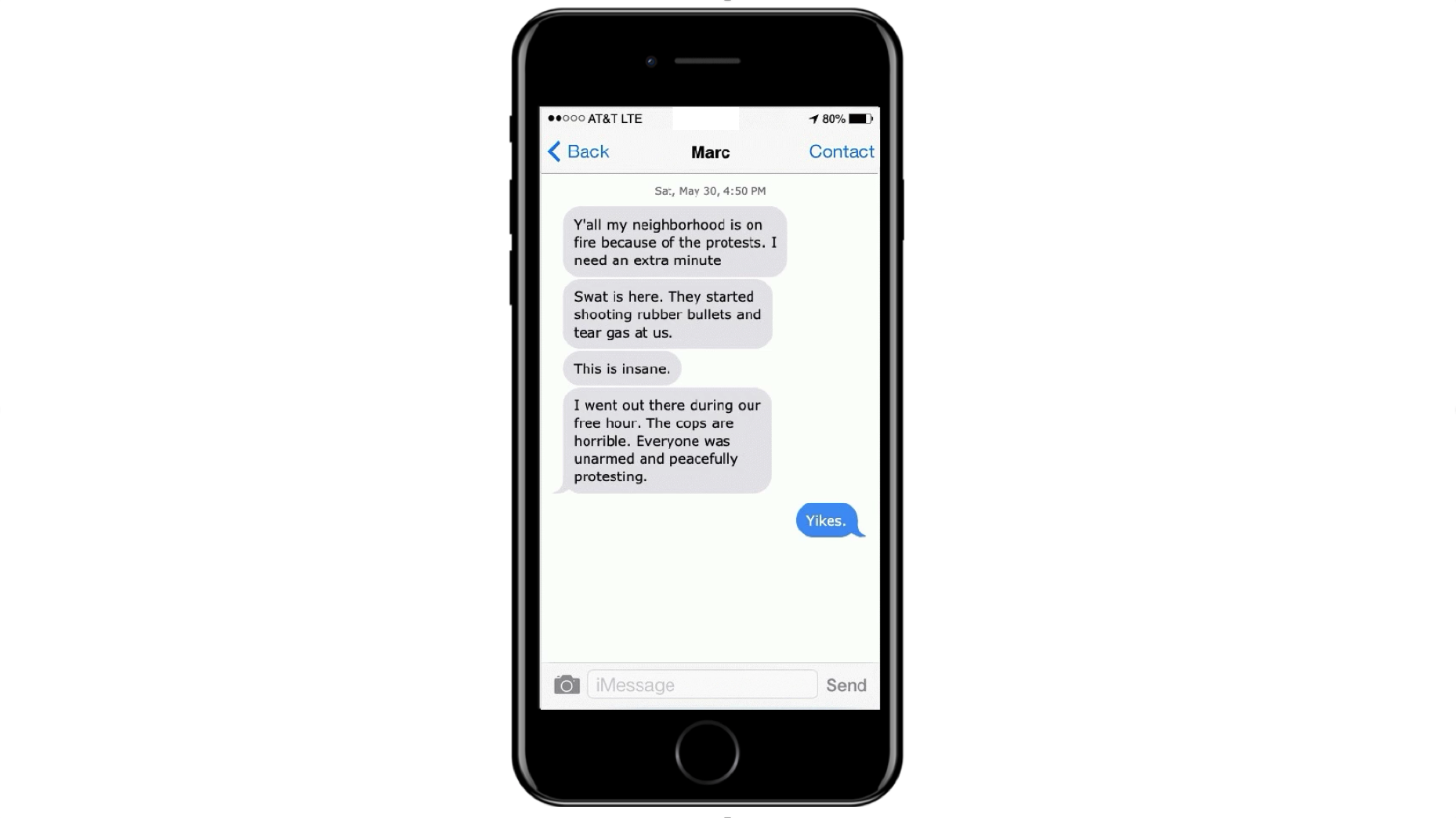 "Y'all my neighborhood is on fire because of the protests. I need an extra minute... SWAT is here, They started shooting rubber bullets and tear gas at us... This is insane... I went out there during our free hour. The cops are horrible. Everyone was unarmed and peacefully protesting." – "Yikes."
"This was the day when the George Floyd protests and uprising had reached their first fevered pitch," Marc told us.
They decided the show could not go on. "The safety of our friends had to take precedence. So we went online and apologized and told everyone we had to cancel the evening's show. This project did not turn out how I had hoped. And I faced the tragic ending, and felt I let down so many people who gave their time and energy. And I thought to myself, that's how I'm a changed person from this experience."
But then... a teacher from San Diego shared the following WhatsApp exchange she had with the other members of her team, a teacher in Mexico and an 8th grader in San Francisco.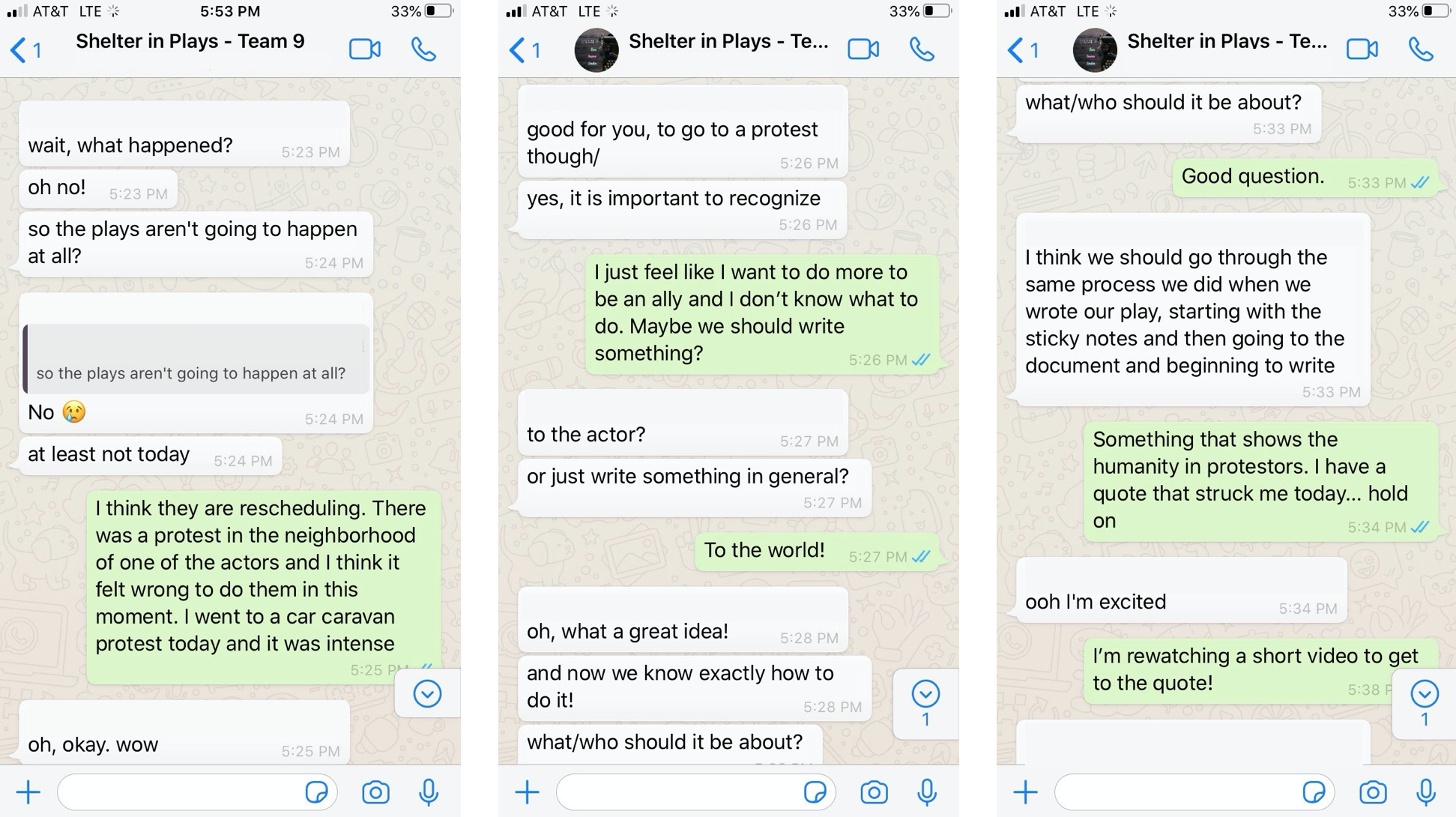 "wait, what happened? oh no! so the plays aren't going to happen at all?" – "no (sad face), at least not today." – I think they are rescheduling. There was a protest in the neighborhood of one of the actors and I think it felt wrong to do them in this moment. I went to a car caravan protest today, and it was intense." – "oh, okay wow. good for you to go to a protest though. yes, it it so important to recognize." – "I just feel like I want to do more to be an ally and I don't know what to do. Maybe we should write something?" – "to the actor? or just write something in general?" – "To the world!" – "oh, what a great idea! and now we know exactly how to do it! what/who should it be about?" – "good question." – "I think we should go through the same process we did when we wrote our play, starting with the sticky notes and then going to the document and beginning to write." – "something that shows the humanity in protestors. I have a quote that struck me today... hold on." – "ooo I'm excited." – "I'm rewatching a short video to get the quote!"
Marc had told us there was going to be a plot twist and he'd flip the script.
He said, "This story wasn't actually about me at all. All along it was actually about these educators and a student, who, through this project, saw the power of storytelling, and now knew their voices needed to be heard. They jumped in, faced a point of no return in writing a play, and strode headfirst towards the challenge felt round the world about police brutality and racism, and are heroes for applying everything they learned. And they are changed, because they now see that art is the precursor to systemic change. It allows us to hold up a mirror to see our world, and to imagine a different future."  
Marc asked his audience to think about their own stories...
"How are you a different person because of how you've succeeded or failed, what you've done or weren't able to do? How do your students know more than they ever dreamt they could, or rethink their place in education, or how have you worked to dismantle one more piece of the structure that maintains inequities or racist behaviors?"
"For you, what is that moment? What is the turning point around PBL or social justice and education that determines your fate?"
"Go forth, and tell your story. And as your students take on projects, listen closely to their stories. Because this is your moment to be their champion."
Nice, eh? There was much more to his thought-provoking, moving talk that can't be captured here—watch it when we make it public next week.
The video of the PBL World morning keynote is currently only available to virtual conference attendees. However, check back here next week for an update when the keynote presentation is made available to the public. To follow the conversation at PBL World 2020, join us on Twitter at @PBLWorks with hashtags #PBLWorld #PBLWorld20.