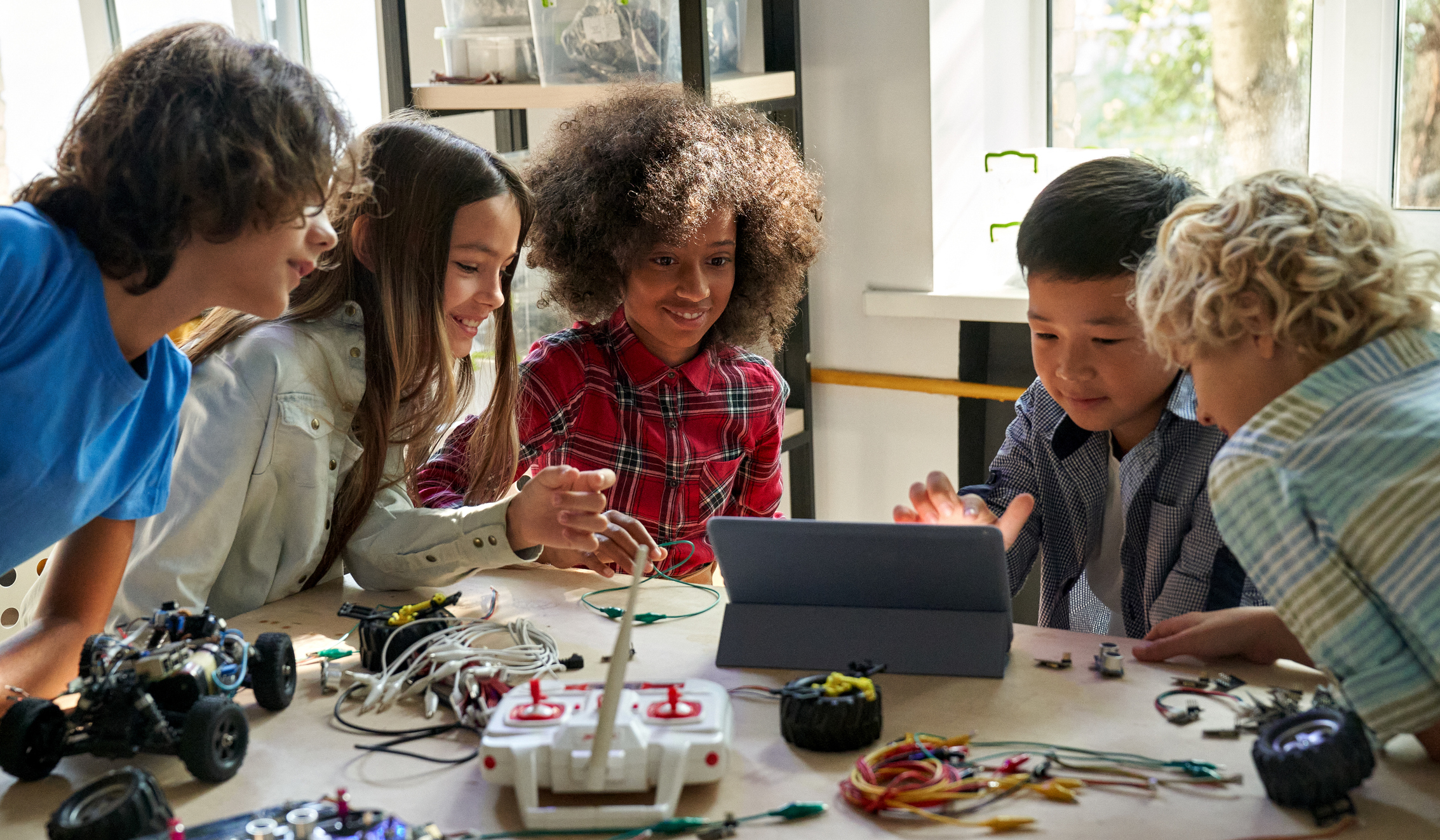 Our Racial Equity Imperative
Racial equity for all students will be achieved when race and ethnicity no longer predict the outcome of a young person's educational future.
Our Racial Equity Imperative
Racial equity for all students will be achieved when race and ethnicity no longer predict the outcome of a young person's educational future.
Context
The entire PBLWorks community created this "Racial Equity Imperative" statement. Beginning with the leadership team, our vision, focus and commitment has been shaped and refined by the National Faculty, the entire PBLWorks staff, the racial equity action team, and the PBLWorks board of directors, each group iterating on the next and building consensus for action. As we move to action, we will continue to revisit and refine our stance and vision for our work toward racial equity in education.
Our Vision for Racial Equity
Racial equity for all students will be achieved when race and ethnicity no longer predict the outcome of a young person's educational future. The board, leadership team, PBLWorks staff and National Faculty commit to identify and dismantle racial inequities, and provide equity-based support, so that students furthest from opportunity can achieve their full potential.
Our Focus on Racial Equity
Project Based Learning enables all students—especially Black and Brown students*—to gain the academic content knowledge and understanding, the success skills, and the sense of agency that will help them in college, career, and life.
Given systemic and institutionalized racism and the oppression of Black and Brown students in the educational system, we strive individually and collectively to ensure that Black and Brown students experience Gold Standard Project Based Learning at least twice a year in their school.
Our focus on advancing racial equity for Black and Brown students does not preclude us from addressing any and all other issues of inequity and oppression for any other people and working for all students to experience Gold Standard PBL at least twice a year. Furthermore, we work towards all students experiencing Gold Standard PBL—excluding no one.
*A note about our use of "Black and Brown"
Our use of the terms "Black and Brown" is meant to include students with heritage or familial association from the African diaspora, First nations, Latinx, Southeast Asian, Native Hawaiian, Pacific Islanders, Middle Eastern and many others.
Our Commitments to Racial Equity
We commit to:
Building the capacity of our teacher, school and district partner facing team members, including National Faculty, to effectively and productively address and interrupt implicit and explicit bias, racism, white privilege and other barriers to advancing racial equity as it surfaces in our training with districts, schools, and teachers;
Creating workshop materials and resources that will explicitly address how PBL is a vehicle to advance our racial equity vision and we will contextualize the relationship between racial equity and PBL in all our resources and materials;
Being purposeful in choosing district and school partners that serve the national average or more of students furthest from opportunity, especially Black and Brown students; and
Learning as much as we can about racial equity, practice skills to interrupt racial inequity, and to set and implement organizational policies in a racially equitable way, so that we model in our organization the changes we seek in school systems, schools, and classrooms.
Evidence
Recent findings from a large-scale study of Project PLACE: A Project Approach to Literacy and Civic Engagement, conducted by the University of Michigan and Michigan State University, show that PBL can raise student achievement in social studies and literacy for students who live in high-poverty communities.
Studies also show that PBL has a significant impact on students' non-cognitive competencies, including: academic engagement, motivation to learn, self-efficacy, collaboration, and positive attitudes toward learning.
PBL has a positive effect on deeper learning outcomes, on-time high school graduation, and college enrollment for all students, including students living in poverty and students with low academic performance entering high school.
Duke, N., & Halvorsen, A. L., (2017). New Study Shows the Impact of PBL on Student Achievement. Retrieved from Edutopia.
Condliffe, B., Visher, M. G., Bangser, M. R, Drohojowska, S., & Saco, L. (2015). Project-Based Learning: A Literature Review.
American Institutes for Research. (2015). Study of Deeper Learning Outcomes. Retrieved from American Institutes for Research.
Vander Ark, T., Schneider, C. (2014). Deeper Learning: Every Student Every Day, pp. 23-27. Retrieved from William and Flora Hewlett Foundation.
Case study research on high schools that use PBL as a primary instructional method show that students enter and persist in college at rates higher than their demographically comparable peers (Cook-Harvey, 2014; Lewis-Charp, & Law, 2014). In 2015, 85% of 2009 high school graduates in City Arts and Tech High School, a PBL-focused public charter school in the Envision Schools network serving a majority of high-needs students (i.e., 72% eligible for free and reduced lunch, 90% non-white), persisted into their fourth and fifth years of college or earned a college degree (Lenz, Wells, & Kingston, 2015). These rates are compelling when compared to 8% of all students nationally who earn a bachelor's degree by their mid-twenties (Mortenson, 2010); these results show the promise of PBL for preparing students for college.