Accomplishments Make Long-term Impact on Racial Equity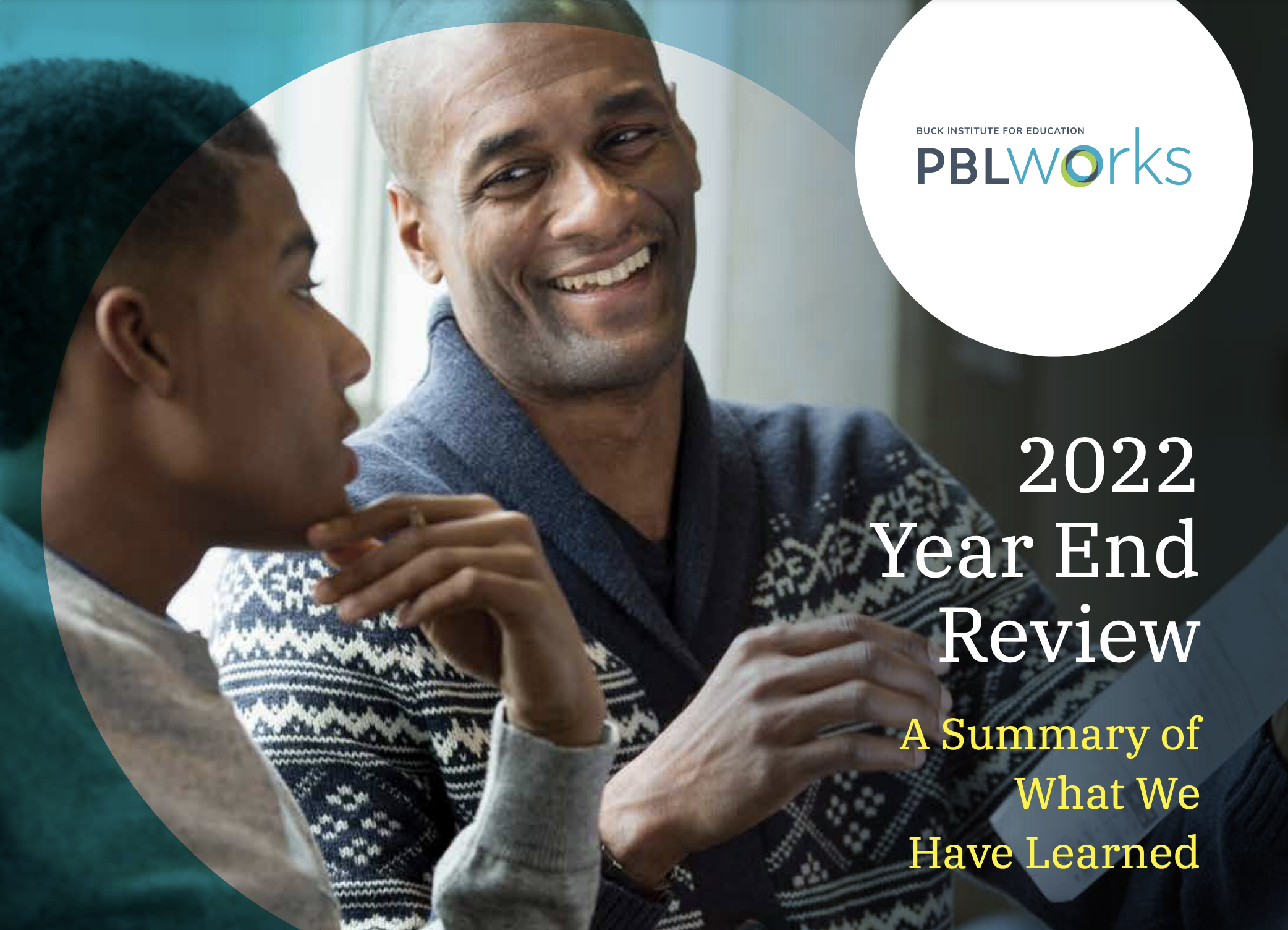 Novato, CA (April 25, 2023) –  The Buck Institute for Education (dba PBLWorks), a national provider of professional development for Gold Standard Project Based Learning (PBL), today releases its 2022 Year End Review. The Report highlights the many ways the nonprofit organization has expanded its offerings and its reach over the past year.
"In 2022, we made great strides in supporting educators to implement PBL as they navigate the ongoing challenges in their classrooms, schools, and districts," comments PBLWorks CEO Bob Lenz. "I am proud to lead such a dynamic group that has a passion for improving student outcomes and racial equity." 
PBL is a teaching method in which students undertake long-term real-world projects leading to a public product or a live presentation. The approach requires some reframing of a teacher's role, and among PBLWorks' offerings, are online and in-person courses and workshops to help educators develop the appropriate skills. In response to partners in the field and as part of a return to in-person learning, the organization refreshed all its workshops, and teacher learning opportunities were refined and expanded in 2022. In addition, two new workshops were developed for launch in January of this year.
Among other goals, the evolution of the workshops reflected a continuing focus on promoting equity. That focus is also seen in the organization's Gold Standard PBL frameworks,  comprehensive, research-informed models for PBL to help educators measure and improve their practice. The framework includes four "equity levers" designed to ensure that PBL is implemented in ways that reach all learners.
Over the course of 2022, PBLWorks reached more than 280,000 educators through its various offerings, including 9,450 educators who participated in in-person workshops across 238 schools, districts, and agencies. An additional 1,136 educators took part in online workshops. More than half of the participating educators served majority Black and Brown students.  
That year, PBLWorks also began a partnership with the Kentucky Department of Education to implement Gold Standard PBL in over 30% of schools statewide, as part of the KDE United We Learn initiative. The organization also partnered with 14 school districts across nine states to implement Gold Standard PBL districtwide. Of those district partners, 80% serve majority Black and Brown students. 
Additionally, in partnership with the One8 Foundation, PBLWorks supported the state of Massachusetts' School Leadership Network. This is a regional approach to professional learning, with Randolph Public Schools becoming a PBLWorks District Partner in 2022. Of the first 10 schools in the network, 30% serve majority Black and Brown students. More than 300 teachers in that first group of schools participated in PBLWorks' PBL 101 workshop, after which 75% implemented a project. Across the participating schools, more than 3,700 students completed at least two high-quality projects.
In 2022, PBLWorks returned to hosting PBL World in person, after holding a virtual event for two years. More than 1,100 K-12 teachers, instructional coaches, and school and district leaders from around the world came to the four-day gathering to improve their skills with Project Based Learning. The response to a return to in-person professional learning was overwhelmingly positive.
At the popular event, PBLWorks recognized several PBL Champions for their impact on students. The Individual PBL Champion was Kendall Van Valkenburg, high school English Teacher at Red Canyon Alternative High School in Gypsum, CO. Van Valkenberg was honored for her development of a skateboarding-based project that engaged her students, demonstrating the value in PBL of understanding students' interests. Thomas A. Edison Career and Technical Education High School in Queens, New York, was named School Champion for the way it brought principles from its Career and Technical Education courses into its academic classrooms. Finally, Broward County Public Schools in Fort Lauderdale, Florida was selected as District PBL Champion for their commitment to increasing middle school student engagement by embedding equity across the curriculum through PBL.
PBLWorks' annual report is available at https://bit.ly/3oyYUQF. 
About Buck Institute for Education 
The Buck Institute for Education (BIE) (dba PBLWorks) is a non-profit organization that believes that all students, especially Black and Brown students, should have access to high-quality Project Based Learning to deepen their learning and to achieve success in college, career, and life. 
#  #  #