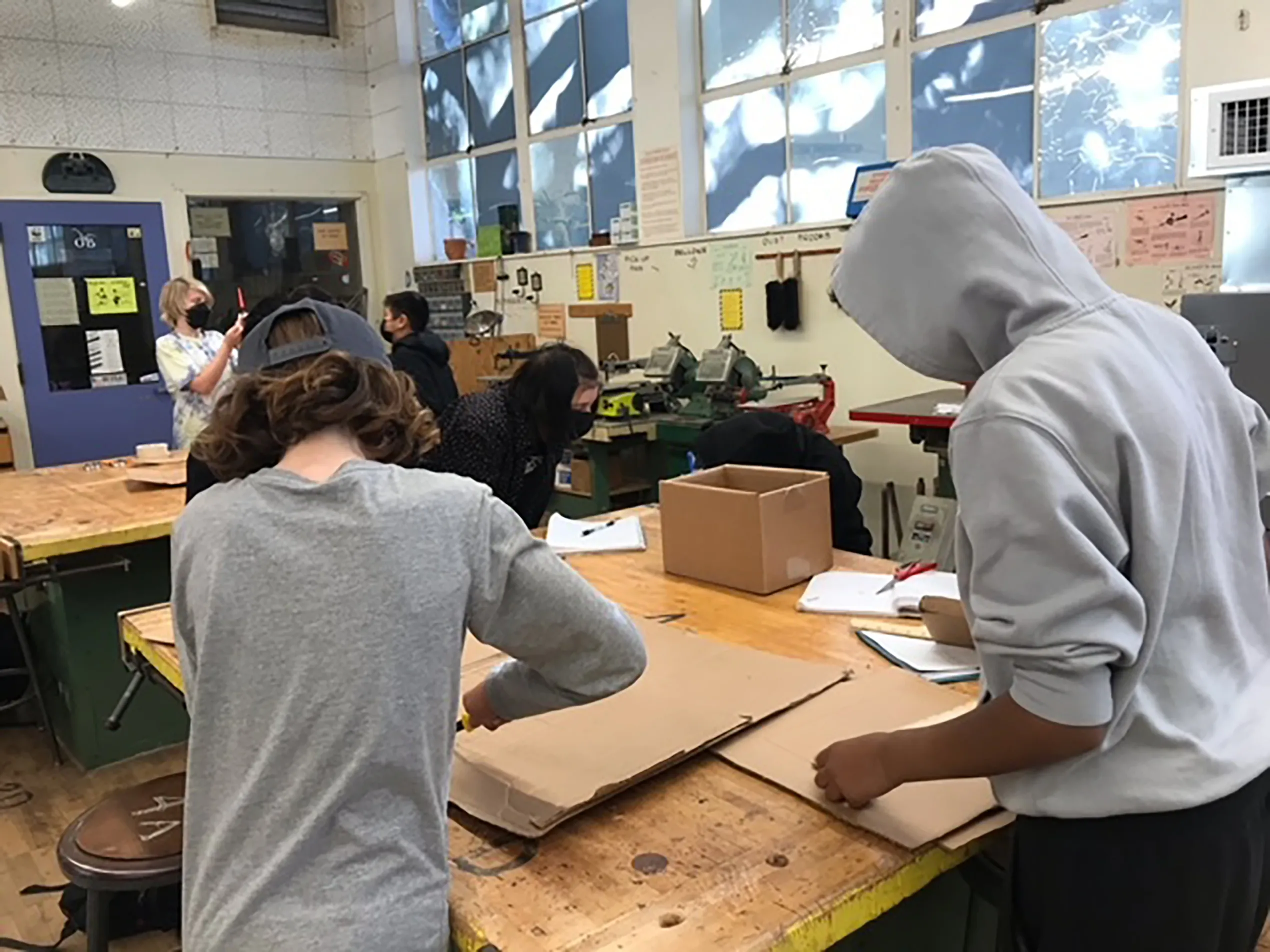 By Grace Adams | Santa Monica Daily Press
 
(SANTA MONICA, CA) Students in Rose Moe's sixth grade math class at Lincoln Middle School are given a mission each year: to design the ultimate lunchbox. Working in groups of three, they embark on a four to six week unit focused on this task, designed to allow them to learn and apply geometry concepts and also develop teamwork, critical thinking and other skills. 
Moe's Lunchbox unit is an example of project based learning (PBL), and recently won her an award from PBLWorks, a national education nonprofit.
Moe has been a middle school math teacher for 24 years, 17 of which have been at Lincoln. She began implementing PBL in her classroom four years ago after learning about it through a professional development opportunity. 
PBL is a teaching approach that fosters student learning through engaging in projects that are applicable in real-world contexts and meaningful to them personally. Instead of just having a project be a "dessert" at the end of a unit to demonstrate learning, PBL makes it the "main course," through which students learn, as explained by the PBLWorks website.
PBL also emphasizes designing projects around guiding questions for students to explore. In Moe's case, the question she poses to her students is: "how can we, as engineers, design the best lunchbox for middle school students?" 
"We work in the math throughout the unit by changing their designs, including different shapes, looking at the area of triangles and different figures," she said. "Then with volume, looking at the size of their lunchboxes to see how realistic it is for the food that they eat."
In addition to math, she also incorporates other elements to help interest all students. She even attended a patent training last summer to be able to teach her students about the legal aspects of creating a product. 
"So they looked at patents and figured out things like 'how can I design a patent,' what's legal… and then we also looked at designing their brand, so they created logos and that kind of thing," she said. "So there's always something for every kid."  
Moe said PBL builds off of student's curiosity and allows them to learn material in an engaging and fun way. 
"They're more on task when they're working on PBL than something that's like, you know, just math problems to solve because they're using it in a project and sometimes they don't realize that they're really doing math," she said.
At the end of the unit, students make their designs out of cardboard and share them with one another. Moe said she's always looking for ways to improve the project and wants to try to get a 3D printer in the future to really bring the designs to life and add a computer coding element to the unit.
As part of her award, Moe was invited to attend the PBL World conference in Napa Valley this past summer. She participated in four days of workshops where she met other teachers from across the country, shared her work and learned about theirs. She said it was an inspiring experience that reinforced her desire to keep implementing PBL in her classroom and help her students develop real-world problem-solving skills.
"When we look at our world and how much work we need to do," she said, "bringing that into the classroom –because these are the kids that we want solving those problems– it's really worth it."