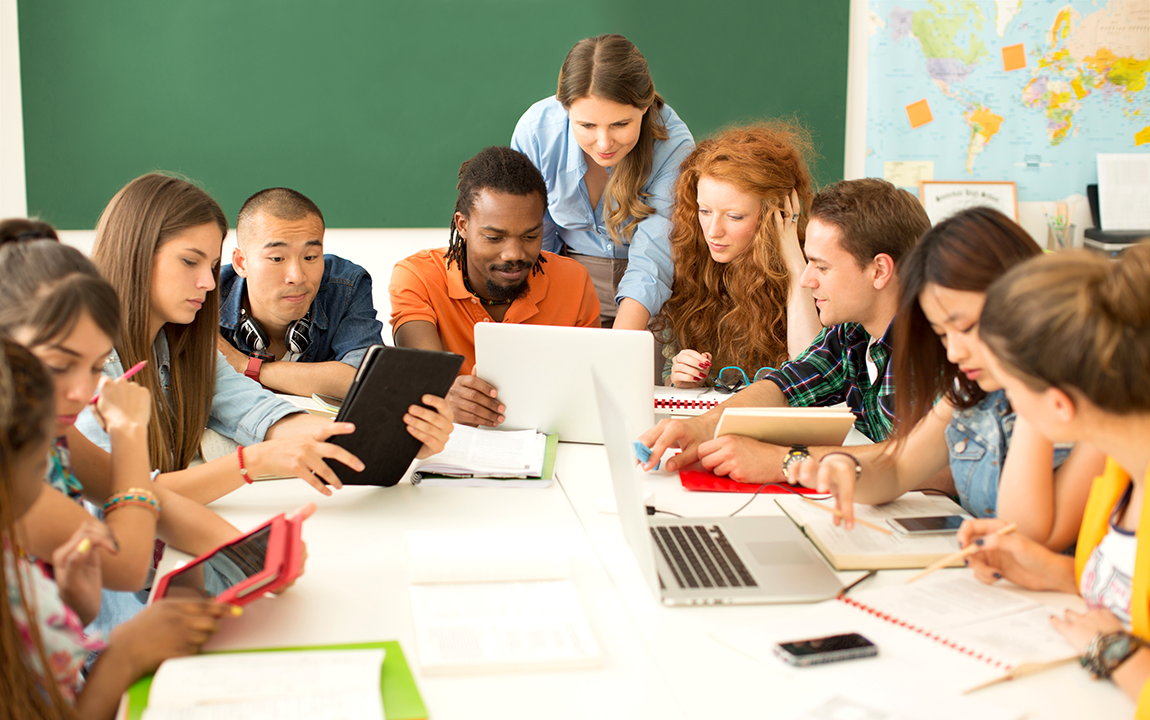 As a former high school Spanish teacher, I often get requests during workshops (or on Twitter!) asking how Project Based Learning works in a world language classroom. 
My short answer is that I use PBL combined with Comprehensible Input Methods (CI) through a methodology called Total Physical Response Storytelling (TPRS).
I realized fairly early on that the way I had been taught Spanish (and quite liked learning it this way!), through consciously and explicitly learning grammar rules and memorizing vocabulary, did not work well for most of my students to truly acquire the language long term. Although I tried my best to engage them through "fun" vocabulary games and grammar practice exercises, they weren't learning to fluently communicate in novel situations outside of the phrases they had rehearsed in class.
The instructional coach in my building (a former Spanish teacher) offered the opportunity for me to attend a TPRS workshop, and the way I taught from that time on changed drastically. I learned about the research of Stephen Krashen (every World Language teacher should read his book, Exploration in Language Acquisition and Use). I started using TPRS to provide my students with comprehensible input—understandable talk and text—and began to see them naturally acquiring Spanish in a way that stuck.
The one thing TPRS lacked that I felt passionately about was providing students with authentic learning experiences. That's where PBL came in.
In order to figure out how to design PBL units, I thought through the big "theme" of my current unit (in World Language Classrooms, most units in textbooks are organized thematically by vocabulary). I then went through a few questions: 
Who uses this vocabulary in the real world? 
How might we support a need for people who use it in the real world?  
What sort of product would align to the need in a meaningful way? 
For example: every Spanish 1 class eventually gets around to "school" vocabulary. This includes places in the building (classroom, gym, cafeteria, etc.) and sometimes supplies (books, locker, etc.) and people (principal, teacher, etc.). 
To teach this content, I designed a PBL project in which students wrote and produced a "tour" of the school in Spanish. They recorded the tour, which we put on a website; they could do audio only, or video for a bigger challenge. They made QR codes and signs that were hung throughout the school so people visiting the campus who spoke Spanish could scan the codes and take a self-guided tour. (Check out this project in more detail on the PBLWorks Project Library!)
This change in the way I taught made me realize that my textbook did not have to be my curriculum.
A textbook could still be a resource to support student learning, but it was honestly quite freeing to not have to start the year with chapter one and try to get through chapter 9 or 10 by the end of the year. My new approach allowed me to ensure that my students were gaining the skills they would need for the next level of learning. I was able to help meet our school's goal of providing a guaranteed and viable curriculum across all teachers.
It's important to note that not all teachers in my department taught using this framework, but since we were working together in DuFour's PLC model, we did have common "Key Learnings" for each level, and quarterly anchor assessments in each of the four major skills of reading, writing, speaking, and listening. Having this system in place for curriculum allowed each of us in our department to teach differently, while still having common expectations about what was taught in a given quarter at each level.
The process of reaching consensus on our curriculum also allowed us to really analyze our textbook, and to prioritize student learning outcomes that we felt were most important. This gave us permission to let go of some things, dive more deeply into topics we felt were more important, and use our textbooks just as a resource. It also allowed for incredibly high-quality conversations about teaching practices, as we had quarterly data to reflect on after each set of anchor assessments were given.
I started each PBL unit with an entry event, and then explained the project in the target language as much as possible.
Using comprehensible input, I explained the driving question, the final product and expectations (rubrics, checklists), and a rough timeline. (These project launches were great reinforcements of interrogatives for my novice level learners!)
Next, I used TPRS to plan a series of "mini-cuentos", along with planning for individual and group work time for the "messy middle" part of each project. I was also able to leverage and use (when they worked with CI), many of the "traditional" readings and writing assignments that our textbook recommended to help scaffold learning for students. Finally, students would present their products to a public audience, and then reflect on their learning around both language skills and the success skill we worked on in each project. 

The results of this kind of instruction were not only great for my students' language acquisition.
Their achievement scores in reading, writing, speaking and listening were consistently strong. But they also were using their language skills to produce authentic products (in Spanish!) that gave them a great sense of pride and accomplishment. They were doing meaningful work that impacted our school and local communities.
The PBL + CI approach also gave me a renewed sense of pride in my teaching because I felt that I was better serving all of my learners, not just the small percentage of students who can learn a second language through grammar rules and vocabulary memorization.
Making the shift from a grammar and textbook driven classroom was not a quick process, nor a simple one. It took a number of years, and a lot of time planning and developing curriculum—and it was worth it!