September 10, 2018
Posted in

How-to Tips and Tools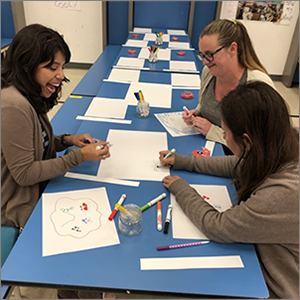 As an emerging Project Based Learning elementary school, we organized an information night to explain the fundamentals of PBL to parents. Having completed all the major Buck Institute for Education PBL professional development courses (PBL 101 through leadership), I played a lead role in formulating the agenda for the meeting.
While attending the BIE Leadership Academy, I learned that in order to become a model PBL school, the entire community (students, staff, and families) need to be invested and committed to this empowering educational practice. It is likely that parents will not have experienced Project Based Learning in their own K-12 education. In order to truly understand the positive impact PBL has on students' intellectual and academic abilities, I felt the need to organize a hands-on event where families could immerse themselves in the process. I wanted them to experience what it's like for their children to be challenged by a meaningful driving question as well as collaborate with others to create a product that seeks to provide multiple answers/solutions.
The Parents' "Project Slice"
Having presented on PBL at previous parent information nights, I wanted this one to be more impactful. So, instead of beginning the night with a lecture on PBL, I immersed parents in the PBL experience as soon as they arrived. After welcoming them and introductions, it was not too long before I proposed the driving question for the night: "How can we, as adults, create a supportive school community?" I explained that in PBL, students gain knowledge and skills as they work toward answering a specific driving question then demonstrate their learning by creating a public product. I announced to the parents that we would be engaging in a project titled, "Bridging the Community." 
First, parents were asked to individually design their own "parent island" where they would draw symbols that represent qualities/traits of themselves as parents. Next, they collaborated in groups of three or four to design one "child island" where they would draw symbols that represent qualities/traits of their children. Lastly, they were asked to think about one thing they could do to help create a supportive school community and write it on a narrow strip of paper. This strip of paper was their "bridge" which they then connected from their parent island to the child island.
The purpose of this project was to help parents answer our driving question and take action declaring how they would support their child at school. Some families wrote on their bridge that they would like to help create a supportive school community by providing "outdoor activities," "sports equipment," or "school garden work."  It was amazing to see the groups of parents actively engaged and enthusiastically discussing ways to support our school. This hands-on PBL experience empowered parents and made them realize the benefits of this engaging method of education. At the conclusion of the PBL activity, one parent commented, "Great PBL assignment, makes me want to go back to school." ​This experience taught me to always engage our parent community in a "slice of PBL" during future parent information nights.
Want to learn more about PBL? Check out our books.