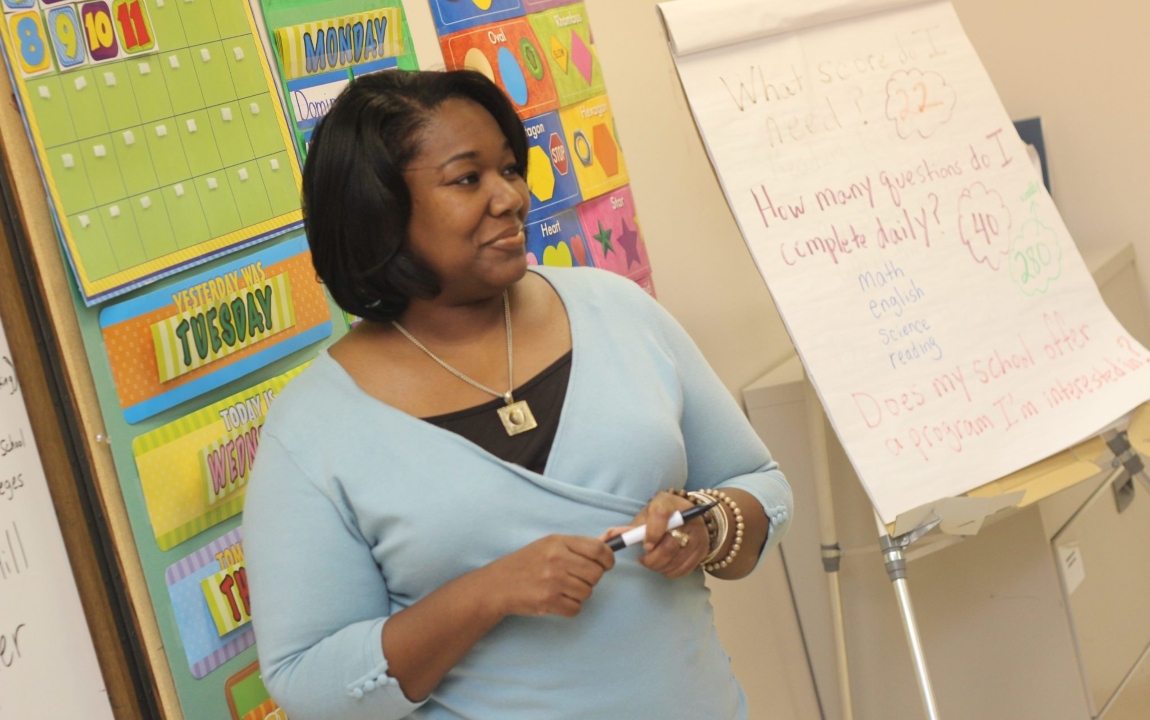 As an early adopter of Project Based Learning in my district, one of the major hurdles has been ensuring that the high-quality learning and engagement of my students can also translate into positive classroom observation experiences.
Apart from the routine evaluative visits conducted by district administrators, our school routinely hosts events like community walkthroughs and opportunities for teachers (both from within and outside our district) to visit each other's' classrooms. I have noticed that it can be difficult for uninitiated outside observers walking into an active PBL environment to get a full grasp of all that is happening.
If given the choice, I will always opt for doing what is best for my students, but it's nice when that also translates into positive results for both my professional life and those seeking to learn from visiting my room. Creating classroom PBL experiences that are standards-based, transparent, and (for lack of a better term) self-evident is crucial in achieving both the former and the latter.
Over the past few years, I've made tweaks and adjustments that make my classroom PBL experiences friendlier to visiting stakeholders. In turn, this has helped demonstrate the high-quality learning students are engaging with more accurately.
As an added benefit, these adaptations have helped make these observational visits far less obtrusive; guests spend their time taking in the classroom experience rather than interrupting my students (and me) for explanations about what they are seeing.
Put assessment tools in plain sight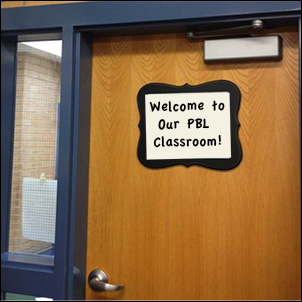 So much of what we do as educators stems from assessment. The information garnered from formative and summative activities helps teachers facilitate learning experiences that target standards and objectives.
As such, when observers enter an active classroom, some of the first things they are looking for are the indications of ongoing assessment.
With Project Based Learning, assessment often looks different than it does in more traditional classroom workflows. Teachers are assessing and facilitating learning constantly, but the efforts don't always manifest in ways that observers are typically trained to seek out. For visitors walking through, sometimes it can be hard to identify the complex and routine assessment structures that are in place in the PBL classroom.
One simple way to ensure this crucial work isn't overlooked is to surface visible, standards-based unit rubrics in the learning space. Something as simple as dedicating a bulletin board or some vacant wall space to a rubric can help steer both observer and student focus towards the incremental growth objectives embedded in the PBL process.
Creating and displaying a Need to Know list is a way to take things a step further. The core standards and skills in a particular unit are turned into questions that students are forced to grapple with as they progress. Not only does this keep these goals at the forefront, it lends itself well to student-driven assessment and reflection.
When teachers make it a point to reference these types of tools in the physical classroom environment, they build student comfort and familiarity with the objectives in play and create a clear portrayal for outsiders of how the PBL process is, in fact, chock full of assessment.
Be transparent about how students choose to use their time
Another struggle classroom visitors often have when observing a PBL classroom is getting a clear understanding of how students are utilizing their time. In such an authentically differentiated setting, there could theoretically be dozens of different activities taking place simultaneously. Add to that the fact that high-quality PBL is student-driven, and it can be hard to get a true picture of all that is happening at a given moment.
In a typical classroom, it is common to find things like posters or handouts stuffed in binders that break down the timing of classroom routines. However, rigidity and inflexibility are antithetical to Gold Standard PBL.
Instead, give students the responsibility of scheduling out how their class time is used each day. By combining daily schedule logs with purposeful reflection questions, every student is in charge of their own self-guided roadmap of both their progress and learning decisions. In my experience, this extra executive function step has made a world of difference in student organization and time management. Visitors can observe students using these project management tools.
Furthermore, as a teacher, administrator, or someone in between, these schedules help hold students accountable and provide a layer of transparency that can otherwise be hard to achieve with any type of differentiated learning.
Keep products visible
Gold Standard PBL requires public products. However, oftentimes these products are not readily available (or at least not obviously so) for visitors to experience.
Much like the aforementioned assessment displays, creating a showcase of the end results of student projects can help put observed student efforts into perspective. This can be a bulletin board, bookshelf, magazine rack, or even a spare table. As long as it is both visible and accessible, students' work can help serve as a key justification for the value of PBL experiences in your classroom.
For digital projects, students and teachers can create physical posters that include project highlights like screenshots or product descriptions. Adding a QR code linked to the product's webpage, file, or recording allows observers to jump quickly to student creations with a simple scan from their camera-enabled device of choice.
Even if observers are seeing the products of previous projects that are potentially unrelated to what students are currently grappling with, there are few things more impressive than seeing what students are capable of producing when it is their voice and choice steering the learning process.
Making tangible artifacts like reflections and exemplar products available can demonstrate both standards-based alignment and the overall impact of the PBL experience on student growth and learning.
We know that Project Based Learning can be a transformative experience for students. Teachers take risks and put in tremendous efforts to meet the qualifications of Gold Standard PBL. Ensure these energies aren't lost on classroom observers by surfacing key elements like assessment, student scheduling, and public products.
Follow Sheldon on Twitter @SoperWritings and read more from him on his blog and at Teach.com.