July 23, 2018
Posted in

Projects in Action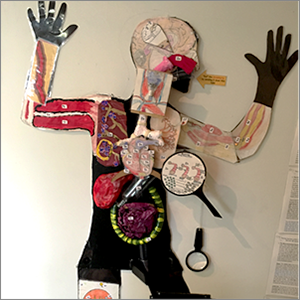 As a second year middle school science teacher at a school with strong PBL leanings, I had only started to dip my toes into the Project Based Learning realm. I had heard so many great things about it and was theoretically bought in, but in practice I wasn't sure how to make a project great—not necessarily a great product, but a great learning experience.
I was basing my fears and worries on the fact that the projects I had experimented with so far in my teaching career, the kind that take two weeks and result in sub-par poster making, weren't that great. Looking back, my problem was that I actually wasn't doing Project Based Learning, even when I thought I might have been. Once I completed my first "authentically" Project Based Learning unit, my views radically shifted.
A Human Body Project Takes Shape
At the Journeys School Middle School, our science curriculum rotates on a three-year basis and this year my third unit was going to be about the human body. This was exciting because not only I am familiar with human body systems, but it is also such a naturally engaging topic for students.
My previous version of the unit involved a fun, but fast, run through of all the body systems in about three weeks. While I think giving the students a peek into what every system in their body does is valuable, this time I was more interested in having each student dive deep into a body system of their choice that intrigued them and learn how that system is connected to all the other body systems.
Finding an Authentic Audience
As I was just starting to think about this unit, our art teacher approached me to suggest we collaborate on the human body unit. I quickly agreed and we brainstormed how to integrate art and science in the project. But there was one big piece of the project missing. I knew, for this project to be really successful, meaningful to the students, and result in the highest quality products and learning, I needed to find an authentic audience.
The Jackson Hole Children's Museum came to mind and I emailed the director. As luck would have it, they were in the process of pulling down an outdated exhibit and determining what would replace it. Their only rough idea at the time was a doctor's office. It was perfect match, and felt as though the stars had aligned for this project to happen.
I spent a month creating an exhibit proposal for students to complete, gathering middle school friendly resources about all of the body's systems for when research would commence, and emailing the art teacher and the gallery designer at the children's museum many times. When the unit started I dedicated four classes to what I called "body systems speed dating" so that the students knew which systems existed for further learning. Then the project launch was upon us.
An Engaging Project Launch & Product Development
Considering the frequently apathetic facade that middle school students put on, I knew the launch of this project needed to be authentic. So I had Francis, the exhibit designer at the museum who had been a teacher, come in and present as the "client" for our project. She outlined who the audience of our exhibit would be and outlined the keys to successful museum exhibits. Then we dove into workshop mode, prompting students to share their ideas and propose them to me and Francis for feedback.
The students were hooked. In science class we dove into the research, and although I knew a lot about human body systems, I learned so much more from my students. In art class, students began designing and drafting the art component of their portion of the exhibit. Their objective was to teach small children about the human body through scientific drawings, art, and simple, clear explanations. What the product would be was largely their decision.
Every student interviewed a doctor or physical therapist to uncover the information that was just a bit confusing or to connect the dots between what they had found in their research. After weeks of digging in and learning we shifted our focus to creating and building. Students were writing children's stories, making lifesize models of the lungs and spine, creating games, and so much more. Following this we dedicated almost two weeks to peer-edits, teacher edits, rounds of feedback connected to multiple improvements of products. While this was a struggle for some, ultimately this dedication to doing our best resulted in an exhibit that everyone was proud of. More importantly, students learned how to give and incorporate feedback.
Public Exhibition
A week before the exhibit went live, the art teacher and I took the eighth graders to install our multi-media art and science museum installation. In the end, our students had created eight infographics, three models (one of which you could "inhale" to inflate the lungs), two games, a five-chapter childrens book, a light-up spine, and a lifesize human body puzzle with a massive accompanying key that explained each organ. It was more than I could have imagined and most importantly the students were proud of themselves, impressed with their peers, and had learned a lot.
The exhibit was titled "Inside Out" and this project certainly taught me the in's and out's of PBL. Here are a few of the most salient learnings I came away with:
Plan early and work through the details before the project starts because plenty of unexpected planning and creating and materials shopping, etc. will come up during the project
Get as many community members involved as you can. This establishes the authenticity of the project and reminds students that their learning is embedded in the larger community that exists outside the classroom walls.
Push students. When working more independently than they may be used to, often students want to settle with what is easy. All of my students thrived with a little push in the right direction on how to make their product even better or how to gain a deeper knowledge of their body system through sustained and effective research.
Take time to celebrate at the end. We had an exhibit opening party on the Friday afternoon following its installation. This really emphasized the authenticity of their work and learning.