July 7, 2017
Posted in

General PBL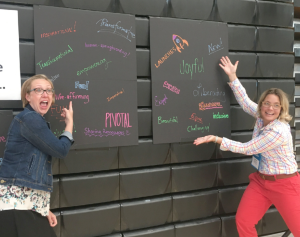 During our PBL World conference June 20-22, we put up black posterboards on the wall of the gym where the keynotes were happening, with fluorescent markers nearby. The prompt: Write down one word to describe high-quality PBL. I thought the responses were wonderfully diverse, fascinating, and pretty much covered it well. So here they are:
Agency
Agile
Artistic
Authentic
Beautiful
Bridging
Challenging
Change-Making
Child-Centered
Collaborative
Compelling
Connected
Connective
Creative
Dedication
Dynamic
Effective
Empowering
Engagement
Epic
Exciting
Fun
Generative
Groundbreaking
Human-Springboarding
Impactful
Imperative
Inclusive
Innovative
Inspirational
Inspiring
Invigorating
Iterative
Journey
Joyful
Launches
Learner-Centered
Liberating
Life-Affirming
Meaningful
New
Pivotal
Productive
Real
Reflective
Relevant
Rigor
Sticky
Thought-Provoking
Transformational
Transformative
Woke
(Naturally I couldn't resist writing a few words of my own on this list, too, and the keynote speaker on Thursday, PBL Champion Carlos Moreno, gave me the idea to write "woke, " so credit where credit is due!)

Got some more words to add to this list? Please enter them in the comments below.