August 8, 2018
Posted in

Projects in Action
Painting marking the grave of an unidentified migrant. Photo by high school student Bygoe Zubiate, courtesy of Borderland Collective
The learning in PBL often transcends the teacher's original purpose. Many times students experience powerful, yet unplanned learning, and projects sometimes radiate into the world in unexpected ways. It's easy to dismiss such moments as purely coincidental, yet intentional pedagogical designs can increase the likelihood of PBL serendipity. The following two projects provide case studies about how to foster serendipitous moments in PBL.
The Border-land Project
Over the past decade, hundreds of people have died of dehydration in the harsh landscape country near Falfurrias, TX, near the U.S-Mexico border. Deaths are particularly frequent in this region because many people cross this land attempting to avoid a nearby Border Patrol checkpoint. To help these individuals, many who are fleeing violence in their home countries, Eddie Canales began placing water stations around Falfurrias. Today, his organization, the South Texas Human Rights Center (STHRC), maintains about 90 water stations across 1,200 square miles.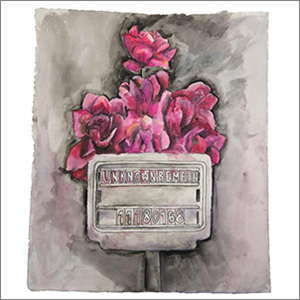 I first met Eddie during the Border-land project I designed and taught. In collaboration with academics and artists, a diverse group of public high school students used art integration to investigate a variety of perspectives on the issue of immigration. They listened to U.S. Border Patrol agents, politicians, immigrants, and many others explain their unique viewpoints. Visiting with Eddie was particularly illuminating. Standing beside a water barrel, he spoke to us about the challenges and successes of his work.
After exploring these multiple perspectives, students created artwork to share their learning on this multi-layered issue with the broader community through publications and an exhibition. Going beyond the project, many students took additional action, volunteering with organizations that offer aid to asylum seekers, and some students even pursued internships and college programs focused on immigration.

The Emergency Water Supply Stations Project
Dr. Angela Breidenstein, an education professor at Trinity University, attended the Border-land trip to Falfurrias. Compelled by Eddie's story, she then went to Trinity's Engineering Science Department where she spoke with college juniors planning their capstone projects. She explained how Eddie used 55-gallon barrels holding individual water jugs. These barrels had a thin metal flag pole that held up a small white flag; however, flagpoles sometimes fell over, stations were vandalized, and Eddie and his small team had to cover the 1,200 square mile region to check each station for water.

Inspired by Eddie's story and the design challenges his water stations presented, students  volunteered for the project and split into teams. Consulting with Eddie along the way, one team built a weight sensor to measure the amount of water in each barrel. Other groups created a system to relay data from the weight sensor to a website where Eddie and STHRC workers could check the water stations remotely. Another team used solar panels to power an LED beacon to make the barrels visible at night while a different group made an insulated base to cool the water, support the beacon, and keep electric components safe.

Upon completion of the project, the students presented their final prototype to a large audience which included Eddie. I was sitting near him during presentation, close enough to see the goosebumps form on his arms during the presentation. Afterward, he thanked the students, saying how their project could transform the situation of those in desperate need. From the students' reflections, it was clear that Eddie's project had changed their lives, too.

Now, two years later, another group of Trinity engineering seniors is taking the project further. Partnering with an international humanitarian organization, they are developing prototypes to provide worldwide emergency aid that could help refugees, hikers, aid workers, and range of other people in situations where water is in short supply.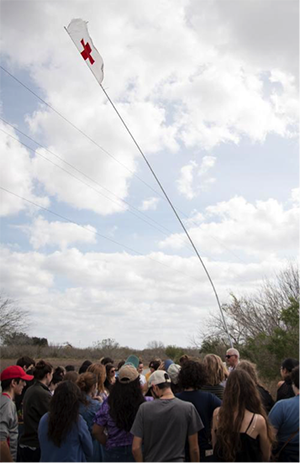 Fostering Serendipity by Intentional Design
While many of the powerful moments from this project could seem to have occurred via happenstance, a closer look illuminates how powerful unplanned learning is rooted in intentionally-designed structures.

Seek Partnerships
The richer the relationships across PK-20 institutions and other organizations, the greater the opportunity for PBL serendipity. As a high school history teacher, I would not have known of Eddie and his work if I had not designed the Border-land project with Jason Reed, a Texas State University professor with vast knowledge of immigration issues in Texas. Next, Angela attended the Border-land trip because Trinity's education department partners with the International School of the Americas, the high school where I teach, and she brought graduate education students and faculty to experience the project. Additionally, Trinity's engineering science department's annual call to faculty sparked the beginning of the water barrel redesign. In every case, serendipity stemmed from systems and people that embraced inter-organizational partnerships.

Spark STEM with the Humanities
These projects demonstrate how the humanities can serve as a catalyst for STEM. Art, language, and social studies provided a conduit for students to investigate and explore important global questions, and STEM provided the answers to these questions. As a history teacher, I appreciate how this approach can build key social studies knowledge on global issues like immigration while sparking a dynamic relationship between the academic disciplines Integrating STEM and humanities in this way can increase serendipitous moments by leading to projects that focus on authentic contemporary issues.

Do Important Work
Finally, these projects resonated with so many people because the topics mattered in the real world. Thus, the learning was able to radiate beyond the classroom in unplanned but transformative ways, leading students to develop skills and career pathways that position them for success in the 21st century.

For more information:
Border-land Project
Water Barrel Project
Borderland Collective
Want to learn more about PBL? Check out our books.