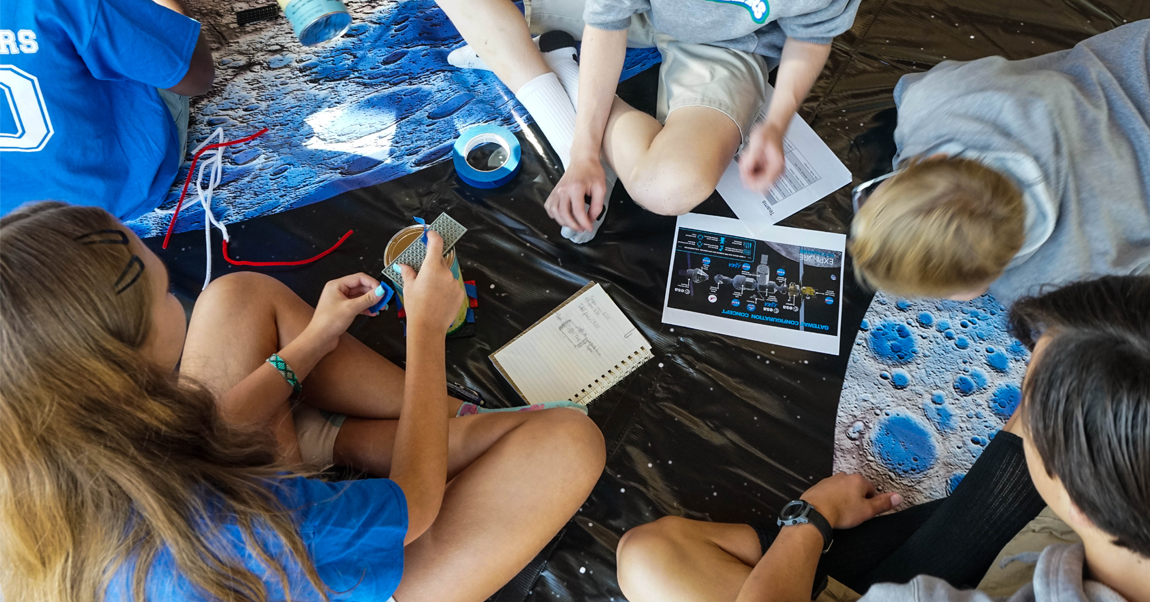 In 2007, a mechanical failure on NASA's Mars rover Spirit led to an important discovery.
A broken wheel had to be dragged along as the rover continued to travel, and as it did so, it scraped the surface of the planet, revealing the presence of silica and adding evidence to theories about ancient water on Mars. Scientists had been looking for this kind of evidence for years, but it was just below the planet's surface, where they couldn't see it. 
Creating project-based learning experiences for Fort Worth Academy students often calls to mind a similar comparison between what is seen and unseen. But in our case, these hidden discoveries are all part of the design. 
For example, when eighth graders returned to school last August, they spent several weeks building models of lunar gateways and Mars habitats. On one level, the lesson assessed students' comprehension of Andy's Weir's novel, The Martian: Classroom Edition, and relied on recent NASA research; students knew that a strong grasp of both topics would be needed for group collaborations and to bring their constructions to life.
Yet as the example of Spirit's discovery tells us, the really good stuff--the most important learning--isn't revealed by a surface scan of the finished cardboard and plastic models. Instead, the learning happened in the process of building and planning, as students explored the topics for themselves.
During all of our projects students collaborate, learning to express and advocate for themselves while listening to others and considering their ideas. And because there is no single "right" answer to a challenge, students are encouraged to make connections between what they already know and concepts that are new. Additionally, since students are given a choice about how they will complete their work, they are more engaged, empowered, and allowed to "own" the process and outcome of their learning.
Summer reading requirements are met with mixed emotions, so engaging students in these assignments can be quite challenging.
However, teaching cross-curricular units can put a new sense of purpose into these assignments. Subject area constraints disappear, leading to increased innovation, collaboration, and learning. Students were tasked with reviewing discussion questions and creating something to help them survive on Mars. With such open-ended directions, a creative, innovative assignment replaces a traditional summer project.
Upon returning to school in August, students found their English and Science class block replaced by a mission to the red planet. Using Sketchnotes, students reviewed the concepts covered in the book to prepare for their upcoming mission. The questions addressed the science concepts of manned spaceflight, calculations of resources, chemical reactions, energy sources, agriculture, spacesuit design, physics, and navigation, all in the context of the book The Martian.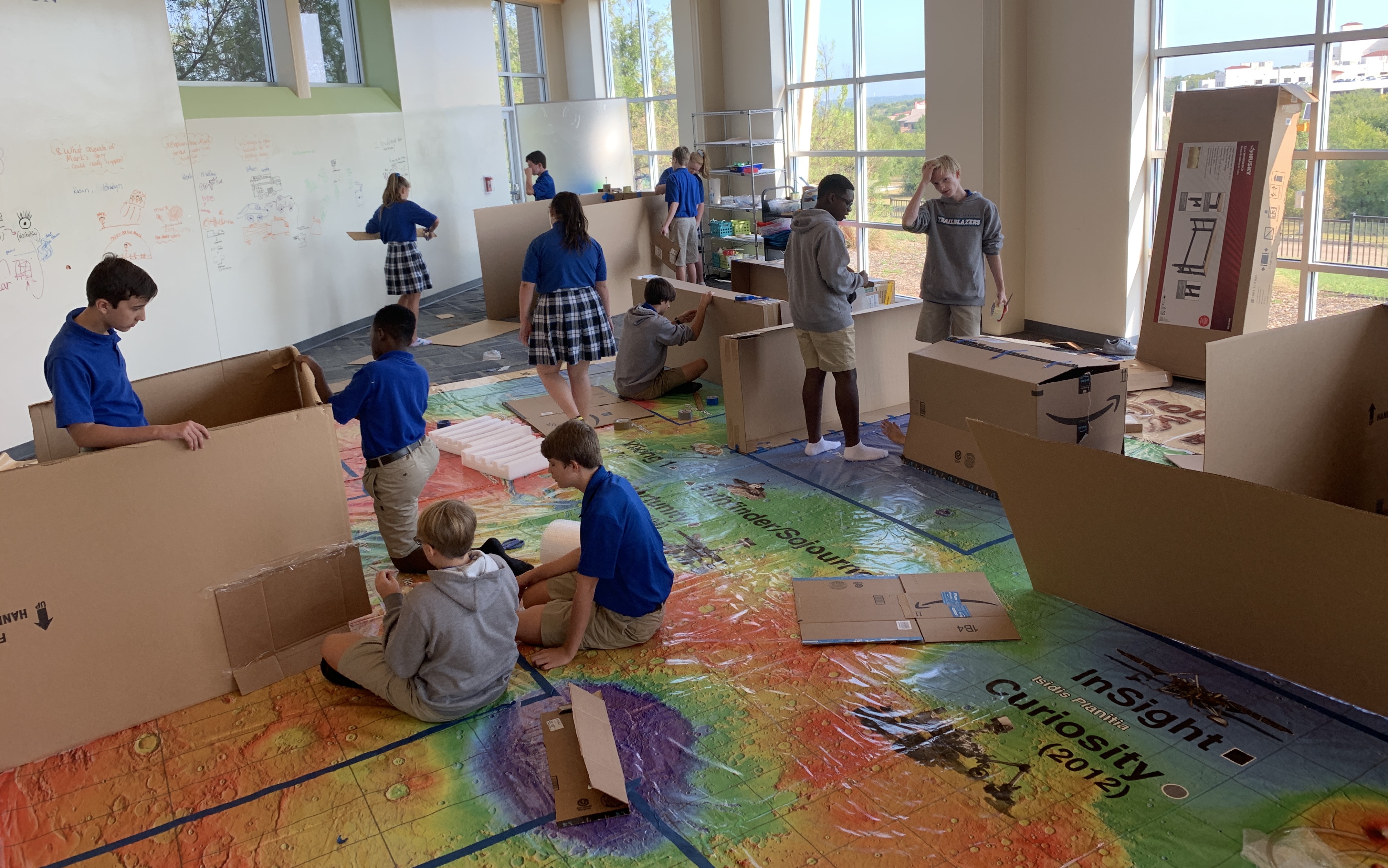 The first step of the mission was to overcome challenges and work as a team to complete a Martian Breakout Edu Escape Challenge.
Teams had to use their knowledge of Mark Watney's adventures to save their stranded crew mate. Science content included problem solving; finding a food source; translating code using an ASCII Table, and building a device to launch a toy a minimum of four feet. Communicating effectively as a team was key to their success. Debriefing the activity gave students the opportunity to voice what worked well and what they could improve upon as a group. Reflecting on the needs of their peers allowed students to gain a better understanding of each other. 
Upon survival, each group was given a set area and tasked with building a hab large enough for at least one crew member to fit inside. They were instructed to account for everything they thought they would need to have in their habitats to survive on Mars. Working with only materials included on their materials lists, students learned the value of good planning.
Once their habs were complete, including each group member's summer project, and a listing of all materials available inside, students responded to emergency scenarios similar to what Mark Watney experiences in The Martian. Responses had to be recorded on FlipGrid in a set amount of time, and were then scored based on how well they addressed the problem at hand. Students found that paying attention to the details was necessary for survival during these emergency scenarios.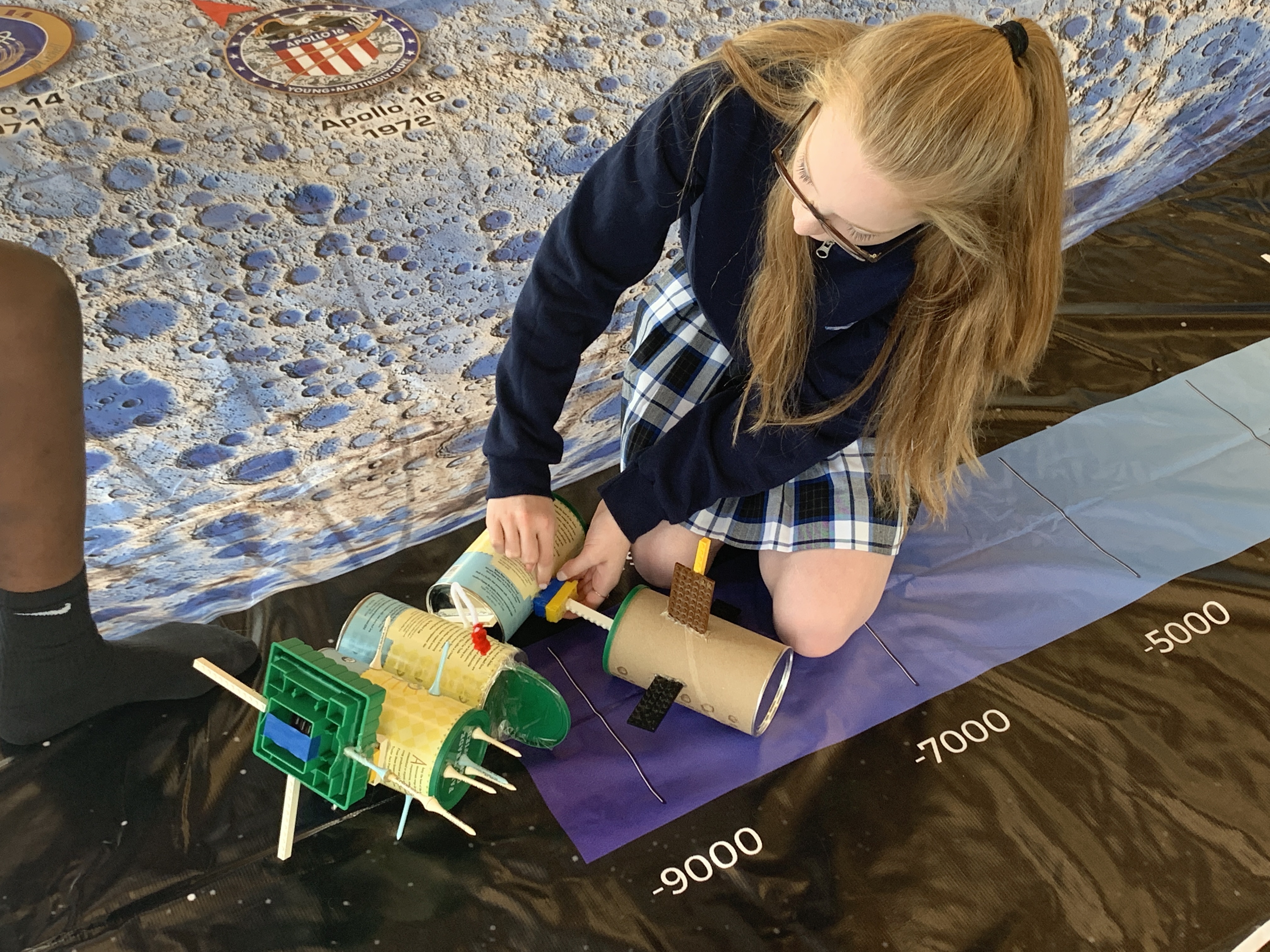 The best way to prepare students for a world that is constantly evolving is to help them develop the skills that will allow for self-evolution.
Project based learning fosters problem-solving abilities and a growth mindset in students. Skills such as working with others, embracing new ideas, and the responsibility and accountability that comes with ownership may not be tangible or immediately visible, but every adult knows they are essential to future success.