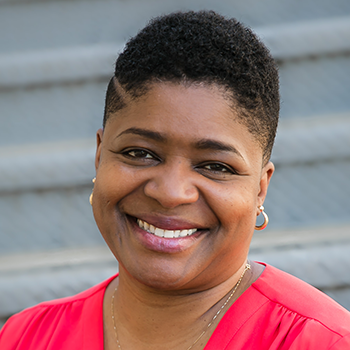 Natasha Thompson
Director of District and School Leadership
Natasha Thompson joined PBLWorks in 2018. Before that time, she served as the Director of Magnet Programs and School Redesign for Charlotte-Mecklenburg Schools. In this role, she led strategy for advancing educational equity by increasing access to high-quality magnet programs and school models. During her tenure, she has been involved in the design and launch of 72 schools in CMS, serving over 40,000 students in a variety of theme-based schools, including Early College, Career Technical Education, Performing Arts, STEM, International Baccalaureate and more. Natasha began her career as a high school English teacher in rural North Carolina and went on to serve as a school leader in Charlotte Mecklenburg Schools. She served as an assistant principal and then principal in an urban high school setting, creating and leading several innovative small schools, including an International Studies high school in partnership with Asia Society, and a Leadership and Public Service high school. In each of the schools she led, Project Based Learning was a core instructional approach.
In addition to her school reform work in Charlotte-Mecklenburg, Natasha also supported district and school leaders in creating school cultures, systems and habits of mind that led to deeper learning and systemic change as a leadership coach for North Carolina New Schools, a national educational nonprofit organization.  In this role, she served as Executive Leadership Coach for high school principals in rural districts across North Carolina participating in an i3 grant, "Validating Early College Strategies."
Natasha holds a bachelor's degree in English Education from NC Agricultural & Technical State University and a master's degree in school administration from UNC-Charlotte, where she was also a NC Principal Fellow. Natasha resides in Charlotte, North Carolina and her primary focus at PBLWorks will be working with school districts in the Southeast region of the United States.