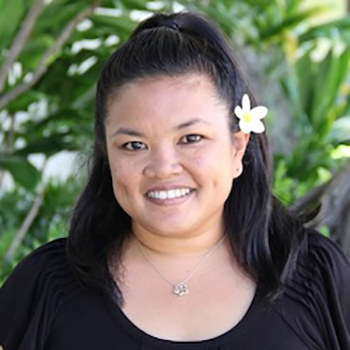 Liz Castillo
National Faculty – West
Liz Castillo currently serves as an educational technologist in Honolulu Hawai'i, working with students and teachers across various grade levels K-8. In this role, she helps teachers plan and integrate technology and design thinking projects into the curriculum. She also teaches elementary students in a Design Technology class that incorporates engineering, fabrication, and computer science skills through activities and projects.
Liz's journey in Project Based Learning started at the beginning of her career when she was a middle school science teacher in the Windward District of O'ahu. Working with these students, she realized the importance of helping them to make connections to their learning. By designing effective PBL projects, Liz was able to create authentic learning experiences that were meaningful and long-lasting for her students. She is passionate about helping teachers to design engaging projects and fostering opportunities for students to collaborate and create.
Liz has over 20 years of experience as an educator, teaching in both public and independent schools and working with students in a wide range of socio-economic backgrounds. She has also served in various capacities across all levels of K-12, from classroom teacher to instructional coach. Liz has an M.Ed. in Teaching and an M.Ed. in Education Technology. She is an Apple Distinguished Educator and a Google Certified Innovator and has been recognized by various organizations for her commitment to innovative teaching and learning practices.
---