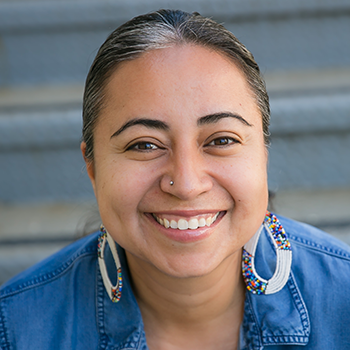 Dinah Becton-Consuegra
Dinah Becton-Consuegra is an equity consultant, among many other things, like being a mom. She was the Director of Partnership Development at PBLWorks from 2018 to 2020. Prior to joining PBLWorks, Dinah was the West Regional Director for EL Education (formerly Expeditionary Learning) supporting a network of 32 schools across 6 states. EL Education is a K-12 PBL focused non-profit organization partnered with more than 150 schools, serving 4,000 teachers and 53,000 students in 31 states.
Closing the opportunity gap has been the primary driver in Dinah's 20 years in education. Dinah has served in various leadership capacities for districts, schools and non-profits. She has worked with districts in California and Hawai'i advocating for Black and Latinx youth impacted by the opportunity gap. Her focus was on examining the systems that lead to educational inequities by uncovering data and convening focus groups to gain an understanding of equity and access across the instructional program. Her previous roles have been: a school turnaround consultant, a high school principal, and an executive director of family/community engagement.
She began her career as an English/film/humanities teacher in the Los Angeles Unified School District. She deeply believes in the capacity of all students to learn and has created innovative programs for youth aimed at closing the opportunity gap using: PBL, social justice and interdisciplinary studies. 
She graduated with honors in English & Comparative Literary Studies from Occidental College. She holds master's degrees from Claremont Graduate University in Secondary Teacher Education and Principal Leadership from the University of California, Los Angeles. Outside of fighting for equity, Dinah delights in eating and snorkeling her way around the world with her family, blogging, urban farming, appreciating everything mid-century modern, and being an all around weekend warrior at her home in Oakland, CA.