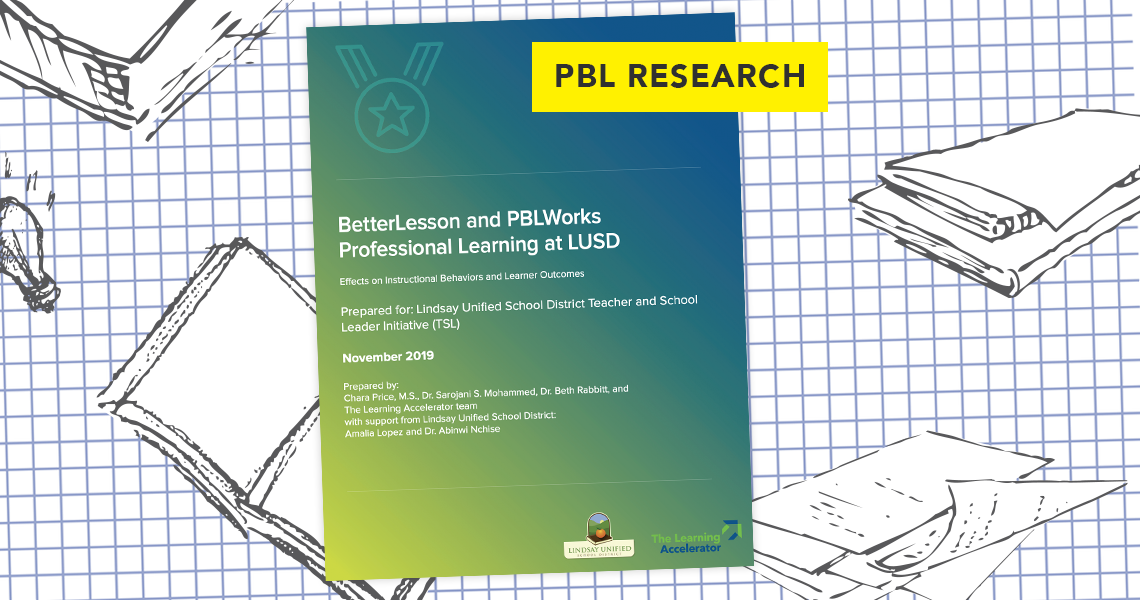 Educators interested in PBL often wonder about the elephant in the room: test scores.
There is a growing body of evidence showing a positive relationship between the use of Project Based Learning and student outcomes, including traditional measures such as standardized tests. Now there's exciting new research from the Lindsay Unified School District in California that further bolsters the case for PBL.
The study was conducted from 2017-2019 by a team from The Learning Accelerator, with support from Lindsay Unified. They looked at two measures of student learning: 
Progress toward student learning goals in the district's learning management system
Achievement on standardized tests.
Lindsay Unified is a K-12 district, located in a primarily agricultural area in California's Central Valley, with eight schools and just over 4000 students. Over 90% of its students are Latinx, almost half are native Spanish speakers, and almost 100% qualify for free or reduced lunch.
Here's the key finding from the study:
Students with teachers who participated in PBLWorks professional learning demonstrated statistically significant growth in reading, math, and history, when compared to peers whose teachers did not participate in professional learning.
Multiple measures of student outcomes were utilized, including mastery of local student learning goals by grade level and content area, the Diagnostic Reading Assessments® (DRA), Scholastic Reading Inventory® (SRI), and California's Smarter Balanced Assessment system (SBAC).
The professional development PBLWorks provided for the district included our foundational PBL 101 workshop, follow-up teacher coaching in Sustained Support Visits, plus leadership coaching. Teachers were divided into two groups for the professional development: cohort one ran from March 2018 to June 2018 and cohort two ran from December 2018 to March 2019.
You can dig into the details of the report to find more information and get the nitty-gritty aspects of the study.
The researchers found gains across all student groups, though there was some variation by grade level and subject area. For example, in high school the test score gains were found only in history.
One piece of the report I found especially interesting was the results of classroom observations. Among the "instructional look fors" were some things we've always claimed for PBL: rigor, real-world authenticity, purposefulness, and even joy. Great to see that they looked at those features--many of which I'd bet were more often seen than what you'd find in classrooms dominated by traditional instruction. I'll leave it to you to find out more if you're interested too.
View summary by PBLWorks (pdf)