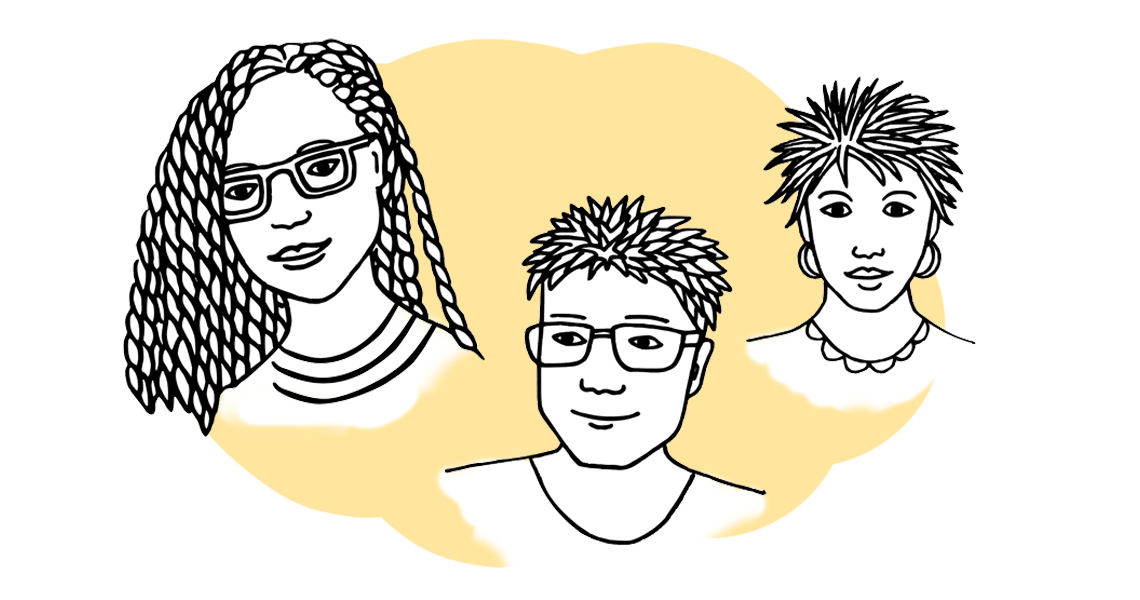 PBL is a powerful tool for educational equity, in the classroom or in remote learning.
This week's PBLWorks webinar reminded participants why this is true, then connected several strategies and tech tools for online PBL to the goal of advancing equity.
PBLWorks is presenting free webinars for educators each week this spring. This week's was recorded if you missed the live event. It was presented by Lisa Mireles, a director of district and school partnerships at PBLWorks, and Rich Dixon, our director of online learning and IT, who drew from a session they facilitated at the 2019 CUE conference.
The webinar began by asking attendees to add words or phrases in Zoom's chat feature to say what "equity" meant to them, such as "differentiation" "knowing your students" and "respecting backgrounds." Rich then shared a definition of educational equity from the National Equity Project: "each child receives what they need to develop to their full academic and social potential." Lisa made these three points about what working towards equity involves:
Discovering and cultivating the unique gifts, talents and interests that every human possesses. 


Ensuring equally high outcomes for all participants in our educational system; removing the predictability of success or failures that currently correlates with any social or cultural factor 


Interrupting inequitable practices, examining biases, and creating inclusive multicultural school environments for adults and children.
Then came a review of the Essential Project Design Elements in the PBLWorks model for Gold Standard PBL, followed by…
Three Keys to Connecting Equity & PBL:
Project Based Learning promotes high expectations for ALL students by supporting rigorous engagement with (and application of) content that advances critical thinking. 


Project Based Learning honors the diverse backgrounds, skills, and experiences that students bring to the classroom, making space for students to showcase and develop their strengths. PBL creates an opportunity for students to see themselves in the stories, research and content they explore through projects.


Project Based Learning transforms and redistributes power in the classroom by challenging students to lead their own learning and by amplifying student voices. 
Next, participants were asked to watch a video of the high school chemistry "Water Quality Project," and move into small-group breakout rooms to discuss what they saw in terms of teacher moves that advanced equity. Rich pointed out how this project promoted high expectations and rigorous engagement for a diverse class of students, and explained how the PBLWorks project idea cards contain prompts for equity moves teachers might make by:
Connecting the project to the needs and strengths of their students and honoring what they are bringing to the table. 


Considering the context of the community in which they teach, thinking of how students can become agents of change and work with community members who are making a difference.


Carefully considering how to introduce, scaffold, and assess the project's key content and skills.
Lisa and Rich then discussed equity issues for students without technology or internet access at home.
They offered this advice to teachers and school leaders:
"Make families aware that there are services such as
everyoneon.org
and the
One Million program
that can lower the entry barrier to access. If that is not a possibility in your community… consider loading up devices with pre-made content on the desktop, or creating low tech and at home project options that families can be a part of such as creating a garden, making a family cookbook, or creating a photo journal by interviewing community members during this time. Normally I'm not a fan of packets but you can create a powerful packet that includes a driving question, sustained inquiry, creation of a product and ongoing reflection throughout."
Finally, webinar participants were shown how various tech tools can be used in online PBL to promote equity.
Here are some that Rich and Lisa consider to be "Swiss army knives" that have multiple uses and low learning curves:
Webjets: At first, this looks like Padlet; Webjets can contain student generated questions and help track and monitor them, but the cards can also contain images, embedded videos, Google Docs, attached files, even tables. Students can easily collaborate and manage their projects all in one place.
Start SOLE: This platform offers organizational tools to help teachers facilitate SOLEs, which are self-organized learning environments. A SOLE starts with a question like, "Do genetics cause a person to be good or bad?" In small groups students discuss the question, then move to the investigation phase, where they research answers. Finally, each group presents their discoveries to the class, which reinforces high expectations and the redistribution of power.
Equity Maps: This gives teachers a way to quickly record student participation in a discussion. Using a seating chart, you tap icons as each student talks. Equity Maps keeps track of how long each student talks so that when you're done, you get a summary of how often each student participated, and how many were active.
Student Corner: This tool was created by students in Hawaii who wanted a better way to document and showcase the work they were doing at their high school. During this time of school closures and at-home learning, teachers are using the platform to distribute PBL assignments to students that can be completed at home, individually or on teams. Students engaged in capstone projects are publishing their projects on Student Corner for virtual exhibition in lieu of in-person presentation events. 
For more tech tools and details, check out the recording of the webinar.
We've lined up some excellent webinars for May, featuring teachers from across the US.
They will be sharing examples of online projects they've done this spring with their students. Register soon for next week's webinar, Stories from the field: Teacher insights from facilitating PBL remotely.
Stay safe and carry on!