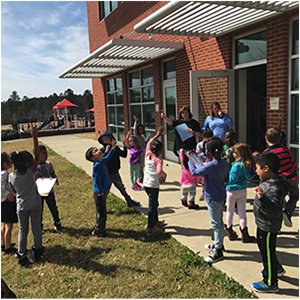 Teaching through Project Based Learning can be scary and overwhelming at first. It took me nearly 10 years to even begin to attempt PBL in my classroom. My favorite college professor taught us about PBL and assigned students to write a project-based unit. Once I began teaching, I never used this method. I was worried that my young students wouldn't be able to handle the freedom, that I wouldn't be able to cover the curriculum, and that we wouldn't have the time to spend on PBL. Last year I finally jumped in, but I have been very intentional about each step along the way. I use PBL in my classroom, but I see the work I am doing as my own professional project to learn and grow through.
In the fall of 2016, as a member of my district's Teacher Leader Corps (TLC), I chose to spend time and energy diving into PBL with a group of other teachers. We didn't know where to start, but our coaches pointed us toward BIE. We read articles and blog posts. In December of 2016, I participated in a Twitter chat for the launch of Hacking Project Based Learning and bought the book before the chat was over. I brought it with me to our next TLC session and shared the book with my team. We decided to each plan and implement a PBL project in our classrooms, and we created a flowchart to assist other teachers with planning their own projects.
How My PBL Practice Progressed
I completed my first project in January - February of 2017. I used a second grade unit from BIE as a guide and modified it to work for my kindergarten class. I decided to document my entire process using #PBLclouds. I blogged about it multiple times. This school year I am teaching first grade and have implemented more projects with my students. Each had a different focus for my work as the facilitator and my professional growth.
In our first quarter, we completed one on the Earth, Moon and stars in which I focused primarily on student inquiry and research. Next, the whole first grade team used a project we found on Teachers Pay Teachers and modified resources as needed. The focus of this project was learning force and motion through building an arcade game. I focused on allowing students to be creative and work on their products, while I provided mini-lessons to small groups or the whole class as needed.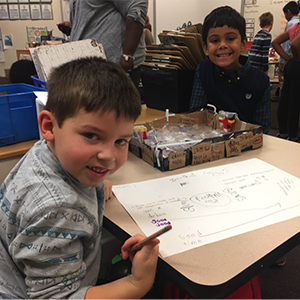 I then began a book study with a group of 5 other teachers, beginning the transition to Project Based Learning using The Curious Classroom. The book and our group encouraged me to make more shifts in my classroom culture to more inquiry based teaching/learning. Accordingly, our next project worked on solving a recess problem we uncovered through research. I focused my work during this project on connecting everything to our umbrella question and collaborating vertically with a third grade class.
I am about to begin our fourth project of the year. This time I focused on planning ahead, clearly connecting everything to the standards, and allowing more student choice in their final products. I'm also working on using rubrics more clearly with my students.
I share all of that to get to this point. 
I believe that implementing Project Based Learning with students should be approached as a "project" for the teacher. Prior to attempting PBL with my students, I completed research from multiple sources, I looked for examples, and connected with other educators just as we want students to do. I used different supports and modifications each time. I learned from my mistakes and made improvements. But most importantly, I took a risk and just started.
My advice to others interested in beginning a PBL journey:
Start small, but just start.
Use projects that other teachers have written and shared through BIE or other sources.
Modify what you find to work for your students. What you find will not perfectly match your group.
Set your own professional goal for each project.
Allow for failures and lean into the struggle.