July 2, 2018
Posted in

General PBL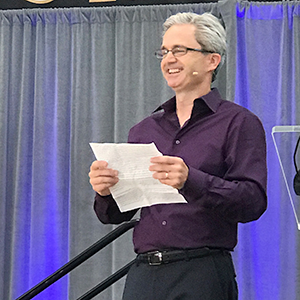 (The following is the text of Dr. William's acceptance speech, given on June 21 at PBL World 2018 on behalf of Loudoun County Schools, Virginia when it received BIE's 2018 PBL Champion District award.)
I want to express great appreciation to the Buck Institute for Education, and particularly to Rhonda Hill, our district coach from BIE. I also want to thank BIE's Chris Waldfogel and all the BIE National Faculty members who work in our district. You develop the capacity of our teachers, principals, and district-level leaders to design and implement PBL. You have taken the time to get to know our district rather than coming in with a cookie cutter approach. PBL is a game changer for our 80,000 students, and so thank you, Rhonda and BIE.
PBL Parallels to Black Panther
This morning, I would like to share some reflections regarding our district's work with PBL by making connections with the movie Black Panther. The movie provides an important reminder that we should reject false dichotomies. In Black Panther, T'Challa, the young king of the fictional African nation of Wakanda, faces an important question. Should Wakanda continue its policy of isolationism in order to hide its wealth or should it seek world domination in order to impose a better world, a more just world? In the end, T'Challa concludes that "isolationism OR global conquest" is a false dichotomy.
How does this relate to PBL? Well, some people falsely suggest that teachers must choose between teaching the curriculum, on one hand, and using PBL and promoting deeper learning, on the other hand. Through our partnership with BIE, we've recognized that this is a false dichotomy.
In Black Panther, T'Challa probably would never make the decision he does at the end of the movie were it not for his conflict with Killmonger. This illustrates the potential for wisdom to emerge from a mix of different perspectives. And so, opponents of PBL, who incorrectly view all PBL as dessert projects unrelated to the curriculum, are correctly focused on teaching the curriculum. However, we CAN design PBL that engages students in solving authentic challenging problems while learning significant content and important competencies.
I want to commend each of you for your commitment to the PBL journey—particularly designing PBL that puts authentic, challenging problems at the heart of teaching and learning.
Kudos to PBL Teachers for Seeing Students as Change Agents
Teachers, you inspire me because even though we live in an era of high stakes testing, you have not adopted a content-coverage mentality. You have said to students, "We can change the world" AS we learn significant content and important competencies. In Black Panther, it is inspiring to watch T'Challa come to view himself as an agent of change as he makes the transition from prince to young king to king making meaningful contributions to the world. Similarly, it is inspiring for us to watch our students develop a sense of efficacy through PBL.
Teachers, you inspire me because you are basically saying, "we are not powerless cogs in a high stakes testing wheel, we are going to engage students in solving content-rich problems." Through your successes with PBL you remind us that we need to give ourselves permission to stick with, adopt, or return to the PBL pedagogy that we know works. You remind us that we need to give ourselves permission to recapture the joy of teaching and learning. You remind us that we should Never Underestimate Students. Give students an authentic challenging problem, support them as they work to solve it, and we will be impressed with the results.
Getting back to Black Panther, the movie also illustrates that we should not let the doubts of others deter us. At the end of the movie, after the credits roll, King T'Challa is not stopped by the skepticism he faces when he stands up to address the United Nations. We will face skeptics in our work with PBL, but let's maintain the course and we will succeed.
Be Proud of Your Excellence
Black Panther also tells us to be proud of our excellence. Take the character Shuri, the teen girl genius. She is smart and she is proud of it. She created much of the technological greatness of the nation of Wakanda, including an amazing Black Panther suit, a ridiculously fast public transit system, and sound absorbing sneakers. But she does not hide her intelligence. In fact, she has swagger and cheekiness about her excellence. And so teachers, own your greatness as you take on the hard work of designing content-rich PBL focused on authentic challenging problems. Thank you for the noble work that you do.
For information about BIE's professional development services, click here.