February 7, 2018
Posted in

How-to Tips and Tools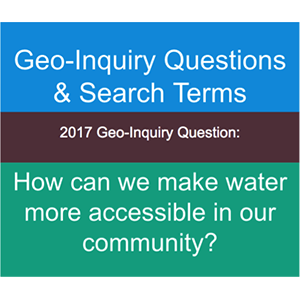 This school year my students are embarking on a new PBL experience designed by National Geographic called a Geo-Inquiry, which I described in this post. The goal of any Geo-Inquiry is to have students use a geographic perspective to analyze how human and natural systems interact, so they can take action to make it a better place.
Our Geo-Inquiry Question (the equivalent of a driving question) is: How can we make water more accessible in our community and reduce plastic waste in our schools and parks?
The final "product" students will create—and the Geo-Inquiry action they will take—is a presentation to our school board and city council where they will offer their findings and conclusions on how we can make drinking water more accessible to students and residents in our community. Another public product students will create is a documentary film about the process they went through and the learning they acquired. This is a team product that will require students to collaborate in the research and writing of a script.
Question: How can we as educators facilitate high quality collaboration amongst our students?
Answer: Google Slides.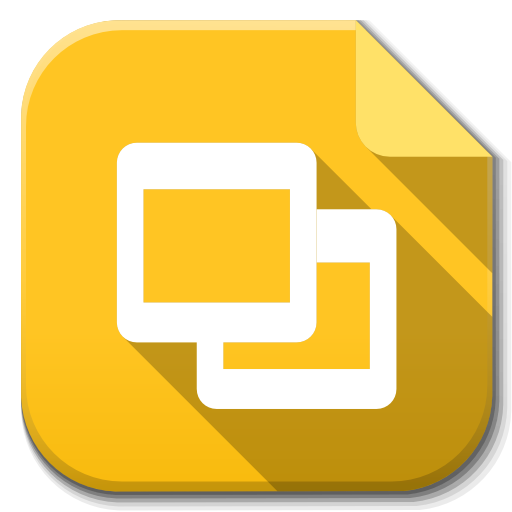 By December, we had generated eight Need-to-Know questions. From a filmmaking perspective, these seem like logical "chapters" in a film. Teams of four students select one Need-to-Know that appeals to them most, research it, read about it, and write a script connecting that question to the process of the Geo-Inquiry.
This is a complex project. It's important to identify misperceptions early on rather than wait until a team of students has spent three or four weeks writing a one or two page script that's riddled with inaccuracies or fails to flow into the next portion of the film.
To facilitate high quality research, I created a Google Slide deck, which you can view by clicking here.
Each slide contains a page with a Need-to-Know question and a table. The first column is where students can generate smaller questions to help answer that larger Need-to-Know. The next column is where they can jot down search terms or phrases. The third column is where students can curate URLs of websites they've found that might help them answer that Need-to-Know.
The table is a formative assessment moment for me. When I meet with a team, I can observe student thinking in the form of questions they're asking (or failing to ask). I can gauge how effectively students are searching the web by the search terms or phrases they're using. And the list of URLs is a chance for students and I to discuss how effectively they're evaluating websites.
If you look closely, you can see a link and drop down arrow in the top right corner of the slide. That allows students to open a second slide deck, which you can view by clicking here. This second deck is where students will type the script for their portion of the documentary film.
Scaffolding for Collaborative Writing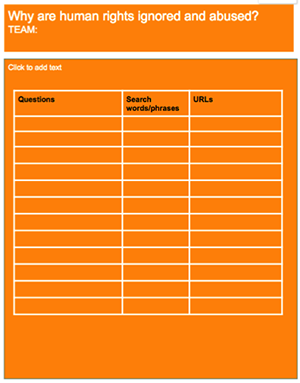 Over the years I've learned that an 8.5" x 11"  page using size 12 font and double-spaced is equivalent to about one minute of film. The expectation is for each team to create a one or two page script addressing their Need-to-Know.
One benefit of having everyone writing in a single slide deck: students can smoothly transition from one element of the film to the next by scrolling up or down to coordinate with the team above or below them in the sequence of the film.
Another benefit is we have an eight-part script in one, central place. It can't get lost on a flash drive or forgotten at home, and it's shared by all students all the time so that a student could even work on it at home when sick or while away traveling.
When people think of Google Slides, they often view it as a presentation tool. But why not reconfigure that perspective and that page to an 8.5" x 11" dimension and try using Google Slides as a collaborative writing tool instead? 

Jim Bentley is a teacher for Elk Grove Unified School District, and a National Geographic Fellow. You can follow Jim and his students on Twitter at @Curiosity_Films.