February 20, 2019
Posted in

General PBL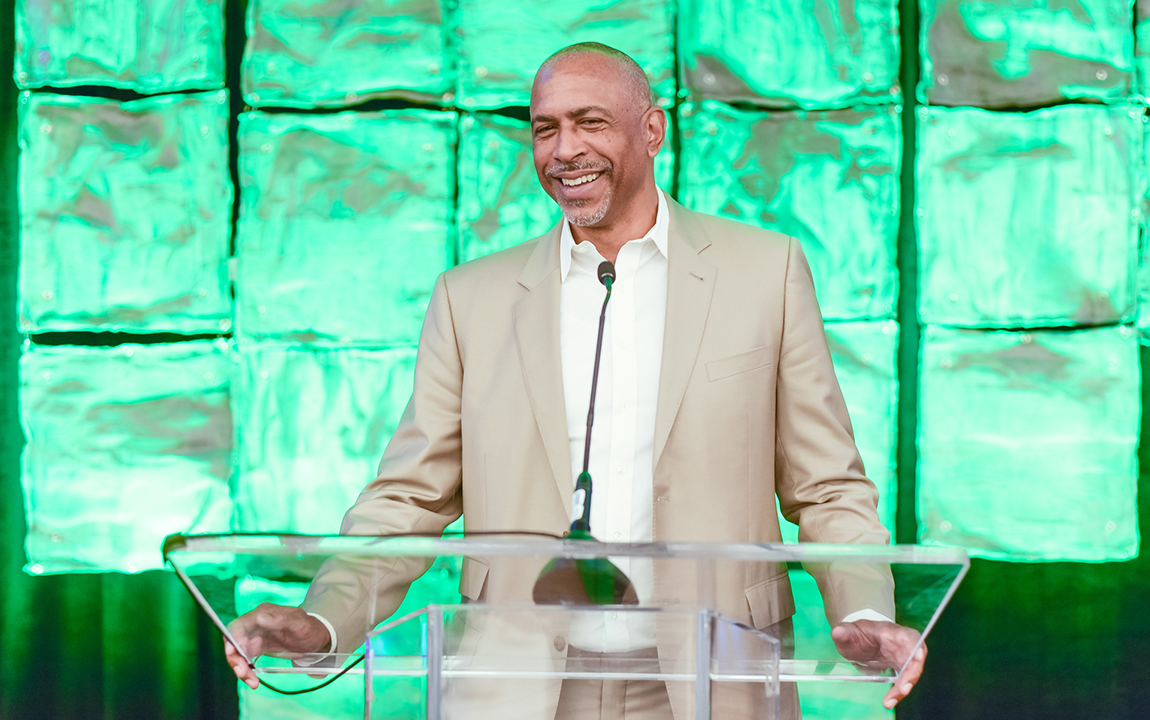 Some breaking news to report! The keynote at our PBL World event this June will be delivered by Pedro Noguera, one of the biggest names in education and a dynamic speaker.
Dr. Noguera is the Distinguished Professor of Education at the Graduate School of Education and Information Studies and Faculty Director for the Center for the Transformation of Schools at University of California, Los Angeles. His bio states,"He is a sociologist whose scholarship and research focuses on the ways in which schools are influenced by social and economic conditions as well as by demographic trends in local, regional and global contexts." He's written many books, appeared in dozens of videos including a TED talk, and speaks frequently at events and with the media.
Noguera has been a longtime advocate for educational equity, and writes and speaks about issues of race and social justice in the American public school system. His most recent book is Excellence Through Equity: Five Principles of Courageous Leadership to Guide Achievement for Every Student. He speaks about "how to support and cultivate effective teaching in schools and how to motivate and engage students"—which makes him a backer of PBL.
Side Note: Last year our curriculum team asked Pedro's son Joaquin, who is also an educator and equity advocate, to review the projects we are creating for a new PBLWorks project library. He gave us helpful critique and much food for thought about making PBL accessible for all students, and how it can be a tool for addressing social justice issues.
I hope you'll join me in hearing from Pedro Noguera on June 19, 2019 in Napa, California.
PBL+ Pre-conference Sessions
In my post last fall about PBL World, I mentioned the workshops available to attendees. In addition to our PBL 101 workshop (newly revised for 2019) for those who are new to PBL, our PBL 201 workshops for more advanced practitioners, the PBL Coaching workshop for instructional coaches, and PBL Leadership Team workshop (also revised for 2019), we've got something new this year.
On June 17, the day before the main event begins, we're offering two types of all-day preconference sessions. The PBL Project Slice workshop, in which participants experience a project as students do, is available to those who are signed up for a PBL 101 workshop. And for those who are already familiar with our model for Gold Standard PBL, this year for the first time we're offering "PBL+" workshops.
The PBL+ workshops are presented by members of our National Faculty on a variety of topics in which they have particular expertise; find more information here. You can pick one of the following options:
PBL+ Global Competency
This session explores how to help students develop global competency—the capacity and disposition to understand and act on issues of global significance—through PBL. Participants will engage in design thinking around project ideas using the UN Sustainability Development Goals as fodder for building and prototyping a project concept.
PBL+ Mathematics
Many math teachers struggle with PBL because it uses strategies not commonly implemented in a math classroom. This session addresses these challenges by having participants take on the role of student to experience a class period of math through PBL. Using the experience as a foundation, they learn to align standards with specific products and drive learning by using rubrics and inquiry.
PBL+ Elementary Literacy
How can Project Based Learning give purpose to reading and writing? This session explores evidence based instructional practices in literacy that can be embedded in the design and management of a project.
PBL+ Next Generation Science Standards
This session uncovers the connections between PBL and each dimension of the Next Generation Science Standards. We'll consider how to teach and scaffold NGSS at every phase of a project, starting with the project design. Each participant will walk away with project ideas and teaching strategies.
PBL+ Personalized Learning
This workshop provides professional learning for participants to consider the question of how PBL strengthens the opportunities for students and teachers to create personalized learning experiences. We will uncover how projects can infuse authentic experiences for students that increase student agency and ownership of learning.
PBL+ Technology Integration
In this session, participants will learn how to leverage technology tools and strategies to facilitate the complexities of PBL. Whether you're 1:1 or have limited tech tools, PBL in a 21st century classroom requires mindful use of technology to enhance learning and inquiry.
PBL+ Restorative Practices
Are you wondering how to build a PBL culture to support interpersonal skills within your classroom? This session explores how Restorative Practices foster a positive environment for all students by leveraging voice, encouraging risk-taking, and supporting collaboration. Experience techniques such as discussion circles, norm settings, affective statements, and questioning as tools to help PBL thrive in your classrooms.
We'll be announcing our other keynotes soon – who along with Pedro Noguera will provoke, teach, and inspire you.
It's going to be a great week! The weather forecast, as it always is in Napa in June, is sunny after the morning fog burns off, with a 100% chance of fine wine, craft beer, great food, beautiful scenery, and colleagueship with passionate educators. See you there!
Find more information and register at PBL World.org.