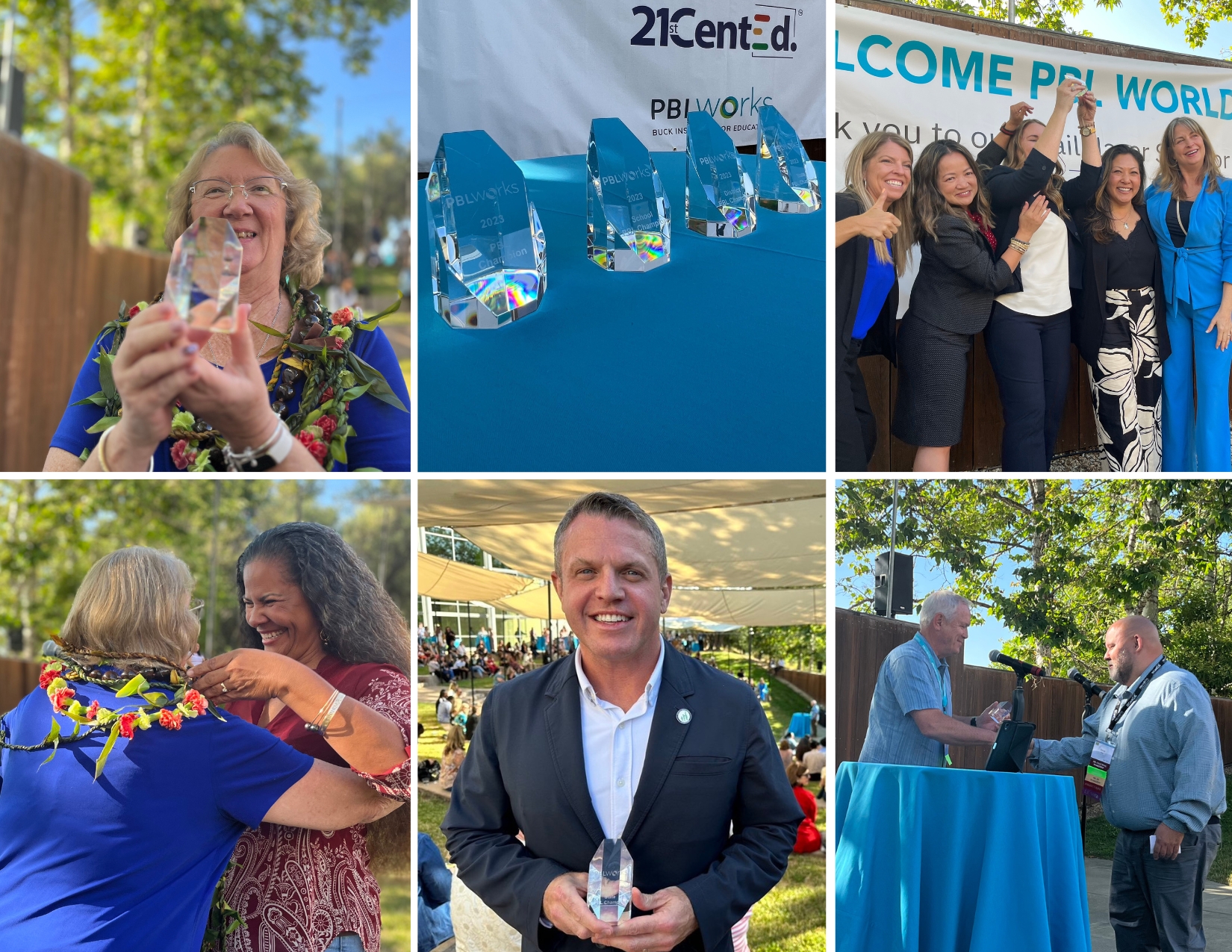 At PBLWorks, we love inspiring stories about the impact of Project Based Learning. Each year, we celebrate Individual, School, and District Champions for their dedication to their students and PBL at PBL World. This year, we had our first-ever PBL State Champion. Please read on to learn more about our 2023 PBL Champions.

Individual PBL Champion: Cynthia Rothdeutsch

Cyndi Rothdeutsch is an experienced educator serving as the Principal of Kamali'i Elementary School in Hawaii. With a career spanning more than 33 years in the Hawaii State Department of Education, Cyndi has held various roles, including classroom teacher, Computer Resource teacher, Technology Coordinator, Vice Principal, and now Principal.

Cyndi's dedication to education and belief in the significance of focusing on success skills for all students led her to pursue the role of school leader. In 2017, during her first year as Principal, she had the opportunity to participate in Project Based Learning training through PBLWorks. This professional learning helped her understand the benefits of Project Based Learning and its alignment with success skills.

Cyndi was part of PBLWorks' 2020 Hawaii Innovative Leadership Network (HILN) cohort, a network of Principals and Assistant Principals in Hawaii united to learn how to expand the network of school leaders who have the capacity to lead innovative schools that implement high quality Project Based Learning. She has consistently advocated for PBL in her school, community, state, and beyond. Cyndi has continued to seek opportunities to build her PBL understanding and leadership, all designed to support teachers, students, and families. A staff member at Cyndi's school described her as "a champion for PBL at our school but also in our district and in the state of Hawaii. Her candid storytelling and openness about the things that worked and didn't have illuminated the power of the journey toward HQPBL at our school." To make sure that racial and cultural equity is a priority, she provided time and space for place-based PBL units to be designed alongside Kupuna ("elders" in Hawaiian), as well as those that explore and honor the Hawaiian land that their school is built on.

Cyndi has established PBL as a central tenet in how students learn at Kamali'i and has committed to 100% of students experiencing at least two high quality projects a year for every grade level and proficiency level. She has built accountability and support around that vision, and the commitment to PBL is called out in the school's academic plan as part of the instructional expectations during family nights and for all students.

School PBL Champion: Mary M. Walsh Elementary School

Mary Walsh Elementary School is an urban elementary school in Springfield, Massachusetts. The school serves 267 students in grades PreK-5, including almost 90% Black and Brown students.

The Mary M. Walsh school staff collaborates and purposefully plans to ensure students achieve success by engaging in learning that is deep and meaningful. Project Based Learning has complemented their efforts to support the development of success skills and to promote engagement through student identity, voice, choice, and the ability to define and solve authentic problems in new and novel ways. All kindergarten through fifth-grade students have completed three to four projects in the last two years. The school holds regular Student Spotlights where students share their work with teachers, classmates, families, and community members.

The school participates in the Massachusetts School Leader Network facilitated by PBLWorks with generous support from the One8 Foundation.

District PBL Champions: Clark County School District

Led by Superintendent Dr. Jesus Jara, Assistant Superintendent Dr. Cailin Ellis, and its seven-member Board of School Trustees, the Clark County School District is the fifth largest in the nation. Serving more than 300,000 students across 370 schools, the District has approximately 40,000 employees and encompasses almost 8,000 square miles of urban and rural communities.

Despite the challenges faced in many districts today, from staffing shortages to funding cuts, two cohorts of school district leaders are working creatively and collaboratively to tackle challenges head-on. Leaders have made high quality PBL experiences a core priority for students on their campuses by creatively finding blocks of time for teachers to see other classrooms, plan projects, and reflect on experiences. They routinely survey students about their experiences during projects and then reflect on the results to make changes for the next projects. This dedication to building a culture of PBL means that students engage in higher-quality project opportunities. In classes involving PBL, students are more engaged in their learning and solving problems and challenges that enable change in their communities. Teachers are embracing a more learner-centered approach throughout K-12, and learners are reaping the benefits of engaging in rich inquiry-driven experiences.

State PBL Champion (first ever): Dr. Jason E. Glass, Kentucky Commissioner of Education

Under Dr. Jason E. Glass' leadership, the Kentucky Department of Education launched an initiative to increase high quality Gold Standard Project Based Learning in K-12 schools throughout the state. This includes PBL training and support to Kentucky educators and leaders. The Kentucky PBL Leader Network, the first leader cohort in the state, launched in November 2021. The Department of Education is committed to scaling Kentucky Gold Standard Project Based Learning (PBL) to one-third (492 of 1,477) of the state's public schools. This translates to approximately 216,000 of the 647,987 public school students in the state of Kentucky.