January 4, 2019
Posted in

General PBL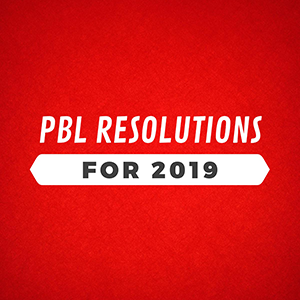 Thought I'd try something different this year—instead of writing my usual wish list/rant, we crowd-sourced New Year's resolutions (and asked why they were important) from PBL teachers, leaders, and instructional coaches. Wonderful responses came from not only across the U.S. but many other countries around the world, which shows that PBL really is a growing international movement in education. Thanks to everyone who contributed and sorry I couldn't include them all!
• My resolution is to dive in completely. It is important because I have seen the difference in learning when students are engaged.
- Rita Gonzalez, Euroamerican School of Monterrey, Monterrey, Nuevo León, Mexico
• To further design and implement High-Quality/Gold Standard PBL units that are cross-curricular and integrate both computational thinking and computer science core concepts and practices with academics.
- Jorge Valenzuela, Old Dominion University, Chesterfield, VA
• I resolve to prioritize "public product" in 2019. Why? If we are going to make positive strides in society, students must have a voice, the stamina & knowledge to research & an opportunity to take ownership of discovering & implementing solutions to real-world problems. In order for my students' ideas to be taken seriously, their capabilities must be visible to the larger community.
- Linda Amici, Alcott Elementary, Westerville, Ohio
• Mixing up everything on my "teacher plate" like it's mashed potatoes and peas! I'm working to integrate big ideas like PBL and SEL to provide my students with more meaningful and balanced learning opportunities.
- Jennifer Ferguson, Virginia
• My PBL resolution is to get a PBL project done within 6 weeks. I struggle with timing and my projects tend to last for at least 2 months which is too long.
- Raquel Padilla, Edward Gonzales Elementary School Albuquerque, New Mexico
• Continue to support teacher to implement PBL locally, regionally and globally. Also, try to get scholarships for Algerian teachers to participate in IEARN collaborative project based learning.
- Mustapha Louznadji, Algeria
---
"To increase opportunities for my students with moderate to severe special needs to demonstrate their abilities."
Deon Martin, Fort Bragg Schools North Carolina
---
• Help teachers understand how PBL is designed. This is important to me because this will allow for deeper conversations about our standards and student expectations. I find that I have to help teachers simplify ideas and the Buck Institute provides a structure that can do this.
- Steve Lebel, Amherst School District, Amherst, New Hampshire
• I resolve to infuse other subject areas into my PBL units to reinforce learning and encourage other teachers to also launch PBL units!
- Susan Oltman, Mount Vernon Presbyterian School, Atlanta, Georgia
• To provide cross curricular, authentic PBL experiences for my kindergarten students that allow them to dive deep into topics that are important to them.
- Mikaela Martinez, Northwest Expedition Academy, Hayden, Idaho
• I am having great success with a PBL activity whose main focus was to make social studies more engaging. While that goal is being met, the number of other standards in reading, writing, technology, and research, that are also being met are astounding. The kids are viewing social studies as FUN for the first time ever. My resolution is to continue to infuse PBL into my teaching in all subject areas because I see the value in raising the bar on engagement and excitement for all learners. All of my students, from a girl who has limited English proficiency, to my student with more gifted intelligence, are benefitting from this project in multiple ways.
- Lynn Cashell, Bethel Springs Elementary School, Garnet Valley, Pennsylvannia
• My PBL Resolution for 2019 is to collaborate and create more cross-content projects with my colleagues, because it's important for students to see how their world pieces together with the greater universe.
 - Andronike Giannopoulos, Independence High School, San Francisco, California
---
Helping teachers and students to utilize and understand rapid prototyping in their PBL process in order to encourage a bias toward action, brave risk taking, working on real-world problems that matter, and developing everyone's networking and connecting skills so that they can use the amazing expertise in the world to collaborate on their work and learning.
Stephanie Chan, Calgary, Alberta, Canada
---
• I will develop professional development materials that scaffold PBL adequately for beginning practitioners in the domain of world languages.
- Stephen Tschudi, University of Hawai'i, Honolulu, Hawai'i
• I've been seriously working on PBL since this August. The PBL core idea come up while we were chatting with a group of students: "Which group should be king of nature in vertebrate animals instead of the lion?" also why the king, not the queen...etc.
- Fatma Yilmaz, Aci Middle Schools, İstanbul, Turkey
• To obtain Michigan--SCECH credit for "Project Management for K-12 Educators" online courses sponsored by PMI Educational Foundation.
- Prof. William Moylan, PhD, PMP, Eastern Michigan University, Ypsilanti, Michigan USA

To these folks and others who submitted responses: consider writing a guest blog post for us in 2019? And that invitation applies to anyone else out there in the PBL world – please stay in touch!