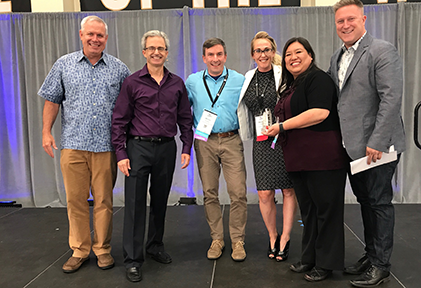 Every year at PBL World, the Buck Institute gives the PBL Champion award to a school, a district, and an individual who have done great work in Project Based Learning.
2018 PBL Champion School
Our PBL Champion School this year is Mālama Honua Public Charter School in Waimānalo, Hawai'i. This K-5 elementary school has implemented a high-quality PBL curriculum focusing on its unique geographic location and native culture. In its four-year history it has shown how PBL can make a positive difference in students' academic achievement and build "Mind of the Navigator" skills, which include: Ethical Problem Solving, Communication & Collaboration, Confident Cultural Identity, Environmental Awareness, Global Perspectives, and Civic Responsibility.
2018 PBL Champion District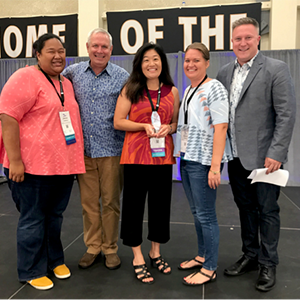 Our PBL Champion District this year is Loudoun County Public Schools, located in Northern Virginia. BIE Director of District and School Leadership Rhonda Hill, who has coached the district for several years, presented the award and here's what she said:
"Loudoun has made a promise to all of its students that they will be 'empowered to make meaningful contributions to the world'. This is no small feat, especially in a district that serves upwards of 80,000 students across almost 90 schools, but they are up to the challenge. Dr. Eric Williams took the lead in Loudoun County in 2014 and with his leadership came the emphasis on putting authentic, challenging problems at the heart of all student learning experiences. To that end, he set the expectation that all teachers would design and deliver Gold Standard PBL units by 2020 and secured a partnership with the Buck Institute for Education to address the capacity building needs of his teaching staff. In addition, knowing that it takes a system to support this kind of instructional shift, Loudoun committed to also challenging its school and district leaders to consider the shifts they would have to make in their leadership to meet the demand of creating the conditions so teachers were set up for success to use PBL.

"In these three years of implementation, LCPS has trained over 3,000 teachers, impacting countless students across their division. Even with a shifting educational climate, changing accreditation measures and an introduction of a new state assessment system, Dr. Williams confidently stands in front of his division level leaders and tells them to "stay the course" and trust the process because no matter what, keeping authentic and challenging problems at the heart of student learning will not only prepare them for "the test" but for the real tests of life."
2018 PBL Champion
Our PBL Champion individual award this year was given to Laura McBain, a leader at the Stanford d. School.
Laura's keynote speech struck the perfect note for Day 3 of PBL World, when teachers and school leaders are wrapping up their plans for bringing PBL back home.
"Our deepest moments of struggle are actually our highest moments of learning" she said. "What is the productive struggle that all of us need to go through alongside of our students in order to embrace the ambiguity of becoming a Project Based Teacher?"
She shared the "design squiggle" of her life—the ups and downs which show the "peakest moments of learning coupled with our deepest emotional journey. It's not just hard; there's frustration, sadness, fear, exhilaration, happiness." And this is what students in PBL often experience too.
Laura described her struggle as a student with an auditory processing disability, her difficult first day as a teacher, her challenging first year at High Tech High as a PBL teacher, becoming a principal, and her work with school principals in High Tech High's leadership program. Here are some nuggets I got from her comments about each experience:
As a teacher, she learned that "it wasn't about the content, my design, my delivery. It was about showing up for these kids every single day."
• As a PBL teacher, she learned "the exhibition was the powerful piece, you can't skip this.  (For students) the learning is real and powerful, it gives them purpose. It is the joy, the celebration, when they feel that exhilaration, and they have their deepest moment of learning. Spoiler alert: it may not go well first time." Each exhibition becomes the baseline for improving it next year.
• As a principal, the most important things she learned were, "How do I release space? How do I give my teachers the time, and purpose, to actually find joy in teaching? How do I give them time to work together? How do I remove myself from power and privilege and positionality and release my own leadership so that they can step up? How can I release the burden on my teachers and myself for doing it right the first time? How do I release them from perfection?" And "You have to say 'yes, and' to teachers' and students' ideas."
• As a leader of principals, she coached them, "We gotta show the work. Where does work live when it's done? Ted Sizer said you can tell a lot about a school by how it values people, place, and resources – my caveat is, you can tell a lot about what a school values by what it places on the walls. Who is speaking through the walls? Is it the voices of teachers, students, administrators… or a publisher?" (Laura then showed several examples of walls in school buildings covered in student work.)
• As a leader now at the Stanford d. School, she's thinking about questions such as, "We want to be human(itarian) designers. How can we design for inclusivity? What is the intersection of machine learning and equity—who is designing this and for whom? How can we design for sustainability?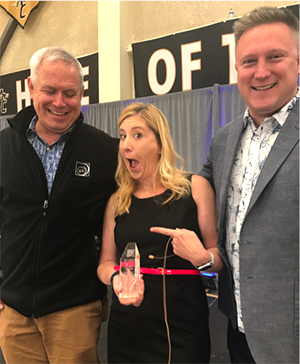 Laura concluded with some powerful thoughts:
Everything that was designed can be redesigned. Inequity was systemically designed and it can be redesigned. Everyone in this space is becoming a PBL designer, so we can design classrooms, how desks are set up, we can design school culture, we can change behaviors, mindsets of how we operate in schools, do assessment in group work... and how we learn alongside students.
What is your journey going to be, as you become a PBL teacher? What will be the peaks and emotional lows and highs? What's this design squiggle going to look like for you? Because it will be a squiggle, it won't be a linear progression, and how are you going to embrace that and celebrate that and support yourself in those places? And what's the purpose that's going to sustain you?
Honor those peaks and valleys you're going to go through, and empathize with your students, who are going through the exact same thing. How are you sharing your learning, your struggles with them? That's what it means to be a Project Based Teacher; it means giving up control, and sharing your fears and struggles alongside your students so you can actually grow together.
(A video of Laura McBain's full keynote presentation can be found here.)