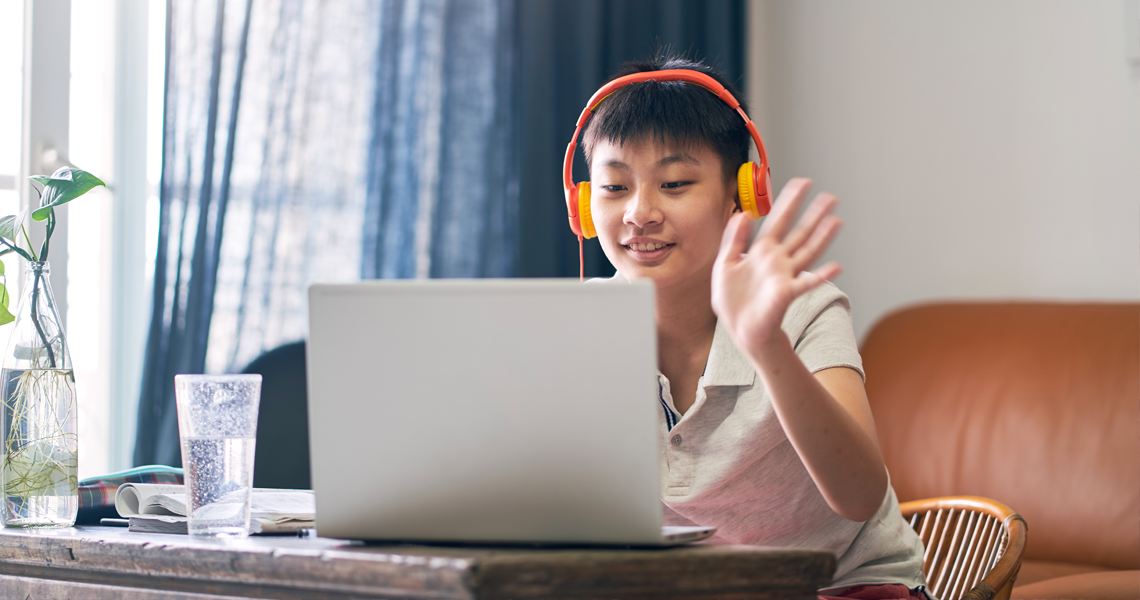 Last spring I had to learn what worked best for me and my students for remote learning.
I had used Project Based Learning throughout the year in my fourth grade social studies classroom, and I was comfortable and confident with my abilities to facilitate projects. The transition to remote learning in the spring created uncertainty and new challenges, but I was adjusting, and eager to begin the much-anticipated final project.
I use the last four weeks of school each year for students to further explore a theme from the curriculum that interests them, such as how innovations have changed the way people communicate, how immigration and migration have created a diverse state population, and how people in New Jersey have advocated for equal rights throughout history. They then take informed action through a medium of their choice with options including a website, cookbook, 3-D printed model, and a book of poetry.
Like the other projects I facilitate, this one consistently leads to increased engagement, enthusiasm, independence, and production - attributes that had been elusive for some students during remote learning. As students transitioned to learning virtually, class time decreased and they had less interaction with their classmates and teachers. Many students continued to meet expectations, and some even exceeded them.
Unfortunately, a number of students still displayed a lack of interest and motivation.
This enticed two of my colleagues to join me in expanding the project to include their science and writing classes. We worked to develop the resources necessary to support and structure the project for students. We created eight documents in total, several of which (calendar, rubric, resource list, and reflection journal) would be used frequently throughout the project. We thought carefully about how to introduce students to each of these items and where they would be located in Google Classroom.
As a whole, the project was quite successful. Many students chose to forgo a theme they had learned in social studies or science and instead chose our alternate option of researching something about the pandemic. Some students created videos about how to safely get takeout from their favorite restaurant while others made websites about how to construct homemade masks, to name a few. However, there was also room for improvement. 
At school, if a student can't find the rubric, they can peek at the classmate next to them or ask a friend for help looking through their binder. In a virtual setting, students must be more independent. Locating documents that were originally posted weeks ago in Google Classroom can be cumbersome. As a result, students spent too much time trying to find things, and I spent too much time answering logistical questions about where they could find the rubric or reflection journal. This valuable time could have been better spent assisting the students with their critical thinking and other project goals. 
After the school year concluded, my colleagues and I had the opportunity to revise our project.
We focused on the calendar and how we could streamline workflow and navigation for students.
To make our online project calendar more useful for students, we:
1.    Kept our table with 5 columns (one for each weekday) and a row for each week. Each cell had the date for the corresponding day of the project.
2.    Wrote more detailed expectations, checkpoints, and reminders for each day's assignment in the cells.
3.    Color coded everything. References to research were green, references to their daily reflection journal were purple, etc.
4.    Included a hyperlink whenever students would need to access a document. By doing so, it meant that if students could find this calendar, then they could find everything else they needed. We could then post the calendar in Google Classroom and keep it at the top of the stream as a one-stop shop for students.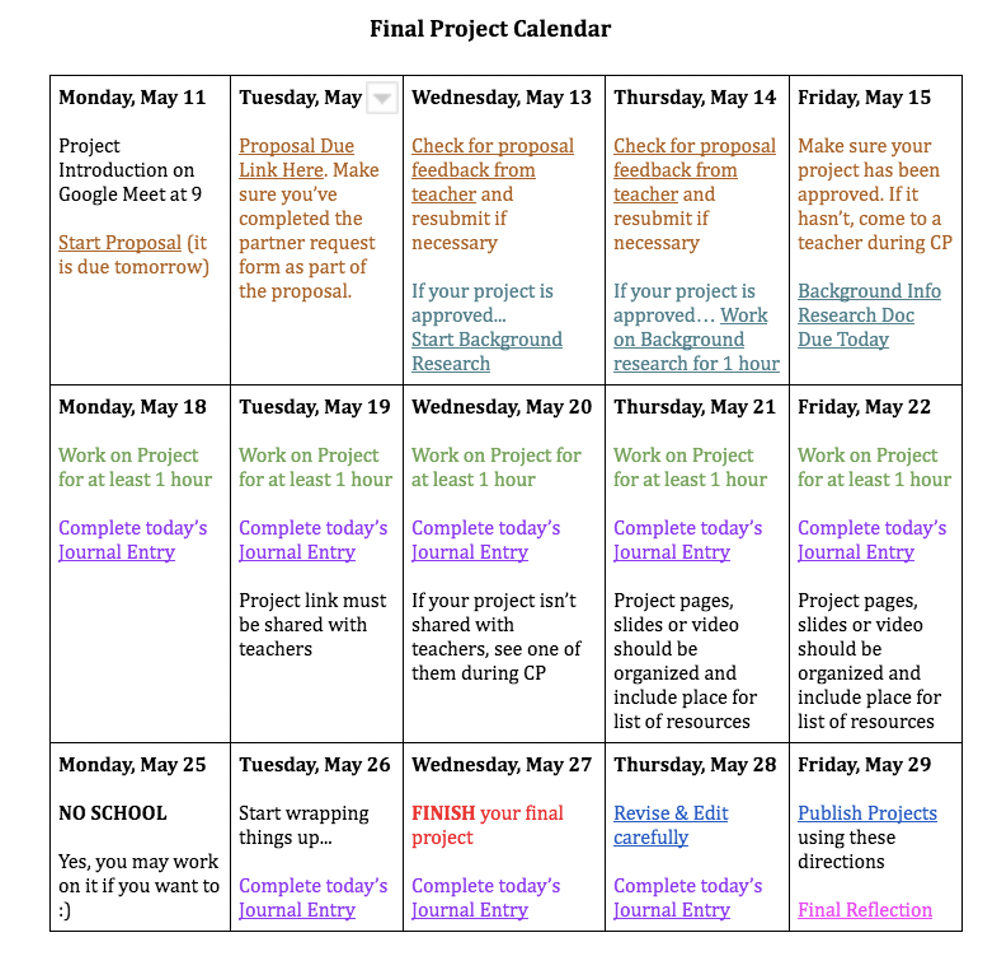 In the end, I learned that this type of structure and streamlining isn't just good virtual teaching - it's good teaching.
Especially with PBL, I aim to give students as much independence to problem-solve as possible. A color-coded and hyperlinked calendar is a critical tool in that mission. I believe it will make your next virtual project more effective, and be a useful technique we can bring to in-person instruction as well—hopefully in the near future.