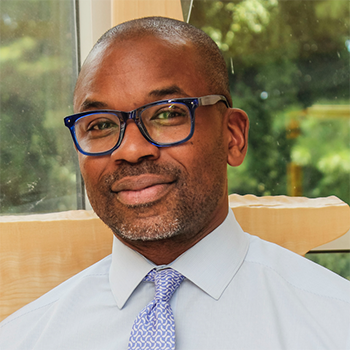 James Campbell
Lead National Faculty - South
James Campbell has been an educator for over 20 years and he still finds joy in helping individual students and educators grow to their full potential. James' teaching career began in Baltimore City Public Schools. His early experiences motivated him to make education meaningful and accessible to all students.  To support authenticity and access, he started incorporating student voice and choice into the classroom and seeing its impact on his students.
James has spent time working in public and private schools. His work in both spaces affirmed that students of all backgrounds need a champion who sees their true potential and celebrates them for who they are.  Mr. Campbell was a founding faculty member of three schools across three states. Launching schools taught him the value of leadership, flexibility, patience and perseverance, all skills which he applies to his work daily.  James also spent six years as a member of Mount Vernon Presbyterian School and the Mount Vernon Institute for Innovation (MVIFI). His time at MVPS allowed him to grow as a leader of design thinking and apply those strategies in the classroom. He now supports and coaches educators in the design thinking process. 

The past four years he served as the Director of Innovation and Strategic Initiatives at the Atlanta Girls' School. In this role he helped develop the AGS STEAM initiatives by fostering meaningful connections with the Atlanta Community and AGS, providing professional development with a focus on project based learning, and creating unique learning experiences for students, on and off campus.

As a member of the PBLWorks National Faculty James has enjoyed working with educators. He believes that teachers are the innovators that education needs to elevate student learning. When he facilitates workshops his mission is to help teachers understand how High Quality Project Based Learning assists students in becoming 21st century thinkers. He hopes teachers leave his workshops understanding that PBL is not one more thing on their to-do list but an amazing tool to increase student achievement.